Former college professor and software engineer, J. Lesley Graham, releases his real-life science fiction, Beth Curtis: Conqueror of Darkness on Amazon for readers worldwide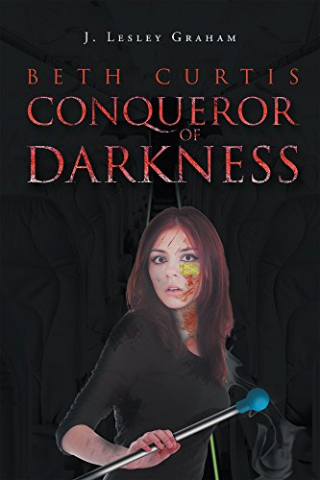 J. Lesley Graham has again demonstrated his creativity and ingenuity particularly when it comes to using words to create amazing stories with "Beth Curtis: Conqueror of Darkness." The book has been officially released on Amazon to allow lovers of good literature across the globe enjoy an amazing read of real-life science fiction.
"Beth Curtis: Conqueror of Darkness" centers around the adventure of a 13-year old girl as she takes on hundreds of hijackers as she attempts to recover a starship, Freedom, and save the lives of the passenger and crewmen. Kathleen (Beth) Elizabeth Curtis is unlike any average thirteen-year-old girl as not only is she blind but she is also brave and fearless, to say the least.
The captivating and somewhat unbelievable story of how a blind thirteen-year-old girl was able to fight and defeat hundreds of hijackers who had seized the starship she was flying on, and later save the lives of the passenger and crewmen on two crippled starships.
While people looked at Elizabeth Curtis with pity, assuming the teenage girl was a frightened little girl who could barely function without help, her parents raised her to be as independent as possible. Consequently, she constantly defied all odds, stretching her limits and doing what most people considered almost impossible for people in her condition.
Armed with a gas powered pistol, which was presented to her on her thirteenth birthday as a symbol of her adulthood, and a canister containing training darts filled with paint, darts containing a powerful sleep agent, and darts containing quick acting and deadly poison. Beth does most things that other people did.
The action-packed sci-fi novel chronicles Beth awakening awakens aboard the starship taking her from Earth back to her homeworld only to discover that she is the only one awake on a starship that has been hijacked in mid-fight. Leveling the playing field, Beth kills most of the hijackers, isolating the survivors, saving the passengers and the crews aboard her starship, and a second derelict starship. She subsequently takes up the role of a Star Pilot.
"Beth Curtis: Conqueror of Darkness" is currently available on Amazon for readers across the globe.
About J. Lesley Graham
J. Lesley Graham is a retired United States Air Force that served for over two decades. He has also been a college professor and a software engineer and holds a BS in Mathematics, a Masters of Divinity, and a Masters of Software Design and Development. He currently lives in Wichita Falls, Texas and uses the Life Cycle Method of Computer Systems Development as a template to develop and write his novels, a remarkable feat for someone who flunked every spelling test he ever took.
Media Contact
Contact Person: J Lesley Graham
Email: Send Email
Phone: +1 347 391 8843
Country: United States
Website: https://www.amazon.com/Beth-Curtis-Conqueror-Lesley-Graham-ebook/dp/B01C4V1FY2