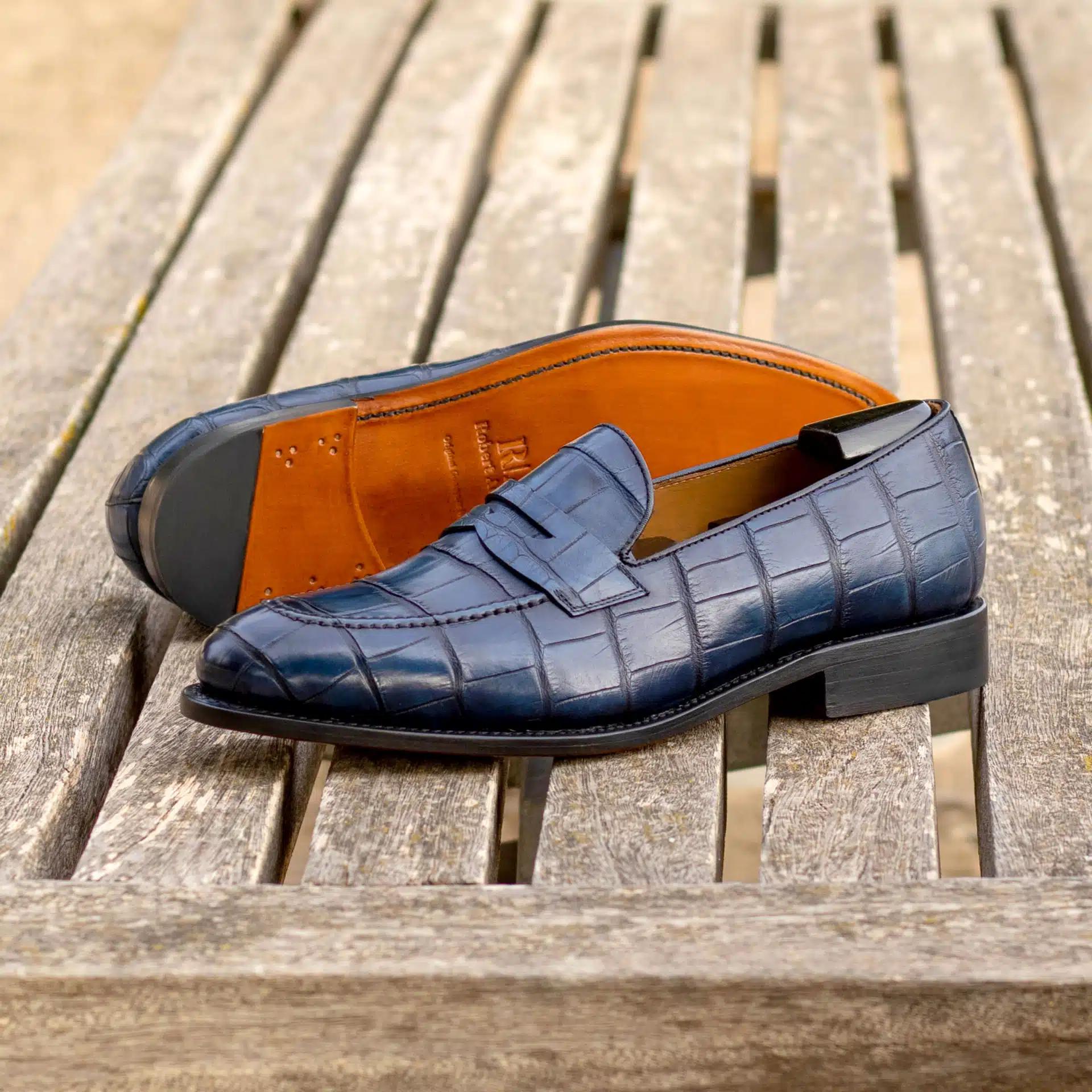 Chicago-based luxury footwear brand Robert August is proud to unveil its latest masterpiece, The Grand Ave. Loafer No. 8192. These exceptional men's loafers are meticulously handcrafted to order, showcasing Navy Blue Genuine Alligator leather, creating a blend of style, comfort, and unparalleled craftsmanship.
Robert August is renowned for its dedication to producing the finest, custom-made footwear for individuals who appreciate the artistry of fashion. The Grand Ave. Loafer No. 8192 is the latest addition to their distinguished lineup, exemplifying the brand's commitment to quality and uniqueness.
The Grand Ave. Loafer No. 8192 Highlights:
– Handcrafted to Order: Each pair of The Grand Ave. Loafer No. 8192 is meticulously handcrafted to order, ensuring attention to detail and superior craftsmanship.
– Navy Blue Genuine Alligator: These loafers feature premium Navy Blue Genuine Alligator leather, making them a symbol of luxury and sophistication.
– Made-to-Order Design Studio: Robert August offers thousands of other design possibilities through their made-to-order design studio, allowing customers to customize their footwear to reflect their personal style.
– Spanish Craftsmanship: All Robert August shoes are expertly handcrafted in Spain, known for its rich tradition of shoemaking and dedication to quality.
– Worldwide Shipping: Robert August proudly offers free worldwide shipping, making their exquisite footwear accessible to customers around the globe.
Robert Baum, the founder of Robert August, expressed his enthusiasm for the new addition to their collection, saying, "The Grand Ave. Loafer No. 8192 represents the pinnacle of our dedication to creating custom, handcrafted footwear that blends traditional craftsmanship with contemporary style. We are thrilled to offer these exceptional alligator loafers to our discerning customers."
The Grand Ave. Loafer No. 8192 is a testament to Robert August's commitment to providing customers with unique, high-quality footwear that makes a statement. It exemplifies the brand's passion for delivering a personalized and luxurious experience to shoe connoisseurs worldwide.
To explore The Grand Ave. Loafer No. 8192 and other exquisite designs offered by Robert August, visit their website at https://augustapparel.com/product/mens-loafer-8192/.
About Robert August:
Based in Chicago, Illinois, Robert August is a luxury footwear brand specializing in handcrafted, made-to-order shoes that epitomize timeless elegance and modern style. Founded by Robert Baum, the brand is known for its commitment to exceptional craftsmanship and attention to detail, offering a wide range of customization options through its design studio. With a focus on luxury materials and meticulous craftsmanship, Robert August delivers unique footwear that complements the individuality of its discerning customers.
Media Contact
Company Name: Robert August
Contact Person: Robert Baum
Email: Send Email
Phone: 3126008056
Address:1 E. Erie St Suite 525-4647
City: Chicago
State: IL
Country: United States
Website: https://augustapparel.com