Raqmk: the revolutionary app-based platform for trading Phone numbers and plate numbers in the UAE!
About Raqmk:
Raqmk is an innovative app-based platform in the UAE that facilitates the buying and selling of premium number plate numbers. With a user-friendly interface and an extensive selection of unique number plates, Raqmk aims to revolutionize the premium number plate trading experience, catering to car enthusiasts and individuals seeking personalization and prestige.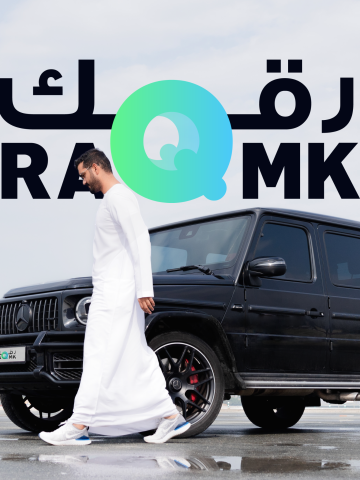 Raqmk is here to shake up the premium number plate market with its user-friendly interface and a vast selection of exclusive number plate combinations. It's all about personalization and prestige for your beloved vehicles.
Picture this: a world where finding that unique number sequence is as easy as a swipe and a tap. Raqmk brings you an extensive database of premium number plate numbers, catering to all tastes and interests. Whether you're after a lucky charm or a number that reflects your style, Raqmk's got you covered with its diverse collection.
But wait, there's more! Raqmk isn't just about number plates – it takes uniqueness to a whole new level with its exclusive mobile numbers! Discover a range of mobile number combinations that match your preferences, making your communication stand out in style.
Buyers on Raqmk can browse premium number plates with ease. Find your dream plate in just a few clicks with filters like price and style. For sellers, Raqmk keeps it simple and stress-free. With an intuitive interface, you can effortlessly list your premium number plate numbers, showcasing them to a broad audience of potential buyers.
Rest assured, Raqmk ensures a seamless and secure transaction process, protecting the interests of both buyers and sellers.The Ultimate Platform for Buying and Selling Premium Number Plate Numbers in UAE
So, gear up for an exciting ride with Raqmk, the ultimate platform for trading number plate numbers. Personalize your vehicles and communication with ease, making every number count. It's time to explore, trade, and find your perfect number to match with Raqmk!
Join the Raqmk Community Today
Number enthusiasts, collectors, and individuals seeking exclusive number plate numbers as well as unique mobile numbers can now join the Raqmk community and experience the future of premium number trading. Download the Raqmk app from the App Store or Google Play Store to begin your journey towards finding the perfect number for your vehicle or your phone.
Stay updated with Raqmk's latest offerings, promotions, and featured number plates by following their social media accounts:
Media Contact
Company Name: Raqmk
Email: Send Email
Country: United Arab Emirates
Website: https://raqmk.ae/