From dependence on nature to harnessing energies for a good life, mankind has come a long way.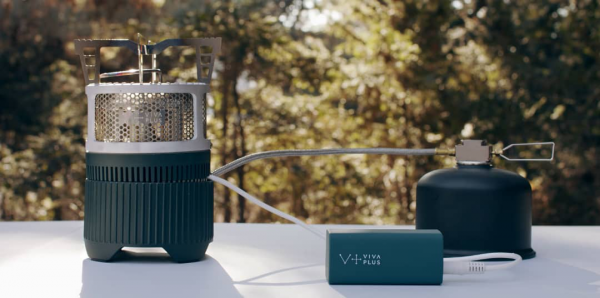 VIVA Plus is pleased to present the next breakthrough invention, the Gen Stove – the world's first stove powered generator to charge batteries, play music, and do more! Gen Stove will be seen soon on Kickstarter.
No one thought of it before. For campers, travelers, hikers, and outdoor-loving people, energy and power are essential requirements. The Gen Stove harnesses thermal power from the stove that otherwise would have gone waste, to create a power bank that can be connected to phones and laptops or portable lights for nighttime activities.
With Gen Stove, campers can cook their food and charge their power banks, all at the same time! This reusing and recycling of energy is super-efficient, helping conserve energy and protecting the environment. The thermal-electric gas stove comes with a charger for phones, a cooking stove to cook, a portable light, and a multi-charging pack to carry stored batteries.
"The Gen Stove is just the energy-saving, multi-use equipment that campers have dreamed about. They can cook and save energy and use it for other important activities to supercharge their nature experience," said a spokesperson for VIVA Plus.
The multi-charging pack is useful also for those who want to go green. It can be easily disconnected from the Gen Stove and taken anywhere. For travelers who often go out of batteries, but can't carry heavy generators, the Gen Stove is a lightweight and ideal alternative. Its compact, windproof design makes for easy portability.

"Take your camping experience to the next level with GENSTOVE, the first thermal-electric gas stove to cook food while charging your phone!" said the spokesperson.
VIVA Plus aims to become a brand that provides culture and value beyond products. Its mission is to add value to our lives and goals. The company focuses on innovations to convert heat, refrigerant gas energy, or gas ejection pressure into precious electric power.
Genstove will be coming to kickstarter this spring. Kindly sign up for email updates and early perks on https://www.genstove.com/
Media Contact
Company Name: VIVA Plus
Contact Person: Media Relations
Email: Send Email
Country: United States
Website: genstove.com