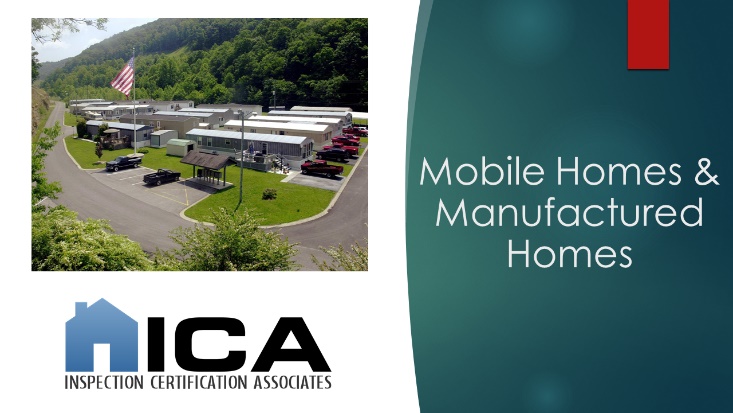 The new course is currently free for students who enroll in home inspection course.
Chicago, IL – Inspection Certification Associates (ICA) is pleased to announce it is offering a comprehensive, Mobile Home Inspection Course to students interested in the home inspection industry.
The Mobile home certification course is a brand-new program offered by ICA. It is specifically designed to certify home inspectors to conduct inspections on mobile, manufactured, modular, tiny, and log homes. Most inspections schools only teach the basics of how to inspect the average stick-built home. We go above and beyond at ICA, because our students and graduates rely on us to deliver updated specialty training like this to boost their home inspection careers.
The purpose of a mobile home inspection is to make sure that these structures are in a condition that home buyers could potentially purchase and live in, with a big focus on safety. We teach our students to be on the lookout for items concerning home safety and function. "Inspectors will check to make sure the home's components are operating properly so that a homeowner can purchase and live in the home," states Joe McMahon student support specialist of ICA. "This is a unique course that provides further qualifications to home inspectors who want to provide the best services to their clients."
Over 25 million Americans live in alternative housing such as mobile, log, tiny, manufactured and modular homes. To keep up with the demand of the market and our student's growing need for the proper training to inspect these types of homes, we have produced this specialty inspection course.
Currently, this comprehensive course is included, free of charge, to any student who enrolls in the company's online home inspection course, or any of their classroom home inspection training courses.
"At ICA, we take pride in ensuring all of our students are offered the most up-to-date qualifications on the market," states McMahon. "Like our other beneficial course offerings, the alternative home inspection program is designed to ensure students have a greater chance at succeeding in their careers."
For more information about Inspection Certification Associates and their brand new Mobile Home Inspection Certification Course, please visit the company's website at https://icaschool.com/mobile-manufactured-tiny-and-log-home-inspection-certification/. Students who would like to take the course may enroll by calling 1-888-374-4096.
Media Contact
Company Name: Inspection Certification Associates
Contact Person: Chuck Pulaski
Email: Send Email
Phone: 1-888-374-4096
Country: United States
Website: https://icaschool.com/