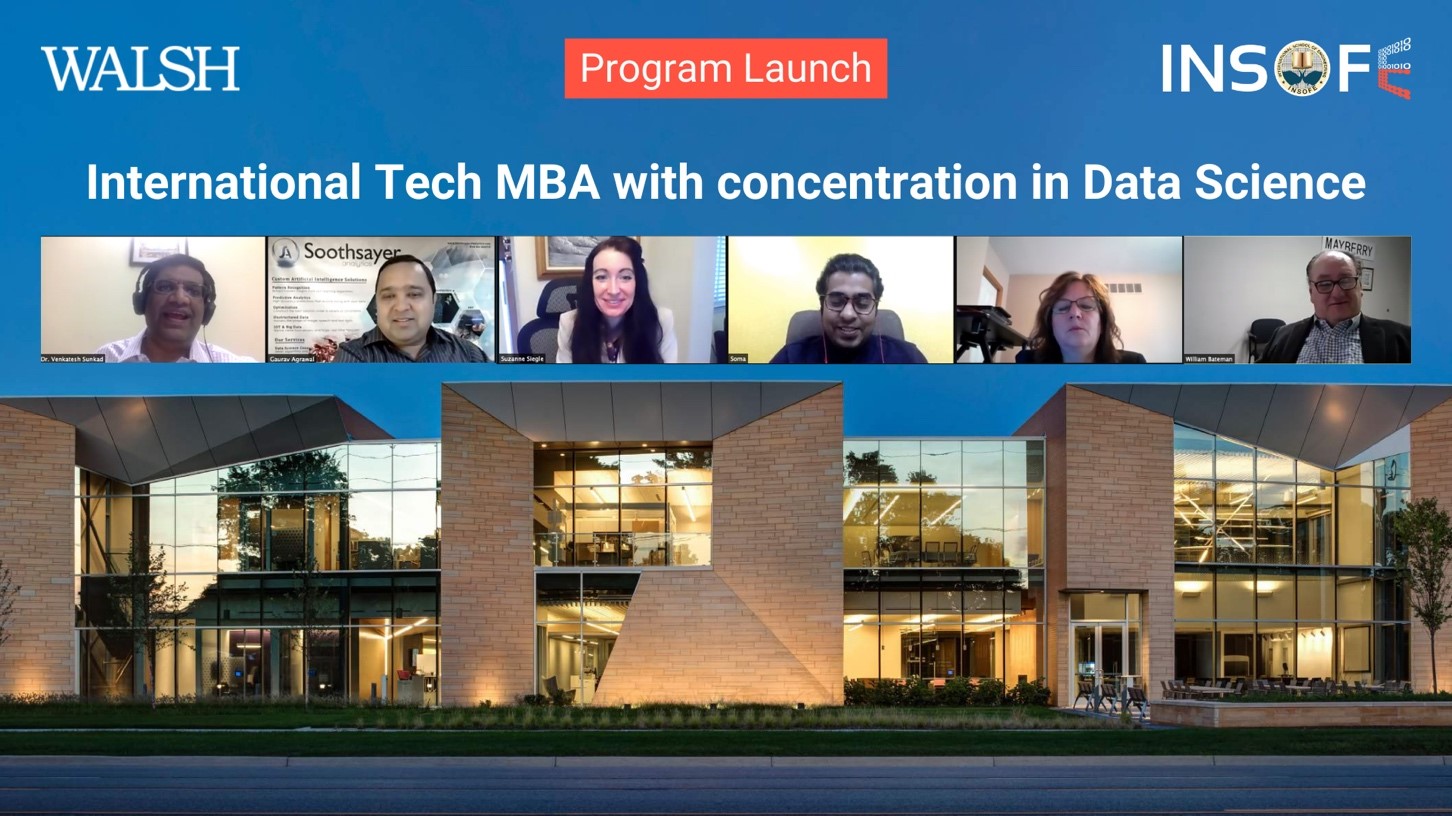 World-Class Business and Engineering Schools Collaborate to offer an International Tech MBA Program Specially Designed for the Techno-Managerial Aspirants.
International School of Engineering (INSOFE) and Walsh College proudly announce the first of its kind MBA Program that is an integration of International Business and Technology. The dual specialization of business and Data Science provides the edge to professionals seeking to make techno-managerial roles.
The Next-Generation MBA program with a cutting-edge specialization in Data Science with STEM Category recognition is aimed at providing the student the fire power to succeed in Managerial as well as Technology roles in the ever-growing Analytics, Research and Product Development markets.
The joint program starts with 405 hours of Semester 1 done with INSOFE. After successfully completing the Semester 1 with Data Science Concentration at INSOFE, the students complete two semesters of course work in Technology and Business Strategy and one semester of industry project at the Walsh College, Troy, Michigan, USA.
Major benefits of the program
World-class faculty and proven business leaders
Intensive techno-managerial education in Data Science
The Program is recognised under the STEM Category ensuring a 35 month OPT
Futuristic careers with disruptive organizations
Cutting-edge internships to gain relevant work experience
Career guidance in the USA
The college is located at Troy, MI which is among the Top 10 safest cities in Michigan.
Dr Bill Bateman, Program Chair, at Walsh College, said "Our MBA program is consistently rated as the best, and you are coming to a College that is not only well known but also well respected."
Dr. Suzanne Siegle, Provost and Executive Vice President at Walsh Collegeadded "The Faculty at Walsh have an extensive experience in Management, Business, and Strategy. They bring this blend of academic rigor, credentials and recognised respect as well as the professional experience and when you put that together, that is what you get at Walsh in a classroom."
Karen Mahaffy, Executive Director, Admissions and Enrollment Services at Walsh Collegeelaborated "Our tuition fee is not different for international students; it is the same for anyone across the world. In addition we have international student groups that have a lot of activities at Walsh and off campus as well, so we are very excited for this opportunity and look forward to meeting the aspirants."
Dr. Dakshinamurthy V Kolluru, President and Co-Founder, INSOFE expressed "In these uncertain times, students need to invest in programs that have competitive advantage over their peer group. The skills required to enhance business performance using Technology and Data Science will be a critical skill over the next decade".
Dr. Venkatesh Sunkad Professor, INSOFE also added "This International Tech MBA is a combination of Data Science + Management and can help you start a glowing career in USA."
Gaurav Agrawal, Head of Education – INSOFE, Americas spoke about job prospects in the USA with reference to International Tech MBA with concentration in Data Science.
About INSOFE
INSOFE is a world-class research, consulting and education institution with a focus of baking Data Science way of solving problems in many domains like healthcare, supply chain, financial markets, and robotics. It is present in Hyderabad, Bengaluru and Mumbai in India and has partner university programs in France, USA and Canada. In addition, the institute works with global enterprise leaders extensively helping them adopt data science in their organizations.
70+ Faculty
4 products, 75 patents, 1000+ publications, 100_ conference proceedings
100+ enterprise training events per year and
6000+ Alumni

About Walsh College
Walsh College is a business school in Troy, Michigan with satellite locations in Clinton Township, and Port Huron, as well as online. It was founded in 1922.
Since 1922, Walsh has combined theory and application to prepare students for successful careers. With each of their internationally and nationally ranked business and technology bachelor's and master's degree programs, you'll learn from proven business minds who have been there and done that.
98 Years of Academic Excellence
Walsh is ranked 6th in Michigan in terms of highest paid graduates.
Walsh's ROI (return on investment) is one of the best among top-ranked colleges.
1,000+ Companies Recruit at Walsh
As a Tier 1 Global Online MBA – CEO Magazine (2019, 2020)
Among Online Masters Best MBA Degree Programs (2019)
Walsh Alumni are Placed in Top Accounting Firms Including the Big 4*
The Employment Rate of Walsh MBA Graduates is 98%**

*Crain's Detroit Business List of Top Accounting Firms
**Walsh Fact Book
For more information on the program follow the link: https://www.insofe.edu.in/certification/walsh-mba-in-data-science.html
Media Contact
Company Name: INSOFE
Contact Person: Bharath Mirchandani
Email: Send Email
Country: India
Website: https://www.insofe.edu.in/