Video Link: https://www.youtube.com/embed/Hy5VFwToFiM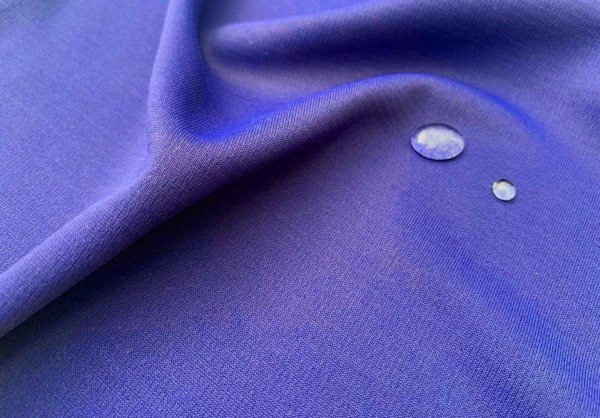 With interest in eco-friendly materials rising globally due to Covid-19 crisis, FS Innovation came up with the World's first sustainable eco-friendly dyeing technology that saves water and energy in the fabric production process and discharges less wastewater and fine dust.
So far, the apparel and footwear industry has accounted for 8% of global greenhouse gas emissions, which is more than those from global aviation and shipping processes combined. This mainly occurs in the process of producing clothing materials because no matter how much organic natural fibers or recycled synthetic fibers are used to manufacture eco-friendly fabrics, it acts as a supplement along with dyes in water equal to 10 times the amount of the fabric when actually immersed and boiled anyway. As the problem of discharged wastewater and fine dust from the dyeing process emerged as the main culprit of environmental pollution, demand for new technology that can solve this problem centered on developed countries has been increasing.
'DOPHO-PLUS', the world's first true 'eco-friendly magnetic field dyeing process equipment' technology developed by FS Innovation, uses a 'smearing dyeing' method, not a classic liquid dyeing method, which refers to simply dipping the fabric in existing dyes such as permeation and foam dyeing. The core competency of this innovative eco-friendly DOPHO-PLUS dyeing technology is high productivity and low cost that saves more than 70% of water and energy input compared to conventional methods in the fabric production process, while reducing the discharge of wastewater and fine dust by more than 70% after production. This new application technology works by putting a permanent magnet inside the mangle inside the 'canal blade' and the take-up roller and coating a thin coating film (fluid film) on the fabric surface with the magnetic field (electromagnetic force) generated here. It is possible to adjust the required amount or the amount of dye or processing liquid as desired. In the case of the existing padding mangle method, the 6~7% of defect rate occurs due to factors such as biaxial deviation due to tension generated when the fabric passes through the mangle, dyeing deviation at the beginning and end of the fabric, dye spot due to excessive dyeing, and concentration deviation due to reverse flow of dye. However, with this new technology, since the canal blade and take roller are completely grounded and driven based on magnetic field technology, the dye is applied evenly without deviation from left, middle, and achieve a defect rate of 0%.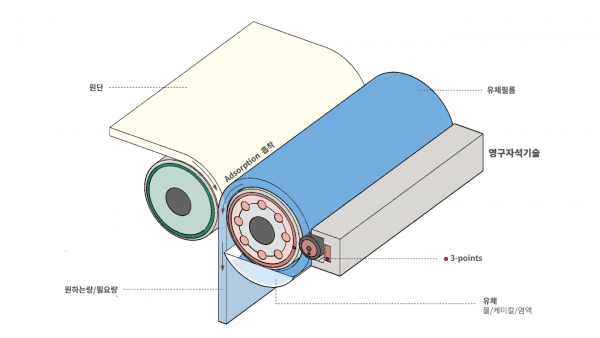 In addition to the aforementioned liquid coating for fabrics, the company also has a patent for tensionless vacuum suction washing device, which prevents defects due to tension applied to the dyed fabric. That is, with a technology that can completely remove impurities in the fabric, including oil in the spandex yarn, it can not only improve the quality of existing dyeing or processing, but also enables dark nylon dyeing and transfer printing, which was not possible with existing dyeing techniques before.
In a situation where the supply of eco-friendly raw materials such as organic natural fibers or recycled synthetic fibers are already in short supply due to the recent trend where global companies declare more eco-friendly management, this birth of DOPHO-PLUS is very good news for companies hoping to expand the use of eco-friendly fabrics. Recently, FS Innovation has acquired GOTS (Global Organic Textile Standard) and GRS (Global Recycled Standard), which are global eco-friendly certifications, and is expanding sales to global companies.
FS Innovation is collaborating with major domestic and foreign companies through SUPPORTEX, a high-performance eco-friendly fabric brand and IASO FIL, an eco-friendly female athleisure brand by produced their products using this technology. Between the two, SUPPORTEX, a highly functional eco-friendly fabric brand, secures differentiated fabrics developed in-house, such as nylon fabrics with high light fastness and transfer printing, antibacterial (copper/silver/bamboo) functional fabrics and eco-friendly fabrics. Moreover, various functional processing, i.e., antifouling, deodorant, heat, moisture absorption, cooling, water repellency, etc. can be performed on the outer and face of the fabric; It produces and supplies functional fashion mask fabrics that can be exported to Europe as it is proccessed with non-harmful eco-friendly (C-zero) single water repellent processing and has 99.9% antibacterial effect on the face while blocking some moisture and splashes that can be washed multiple times in three types of copper, silver, and bamboo. The company intend to continue pursuing true human and global sustainability by developing antibacterial and eco-friendly products that directly affect the health of current consumers in the future.
Media Contact
Company Name: FS Innovation
Contact Person: Hyun Hak, Lee
Email: Send Email
Phone: +82 2-2088-1511
Country: South Korea
Website: https://www.gobizkorea.com/user/goods/frontGoodsDetail.do?goods_no=GS2020110598967&ctgryCode=S0800100050000&upperCode=M0800100000000&goodsNms=Eco-friendly-process_Antibacterial-Bamboo-Mask&skwanSn=&speclKwanId=SPCCD0000622