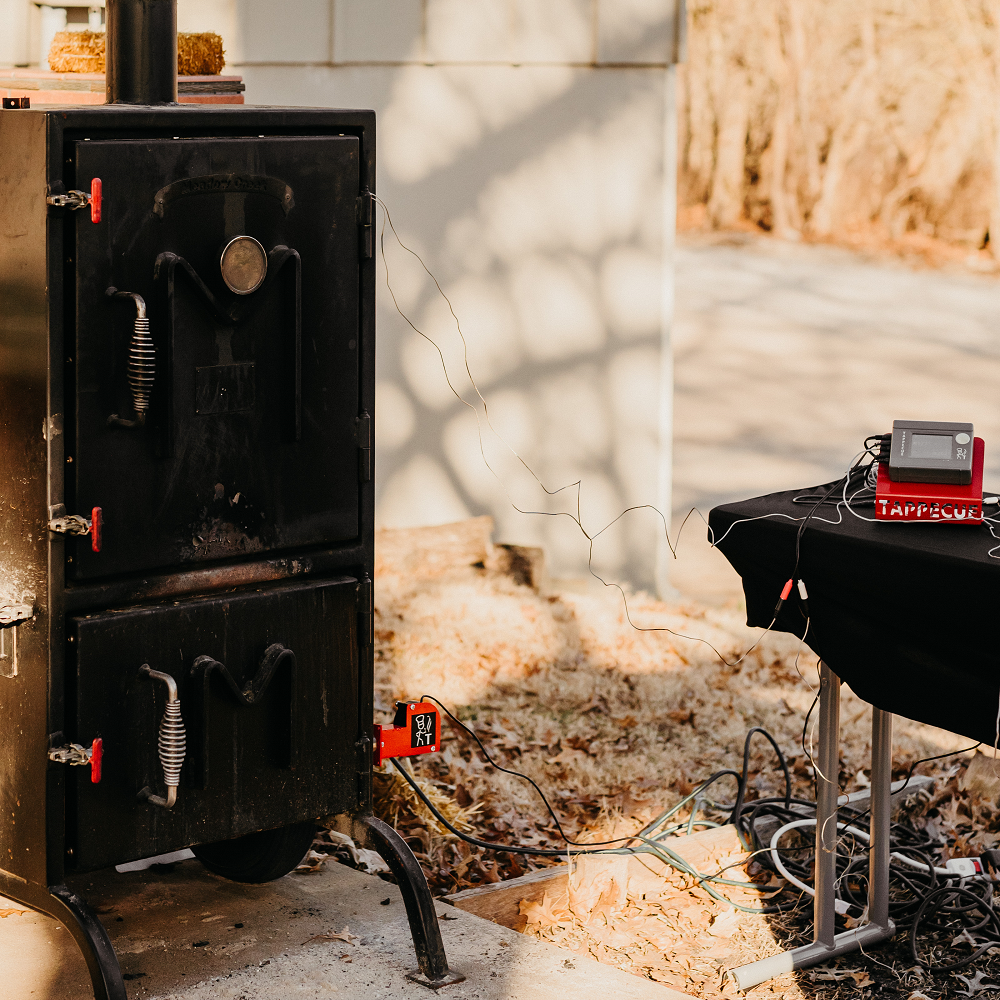 The Cruise Control System helps the average backyard barbecuer cruise their way to success. This system monitors the chamber temperature of your smoker and automatically stokes the fire when the temperature drops helping to maintain constant heat during those long smokes
Kansas City, MO – March 5, 2019 – Kansas City Company, Innovating Solutions LLC is proud to launch Tappecue Cruise Control System. Tappecue is now an internet-enabled smart thermostat for your BBQ smoker that works with Smartphones and Tablets to control the temperature of your smoker from anywhere.
The Tappecue Cruise Control System helps regulate your chamber/oven temperature by blowing air into the firebox. This gives your fire oxygen to burn hotter. The smart thermometer, Tappecue, controls the air intake of your smoker; whenever your chamber temperature drops below a set threshold (verified by the chamber probe clipped inside of your smoker) the Tappecue works with the Cruise Control Box to trigger the Tappecue Blower connected to your intake which gives life to your fire and increases the temperature of your chamber. This allows your smoker to maintain a constant temperature over a long time. This internet-enabled, smart thermostat will help you get the results of a professional chef. Tap your app to control your barbecue with Tappecue!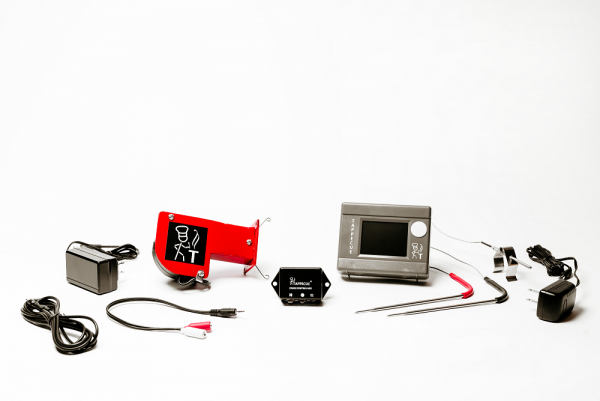 Features of the Tappecue Cruise Control System includes:
Easy to use Touchscreen Display helps with setup and manual overrides for control processes
4 Channels – with an additional purchase you can use up to 8 probes or control up to 4 blowers (the only system that has this feature)
Alerting Functionality for extra security when you aren't watching.
Turn the blower off or on from anywhere by adjusting the set point.
Make notes and save your history for reference using the data logging Session Book.
It can work with other blower/fans brands

Some customers have this to say about the product:
"I tried out the cruise control this week and I love it! Thanks for all of your help with this! You guys have excellent customer service!" – Ryan Lemon
"Tappecue has saved my cooks so many times. Now with Cruise Control, there's zero chance of an imperfect BBQ!" – James Lockman
"Tappecue Cruise Control was something that seemed like a daunting task because there are hundreds of different smokers that have different intake openings and firebox sizes. So, to start, we had to make it as universal as possible with the adapter design. We are happy to announce this next addition to our Tappecue Touch WiFi Thermometer System, the Tappecue Cruise Control," says the President of Innovating Solutions, the makers of Tappecue.
The new Tappecue Cruise Control System is now available online at www.tappecue.com for a fair price of $140 for the add-on system or if you want the complete system with the Tappecue Touch, then, you can get it for $295.
For more information on features and pricing, visit Tappecue.com
Media Contact
Company Name: Innovating Solutions LLC
Contact Person: Media Relations
Email: Send Email
Phone: 417-213-5870
Address:6505 Trott Rd
City: Belton
State: MO 64012
Country: United States
Website: www.tappecue.com