The latest identity verification service, iDenfy, reaches international standards for information security.
iDenfy, an identity verification service that has caught attention as the next big startup, has captured attention again today. The company has achieved a milestone by receiving ISO 27001 Certification. The certification is published by the International Organization for Standardization (ISO) and the International Electrotechnical Commission (IEC). These committees only offer accreditation to companies that meet their high standards for information security.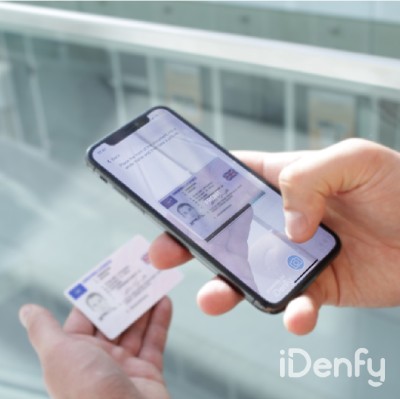 Born from childhood friends, the young startup, iDenfy, is maturing very quickly. The company specializes in the B2B marketplace for automated remote identity authentication service. Founded in Lithuania, the company is steadily getting recognized internationally. The ISO 27001 serves as proof that their system can effectively provide a global service that protects businesses and customers alike.
ISO-27001 certification is not required accreditation, but iDenfy values the high compliance standards that must be met. "We believe every startup should strive for the highest industry standards. Our customers and users should expect it, too, and be granted the assurance that their information will remain secure," iDenfy CEO, Domantas Ciulde, explains. "The ISO-27001 certification shows the world that we take our work very seriously."
The young tech company is taking big strides toward becoming a household name for identity verification. Their system supports over 1300 different types of identity documents in more than 200 countries. Their current business customers include Expobank, IPF Digital, Vialet, and more. iDenfy has been featured in top publications and big press, like 15Min.It, LRT Television, and DELFI.

In just a few short years, iDenfy has gone from the imagination of two childhood friends to being listed as a major identity verification services provider by Bloomberg. The ISO-27001 is another big step in the right direction that gives the company more credibility in the information security industry. iDenfy continues to partner with established and rising companies, and their growth shows no end in sight.
About iDenfy
iDenfy uses next-gen face recognition technology and authenticity verification to help businesses reduce fraud and make user onboarding smooth, quick, and profitable. iDenfy turns a customer's devices into a24/7 ID scanning terminal and facial recognition system. The identity verification company meets regulatory compliance, including achieving accreditation of the International Organization of Standardization. Today, iDenfy has over 20 "super awesome geeks who humbly fight fraud every day."
For more information, visit iDenfy.com
Media Contact
Company Name: IDenfy
Contact Person: Media Relations
Email: Send Email
Phone: +37064084466
City: Viktorija
Country: Lithuania
Website: https://www.idenfy.com