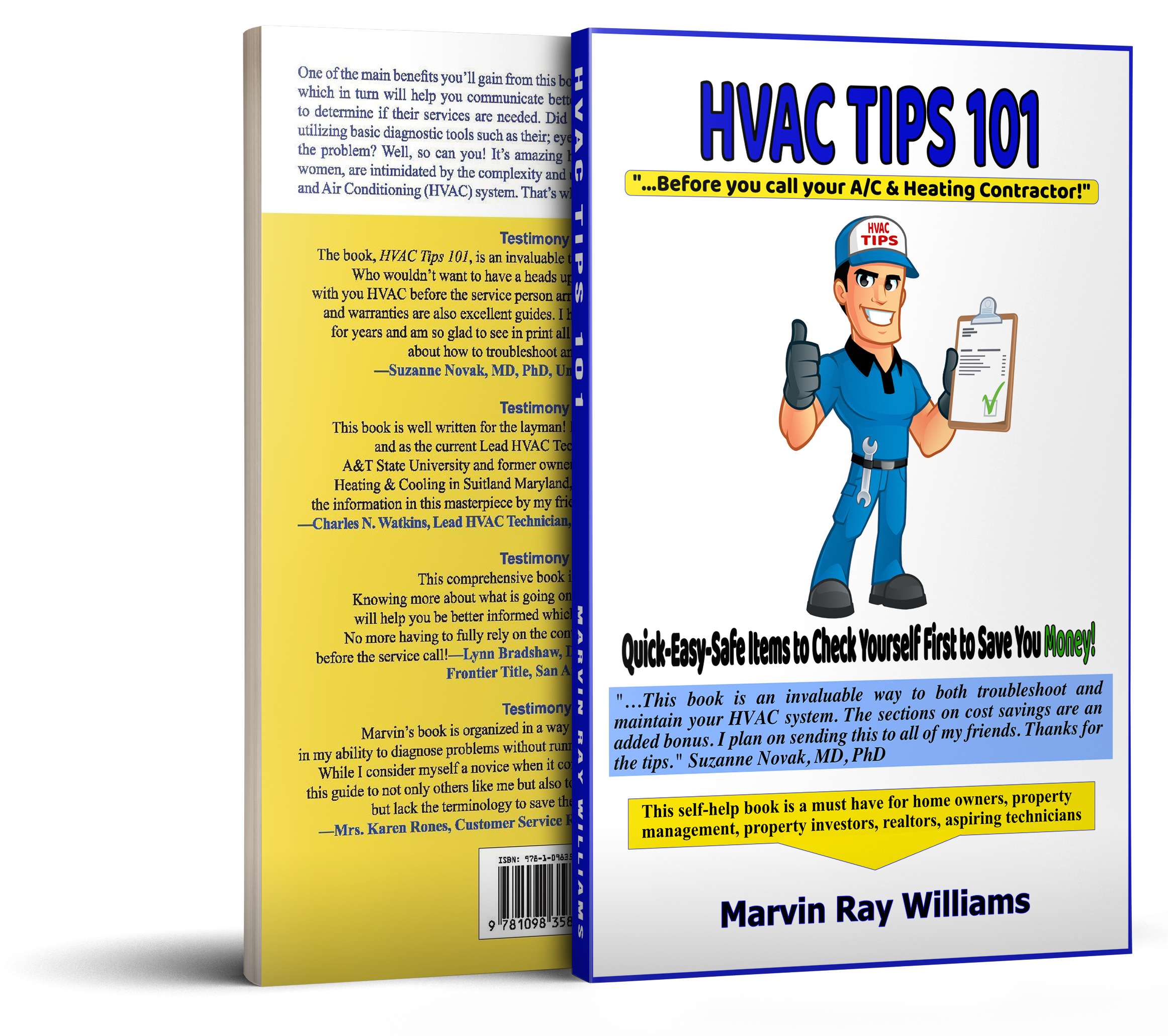 The book's subtitle "…Before you call your A/C & Heating Contractor!" tells it all about the intentions of Marvin Ray, who is looking to provide homeowners with expert and easy-to-follow tips, guides, and instructions on how to fix their A/C systems themselves and save money
United States – HVAC expert, Marvin Ray Williams has squeezed his 30 years of experience into a book titled "HVAC Tips 101" to help homeowners and other laypeople like single women and mothers to solve trivial issues concerning their HVAC systems and avoid spending money unnecessarily. The book provides guides, instructions, and tips to help just about anyone diagnose their HVAC systems and find a quick and inexpensive solution to them.
HVAC Tips 101 is a must-have book for homeowners, realtors, real estate investors, landlords, contractors, single mothers, even the HVAC technician who wants to improve their knowledge. The self-help book is written in English, has 64 pages worth of relevant content, and is available in paperback and eBook formats.
To purchase HVAC Tips 101 book, click here.
HVAC systems are crucial to ensuring comfort in homes across many countries. They work around the clock to improve the air quality and climate environment in buildings, and as such, they are susceptible to minor breakdowns at intervals. To keep them in top working condition regular maintenance is needed. However, it does not come cheap, especially when homeowners have to get in touch with their contractors. The average cost for HVAC standard service is $100. Even simple faults like obstruction in vents, debris in the outdoor unit, and battery replacement cost about $120 an hour. With his new book, "HVAC Tips 101", Marvin Ray Williams hopes to sensitize homeowners about certain issues that they can fix by themselves without the help of an expert.
HVAC Tips 101 book breaks down the complexity of the AC system so that homeowners can understand how it works and start their journey towards learning how to fix them when they are faulty. In it, Mr. Williams discloses that the most powerful tools that technicians use are their eyes, nose, and ears. He delivers HVAC repair tips and Instructions in simple language to aid understanding and delivers them in a step-by-step format so that anyone can read and solve problems concerning their HVAC systems with ease.
Marvin Ray Williams has been in the HVAC servicing business for more than three decades. He has worked as a technician, HVAC contractor, and A/C business owner. He holds a bachelor's degree in Psychology from Ashford University and has had the privilege of working as an HVAC technician in many states across the US and abroad.
HVAC Tips 101 captures Mr. Williams' experience, technical skills, and creative capacity, with regards to maneuvering faulty HVAC systems. It is his desire to help single women, men, and other people save money and live a more comfortable life by keeping their HVAC systems in top condition by using his book.
To buy a copy of HVAC Tips 101, click here. For more information, visit www.hvactips101.com.
Media Contact
Company Name: HVAC Tips 101
Contact Person: Marvin Ray Williams, Author
Email: Send Email
Country: United States
Website: http://www.hvactips101.com