How to judge whether it is laminated safety glass? Interlaminated glass refers to the composite glass products made of two or multiple layers of glass with a layer or multiple layers of organic polymer intermediate film sandwiced between them. After special high-temperature prepressing method (or vacuum method) and high-temperature and high-pressure method, the glass and intermediate film are permanently bonded together.
Laminated safety glass will not be injured by sharp debris caused by the adhesion of the PVB film sandwiched between two pieces of ordinary glass after it is broken. At the same time, the PVB intermediate film has the performance of sound insulation and light insulation, so that it has the function of energy saving and environmental protection.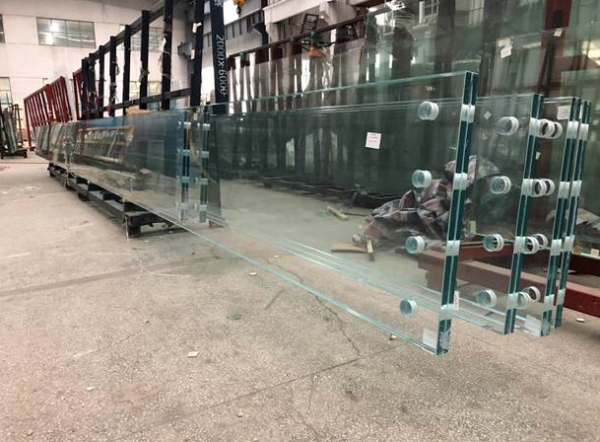 Due to too many functions, there are various brands of laminated glass products in the market. If you are not careful when choosing, you are likely to buy defective products!So how to choose?In fact, the purchase of laminated safety glass is very tricky, can follow the following methods:
Use naked eye to observe whether the color of laminated glass is normal, whether there are bubbles, degumming, stains and other appearance defects.If the intermediate layer is used, the light transmittance of laminated glass has great difference.
Generally speaking, the performance of laminated glass is determined by the thickness, that is, the thicker the laminated glass, the better the performance, such as the impact resistance increases with the increase of the thickness;
Compared with ordinary annealed glass and tempered glass, laminated glass made of heat-reinforced glass has better impact resistance.
To choose according to the use of the scene, such as the railing glass does not bear horizontal load should be safety glass, if the use of laminated glass, its nominal thickness is not less than 6.38mm.The guardrail glass bearing horizontal load shall be tempered laminated glass of nominal thickness not less than 12 mm.
Laminated glass is safety glass, but if not used correctly, there will also be safety risks.Do not use sharp utensils, especially iron utensils, in the use of the process of touching the glass surface and edge of the glass, easy to break the glass and cause danger.If the glass is broken, whether it is single or whole, the laminated glass will lose its safety performance and must be replaced in time.
When laminated safety glass is used outdoors, do not expose the edge of laminated glass, because the edge will be degummed due to moisture absorption, and there are safety risks.Construction, should use neutral silicone glue or polysulfide glue, should not use acid silicone glue or putty sealant, because the former sealing degree is better.
Media Contact
Company Name: Yantai Joyshing Glass Co., Ltd.
Email: Send Email
Phone: +86 0535-3777227
Address:Yeda Industrial Park, Development zone
City: Yantai
State: Shandong
Country: China
Website: https://www.joyshingglass.com/