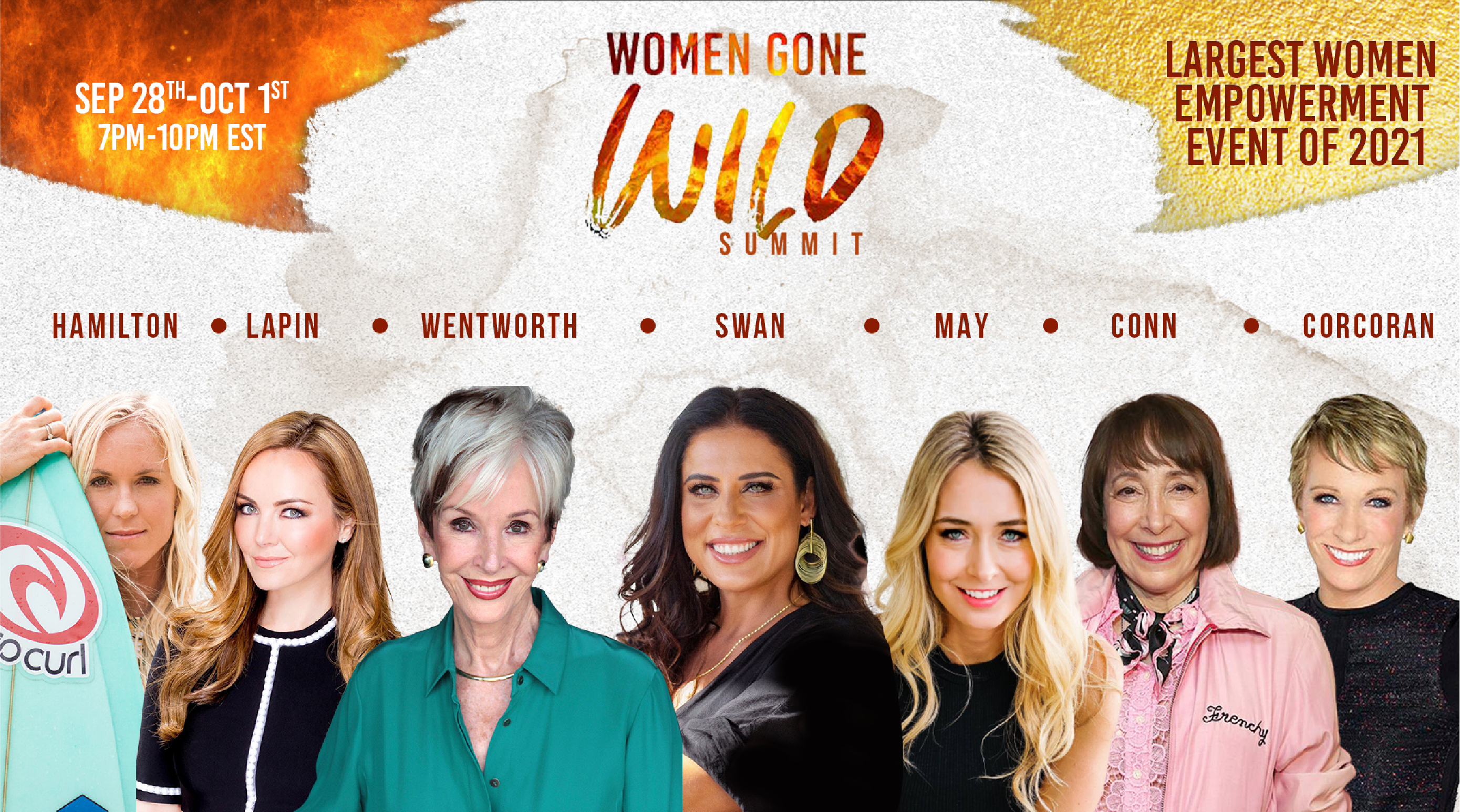 Best Selling Author, Rhonda Swan is taking her book Women Gone Wild, 'The Feminine Guide to Fearless Living' where 22 conscious Female Leaders shared stories of transcending their pain into pure purpose and intentionally abundant lives, into an International Women's Summit. September 28th kicks off the 4 Day Journey of Live Interactive Sessions broadcasting direct from the conscious capital of the World, Bali Indonesia. Designed to inspire, connect and uplift every woman in the room.
With over 100,000 tickets sold and 44 Speakers, 12 Sponsors, 8 Celebrities and 4 Musicians this is going to be THE Women's Event of 2021. "Women Gone Wild has been more than a year in the making, and this Summit is our way of giving more than just a little piece of our own-found freedom, to more women around the world. Come be WILD with us!" – Rhonda Swan.
The Summit takes a deep dive into the four potent powers of women:
Wealth: Day One you will immerse yourself in the tools, strategy and rituals to debunk outdated money beliefs and learn to create wealth, the feminine way.
Intuition: Day Two you will lean into the knowledge and wisdom that has always been within. Our greatest gift as Women, our intuition.
Leadership: Day Three will have the best of you brought into the forefront of your world, we dare you to Lead differently.
Diversity: Day Four master your authentic self and embrace what makes you different, while learning how to do the same for every other human on this planet.
Head to https://wgwsummit.live/ to grab your ticket and get ready to take a seat in one of the most powerful and potent rooms you will ever sit in.
Celebrities like Diana Wentworth, Dannette May, Greg Camp- Grammy award-winning songwriter and bassist from Smashmouth, Jamaican sensation Dezii World, Paskal Suraj and Rachel Rossitto
Speakers: Rhonda Swan, Adriana Monique Alvarez, Amy Bingham, Ania Halama, Blair Kaplan Venables, Cinthia Putri, Dana Kay, Ebony Swank, Erin Mortenson, Karen Whelan, Lala Inuti Ahari, Michelle Arevalo-Carpenter, Stefanie Bruns, Tarryn Reeves, Tarsh Ashwin, Zahra Karsan, Isabel Donadio, Hanalei Swan, Ondi Shepperson, Yamilca Rodriguez, Jodi Vetterl, Kathy Gibson, Celinne Da Costa, Allison Lewis, Alexa West, Sandra O'Brien, Kathi Tait, Kendra Davies, Lilith Moon, Bella Maree Lane, Leah Steele, Dame Doria Cordova, Allison Larsen, Camille Robb, Katrina Sawa, Loretta Wetzel, Annieca Acker.
Sponsors: Top Talent Publishing, The Solo Girls Travel Guide, The Yak Magazine and more to be announced.
About Unstoppable Branding Agency:
UBA is where the elite world class come to expand their impact and influence through PR and Mentoring. Our clients appear in Forbes, Entrepreneur and INC every week.
Media Contact
Company Name: World Star PR
Contact Person: Jimmy Star
Email: Send Email
Phone: 631-506-6600
Country: United States
Website: https://www.facebook.com/WorldStarPR/