Holistic Health Coach Keisha Christian brings awareness to holistic values through the Loving on You: Holistic Self Care with Soul in Mind Summit. Loving on You airs March 10th – 13th on the virtual platform Airmeet. Keisha Christian wants viewers to embrace self-love, while learning new ways to heal and restore peace within one's body, mind, and soul.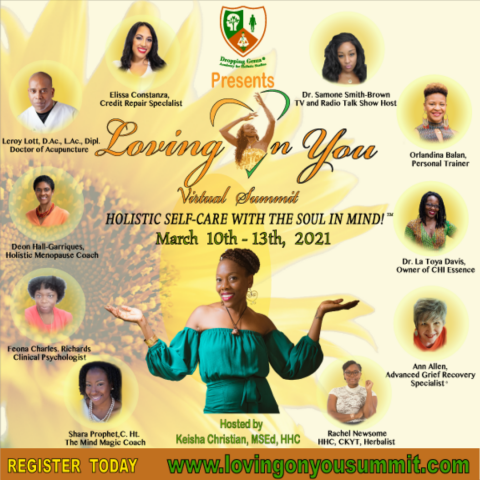 Loving on You Summit features top industry experts in numerous fields that deal with subjects such as: credit repair, fitness, acupuncture, ancestral healing, and many more. Loving on You Summit is a fourday virtual event that allows attendees to not only learn new ways of self- care through listening, but also participate in the journey. The Fitter Woman's Orlandina Balan will lead a quick and easy fitness routine. Keisha Christian will teach viewers how to become more attuned with one's self by leading a daily Meditative Moment that is also featured on her show Dropping Gemz.
Reiki Master and Energy Healer Dr. Latoya Davis – Craig will teach healing techniques through the importance of reiki and energy healing. Hypnotherapist Shara Prophet will share the benefits of hypnotherapy and how it creates clarity in one's life. Emmy Award winning Actor Kiko Ellsworth will be speaking on March 12th. He will be discussing emotional and spiritual healing for men. On Friday, March 12th there will be a networking day that features musical talents and films from African American Woman in Cinema (AAWIC). Loving on You Summit is sponsored by Rude Rangers, Reewind Network, The African American Woman in Cinema, and Pure Romance by Venice.
Keisha Christian is a reiki master, herbalist, holistic health coach, talk show host of Dropping Gemz, and the founder of Dropping Gemz® Academy. Christian's show Dropping Gemz airs on Rude Rangers Network and Reewind Network.
To learn more about Keisha Christian and Loving on You Summit, visit keishagemz.com or lovingonyousummit.com
Media Contact
Contact Person: Amber Renee Johnson
Email: Send Email
Phone: 901-605-6733
Country: United States
Website: http://www.lovingonyousummit.com/