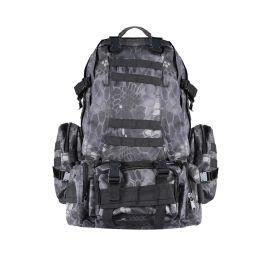 Discover a wide range of backpacks to suit every need, backed by unbeatable customer service.
Hazed Blade, a growing online retailer renowned for its commitment to quality, proudly announces its diverse collection of backpacks designed to cater to the various needs of students and outdoor enthusiasts. With a focus on customer feedback and an unmatched price match guarantee, Hazed Blade has emerged as the go-to destination for those seeking reliable, stylish, and affordable backpacks.
According to the company, Hazed Blade recognizes the importance of finding the perfect backpack to carry essentials comfortably and securely. Whether it's a back-to-school backpack or a rugged option for outdoor adventures, the company's inventory encompasses a wide selection that addresses these different needs. From spacious hiking backpacks to practical school bags, Hazed Blade ensures a range that resonates with its customers.
"Our backpack line was built from customer feedback on what they were looking for," commented the owner of Hazed Blade, Barry Hayes. "Our price match guarantee can't be beaten either. Show us the ad, and we will match the price and still offer our free shipping for any order of $29.99." This commitment to customer satisfaction is a testament to Hazed Blade's dedication to delivering value beyond just products.
Brad T., a customer from Texas, praised Hazed Blade for its exceptional customer service, rapid shipping, and premium product quality in a recent five-star review, "Their knowledgeable and friendly team ensured a seamless experience. I highly recommend them. Thank you for the outstanding service!" he exclaimed.
Hazed Blade's website is a treasure trove of backpack options, ranging from the rugged 56L Military Tactical Backpack to the shopper-favorite Supernatural Way Multipurpose Outdoor Backpack. The company also offers accessories that allow customers to carry water bottles and organize smaller items efficiently, catering to every aspect of their needs.
Hazed Blade sets itself apart from the competition and extends a generous free shipping policy for orders over $24.99.
Hazed Blade's mission is clear: to offer a swift, user-friendly, and customer-oriented online shopping experience. Drawing on years of industry experience, the company has curated a selection of backpacks, premium knives, and custom axes, all at accessible price points. Hazed Blade believes that its success is inherently tied to the satisfaction of its customers, whom they prioritize and serve diligently.
For more information about Hazed Blade and its diverse range of backpacks, please visit https://www.hazedblade.com/backpacks.
About Hazed Blade
At Haze Blade, our mission is to provide a fast, user-friendly, and customer service-oriented online shopping experience. Through our years of industry experience, we have gone to great lengths to offer the best quality knives and bladed tools to our customers at affordable prices, as we know our customers will always be the key to our success!
Media Contact
Company Name: Hazed Blade
Contact Person: Barry Hayes
Email: Send Email
Country: United States
Website: hazedblade.com