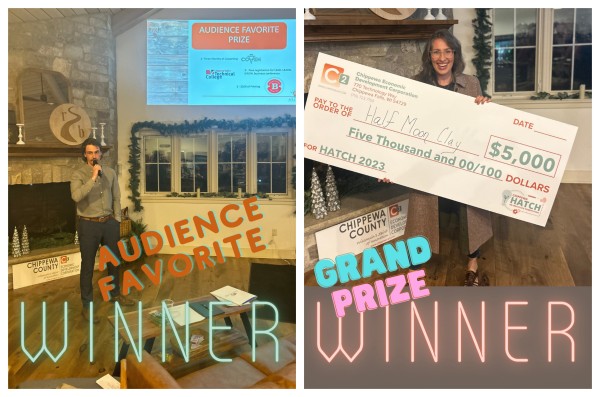 Chippewa Falls, Wisconsin – Nov 20, 2023 – The fifth annual business pitch competition, HATCH An Idea Pitch Competition hosted by the Chippewa Economic Development Corporation, had a sold-out audience on Wednesday, November 15th, as a part of Chippewa Valley Startup week. The event showcased a lineup of contestants, and the winners have been officially announced, along with recognition for the collaborative efforts of community partners.
Whitney Stuart of Half Moon Clay in Eau Claire secured the Grand Prize. Half Moon Clay, a community pottery studio envisioned by Whitney during the pandemic while learning pottery from YouTube, received $5,000 towards a new kiln slated to triple the business's current capacity. She also secured a guest appearance on the BEAR (Business Expansion AND Retention) Discussions Podcast. Red Letter Grant nominated Whitney and Half Moon Clay.
Colin Bursik of Aqua Garden LLC, headquartered in Rice Lake, WI, stood out as the audience's favorite winner. Aqua Garden cultivates produce and herbs in aquaponic towers fed by walleye, making their products a local grocery store staple. Colin was awarded $500 worth of printing from Badgerland Printing USA Inc., three months of coworking at The Coven Eau Claire, and a ticket to Chippewa Valley Technical College's LEAD. LEARN. GROW. business conference.
All annual HATCH competitions revolve around community entrepreneur organizations nominating and submitting their entrepreneur contestants. This year's participating organizations were UW-Eau Claire, Red Letter Grant, The Coven Eau Claire (formerly CoLab), Wisconsin SBDC at UW-Eau Claire, and Chippewa Valley Technical College.
The event was completely sold out for the second year in a row. River Bend Winery and Distillery offered the perfect fireside backdrop, with attendees enjoying the "Taste of Chippewa" portion featuring local vendors Beez Neez Cheesecakes and Sweets, Big Papa BBQ LLC, Yellowstone Cheese LLC, Crescent Meats, and River Bend Winery & Distillery.
River Bend Winery & Distillery owner, Sara Antonson, was the evening's keynote speaker. She discussed what makes the business successful and revealed a sneak peek at their new branding.
Our Nawakwa, Inc., the non-profit spotlight, shared their impactful mission with attendees, shedding light on Camp Nawakwa—a historic 75-acre camp nestled between the towns of Cornell and Bloomer. The organization's goal is to raise $2.3 million to purchase and restore the camp, intending to provide a low-cost option for area youth groups. This non-profit spotlight not only showcased the invaluable work of Our Nawakwa, Inc. but also underscored HATCH 2023's commitment to community engagement and support.
This year's judges were Tom Kell, former president of Kell Container Corporation, Inc, Jacob Bauer of Security Financial Bank, and Kim Commerato-Lance, business and communications professor at Southern Methodist University.
The success of HATCH 2023 was made possible by the generous support of major sponsors- Bobby Mickelson of M3 Insurance, who also served as the evening's emcee, Everything Summercamp and C&N Manufacturing, and Security Financial Bank.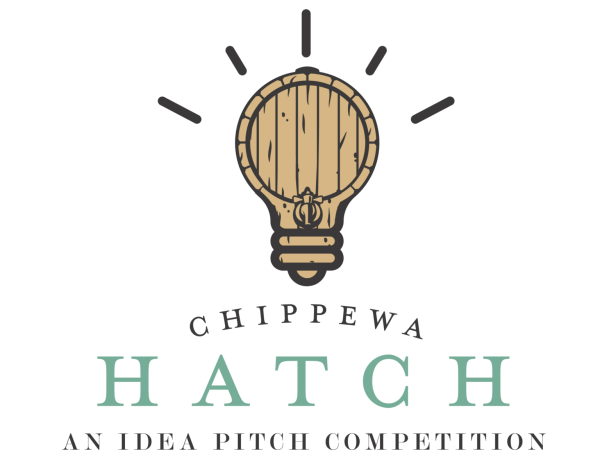 HATCH An Idea Pitch Competition is a celebration of the entrepreneurial spirit defining the Chippewa Valley. The event brought together investors, innovators, and community partners, fostering collaboration and growth. Chippewa Economic Development Corporation looks forward to building on this success in the coming years and continuing to support the thriving startup ecosystem in the Chippewa Valley.
Media Contact
Company Name: Right Now Enterprises, LLC
Contact Person: Sarah Kowal
Email: Send Email
Phone: 503-757-1726
Country: United States
Website: https://sarahkowal.com/