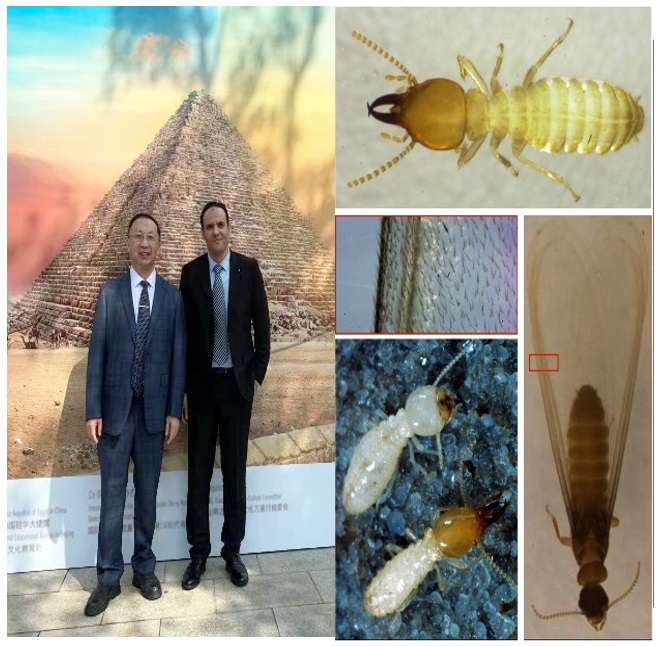 In an era where the need for sustainable solutions has never been greater, Prof. Sameh S. Ali from Tanta University (Egypt), who conducted his research work with Prof. Jianzhong Sun at the Biofuels Institute of Jiangsu University (China) since 2015 until now, has made a global impact with his innovative research into termite gut microbes.
Recognized among the world's top 2% scientists by Stanford University, Prof. Ali is pioneering biotechnological applications that promise to transform environmental challenges into opportunities for a cleaner future.
International Recognition: Prof. Sameh Samir Ali's name is now synonymous with scientific excellence, having been listed in the prestigious Stanford University ranking of the World's Top 2% Scientists for the years 2021 and 2022. This accolade highlights his dedication and significant contributions to the field of environmental science.
Revolutionizing Textile Wastewater Treatment: A recent publication by Prof. Ali in the journal Ecotoxicology and Environmental Safety has captured the scientific community's attention. His research on using termite gut microbes to break down and detoxify textile dye wastewater opens new avenues for sustainable industrial practices, underscoring the potential for greener methods in one of the most pollutant-heavy industries.
Spotlighted by NEW SCIENTIST: The prestigious NEW SCIENTIST magazine has featured Prof. Ali's work, detailing his pioneering study on converting wood waste into biofuel. The research, conducted with Prof. Jianzhong Sun at Biofuels Institute of Jiangsu University (China), introduces a novel bacterial consortium from termites capable of degrading toxic compounds in wood while enhancing methane yield, a breakthrough in biofuel technology.
Innovative Approaches to Azo Dye Wastewater and Biodiesel Production: In the journal Biotechnology for Biofuels, Prof. Ali has shared another aspect of his groundbreaking work involving oleaginous yeasts from termite guts. His dual-focused approach not only addresses the degradation of harmful azo dye wastewater but also streamlines biodiesel production, showcasing his role in advancing the frontier of microbial biotechnology.
Conclusion: Prof. Sameh S. Ali's extensive research, which spans across prestigious journals and international collaborations, has established him as a luminary in the scientific world. His commitment to leveraging the secrets of nature for practical, environmentally-friendly applications has set a course for a more sustainable future, earning him a well-deserved global recognition and anticipation for what his next breakthrough might reveal.
Closing Statement: The scientific community and industry leaders alike eagerly await the practical implementation of Prof. Ali's insights. His work not only educates on the environmental perils we face but also inspires a movement towards the adoption of eco-conscious technologies and processes for a world in dire need of sustainable solutions.
Media Contact
Company Name: Index of Sciences Ltd
Contact Person: Stella Richards
Email: Send Email
Phone: +441442781196
Address:Kemp House 160 City Road
City: London
State: England
Country: United Kingdom
Website: https://www.indexofsciences.com