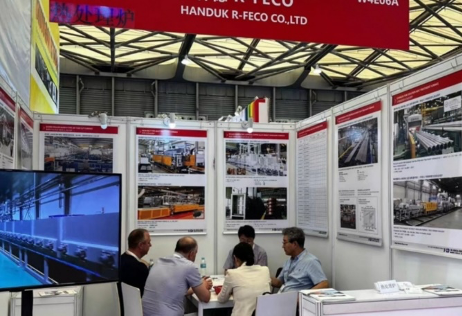 HANDUK RFECO, a leading name in the industrial furnace sector, made a significant impact at the recently concluded "TUBE CHINA 2023" exhibition held at the Shanghai New International Expo Centre (SNIEC). Against the backdrop of challenging times in the manufacturing industry, the company's steadfast commitment to its core values and innovative approach have garnered attention and acclaim, signaling a promising future.
At this exhibition, over 500 renowned global companies participated, including Chinese firms ANSTEEL and CITIC STEEL, as well as international metal industry giants like INDUCTOTHERM, a global brand in metallurgy, German industrial machinery manufacturer WAFIOS, and Dutch saw blade producer KINKELDER. The event spanned three days and featured dynamic marketing activities and seminars that showcased the participants' vibrant performances. Notably, HANDUK RFECO, a Korean enterprise led by CEO Jang Keun-Soo, captured attention with its advanced technological capabilities and innovative buyer-focused marketing.
Since its establishment in April 2000, HANDUK RFECO has consistently evolved, solidifying its administrative foundations with milestones such as obtaining the Venture Enterprise Certificate in 2009 and achieving ISO9001 certification, setting up an in-house research institute, and securing Inno-Biz certification by 2012. Specializing in designing, manufacturing, and constructing industrial furnaces for energy recovery across various industrial sectors, including metal, non-ferrous metals, glass, secondary batteries, and environmental materials, the company has earned a reputation with a portfolio of more than 300 successful installations.
The company's participation in "TUBE CHINA 2023" showcased its brand identity to a global audience, underlining its dedication to technological prowess and efforts toward a sustainable future. The exhibition elicited positive interest from media worldwide, particularly for its solutions aligning with the global trend of environmental pollution control and energy efficiency.
HANDUK RFECO's achievements extend beyond its domestic market. With a focus on steel sales and significant export performance, accounting for nearly 60% of its total exports, the company's formidable expertise in the non-ferrous metal sector opens new doors for expansion into diverse trading avenues. Post the exhibition, the company has engaged in discussions with over 50 enterprises from around the world, including China, for potential export collaborations. Furthermore, the company is strengthening its collaborations in technology and distribution.
"Looking ahead, we believe that our brand image is spreading positively after TUBE CHINA 2023. We are actively fostering communication with engaged buyers, expanding our global marketing efforts, and enhancing our product and image marketing to achieve tangible results in export diversification," stated a company spokesperson. "Notably, HANDUK RFECO, as an environmentally conscious enterprise, will continue to promote its essential identity as a green company committed to a sustainable future."
Amidst the challenges faced by the manufacturing sector, HANDUK RFECO's unwavering dedication to its core values and its noteworthy presence in the industrial furnace sector have earned the company recognition and attention for its promising journey ahead.
For more information, please visit www.rfeco.com.
Media Contact
Company Name: Handuc RFECO
Contact Person: Mr.J.T.Kim/C.T.O
Email: Send Email
Country: China
Website: www.rfeco.com