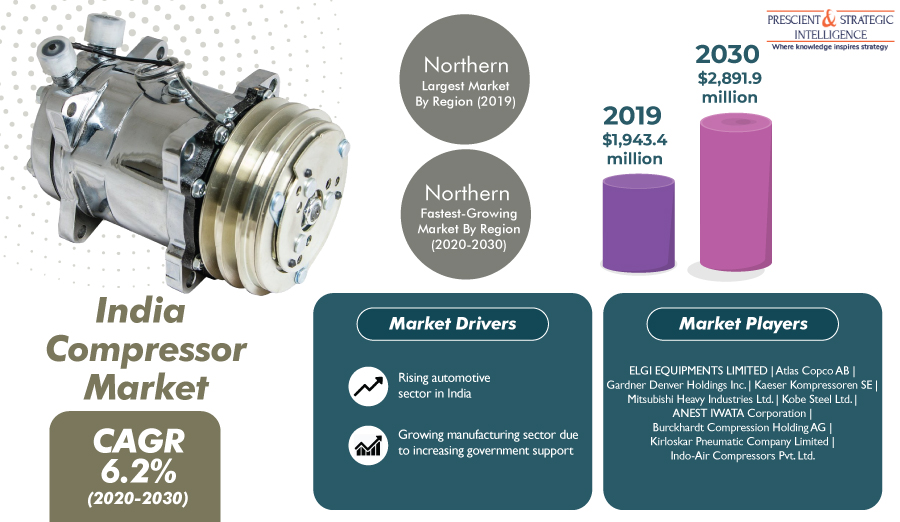 The Indian compressor market is predicted to advance at a CAGR of 6.2% between 2020 and 2030
The rapid growth of the manufacturing sector in the last few years has caused a sharp surge in the sales of compressors in India. Moreover, with the implementation of favorable government policies, this trend is likely to continue in the future years. According to industry experts, the manufacturing sector in the country is predicted to attain a valuation of $1 trillion by 2025. In manufacturing facilities, industrial air compressors are heavily used for clamping, stamping, and tool powering.
This is subsequently driving the advancement of the Indian compressor market. The market valuation is predicted to rise from $1,943.4 million to $2,891.9 million from 2019 to 2030. Furthermore, the market is predicted to advance at a CAGR of 6.2% between 2020 and 2030. There are mainly two types of compressors used in India— rotary and positive displacement. Of these, the sales of the positive displacement compressors were found to be higher in the past years.
Download report sample at: https://www.psmarketresearch.com/market-analysis/india-compressor-market/report-sample
The Indian compressor market recorded considerably high growth in the northern region in the past and this trend will continue in the upcoming years as well. Compressors are extensively used in industrial and automotive manufacturing applications in this region. Furthermore, the usage of the compressors is currently being observed to be very high in the National Capital Region (NCR), primarily because of the rapid industrial growth and soaring automobile manufacturing in this region.
Thus, it can be safely concluded that the sales of compressors would skyrocket all over India in the coming years, mainly because of their growing requirement in the manufacturing sector and automotive industry and the explosive growth of the manufacturing sector in the country.
Browse full report at: https://www.psmarketresearch.com/market-analysis/india-compressor-market
The research includes detailed analysis of;
Based on Type
Positive Displacement
Dynamic
Based on Lubrication Type
Based on Portability
Based on Pressure
Ultra-Low-Pressure
Low-Pressure
Medium-Pressure
High-Pressure
Hyper-Pressure
Based on Application
Construction
Power
Industrial Manufacturing
Heating, Ventilation, Air Conditioning, and Refrigeration (HVAC-R)
Chemical and Cement
Automotive
Oil and Gas
Food and Beverage
Textile
Browse More Reports
Compressor Market – https://www.psmarketresearch.com/market-analysis/compressor-market
China Compressor Market – https://www.psmarketresearch.com/market-analysis/china-compressor-market
Media Contact
Company Name: P&S Intelligence
Contact Person: Abhishek
Email: Send Email
Phone: +918887787886
Address:Noida Sector 2
City: Noida
State: UP
Country: India
Website: https://www.psmarketresearch.com/market-analysis/india-compressor-market