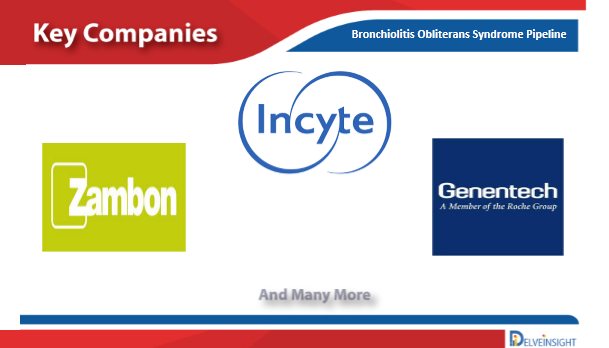 DelveInsight has launched a new report on Bronchiolitis Obliterans Syndrome Pipeline
Bronchiolitis obliterans syndrome (BOS) is a form of chronic lung allograft dysfunction that affects a majority of lung transplant recipients and is the primary factor limiting long-term transplant survival. It is characterized by progressive airflow obstruction resulting in acute rejection of the graft, followed by infections, or other coexistent condition.
Request for free sample copy- https://www.delveinsight.com/sample-request/bronchiolitis-obliterans-syndrome-pipeline-insight
Bronchiolitis Obliterans Syndrome Pipeline analysis across different stages of development (Phase III), different emerging trends, and comparative analysis of pipeline products with detailed clinical profiles, key cross-competition, launch date along with product development activities
Bronchiolitis Obliterans Syndrome Emerging Therapy
The expected launch of emerging therapy such as Liposomal Cyclosporine A (Zambon Pharma), Ruxolitinib (Incyte Corporation), Pirfenidone (Genentech) is expected to change the treatment landscape of Bronchiolitis Obliterans Syndrome (BOS) in the upcoming years.
Emerging drugs included in the report
Liposomal Cyclosporine A: Zambon Pharma
Ruxolitinib: Incyte Corporation
Pirfenidone: Genentech
Bronchiolitis Obliterans Syndrome Drugs
Bronchiolitis Obliterans Syndrome Treatment includes the use of Leukotriene Receptor Antagonist, Anti-Fibrotic Agents, Cell-cycle Inhibitors, Macrolide Antibiotics followed by Induction Therapies to avoid acute rejection at the time of transplantation.
Bronchiolitis Obliterans Syndrome Treatment
Despite rapid advances in the discipline of lung transplantation and demonstrable improvement in short-term outcomes, there has been no substantial decrease in the prevalence of BOS, and no effective treatment has yet been established. This results into BOS being the principal factor contributing to limited long-term survival and suboptimal quality of life among lung allograft recipients and represents a major scientific challenge that must be surmounted before lung transplantation can become a durable, curative therapy for patients with advanced lung disease.
Bronchiolitis Obliterans Syndrome Report Highlights
The companies and academics are working to assess challenges and seek opportunities that could influence Bronchiolitis Obliterans Syndrome R&D. The therapies under development are focused on novel approaches to treat/improve Bronchiolitis Obliterans Syndrome.
In January 2020, Altavant Sciences acquired Onspira Therapeutics. The Company is intended to develop OSP-101 for the treatment of Bronchiolitis Obliterans Syndrome, the leading cause of morbidity and mortality in post-lung transplant patients.
In May 2017, PARI Pharma gained Orphan Drug Designation for L CsA i for the treatment of BOS by the European Commission. L-CsA-i has also received Orphan Drug Designation from the FDA for the treatment of bronchiolitis obliterans.
Breath Therapeutics' drug device platform consists of liposomal drug-aerosol formulations and cutting-edge inhalation technology. The basis for successful inhalation therapy is precise and fast drug delivery into the small airway of the lungs. This requires a uniquely designed drug formulation paired with a high-performance, drug-specific nebulizer.
In August 2014, Roche and InterMune reach a definitive merger agreement in which Roche acquired InterMune for USD 74.00 per share. This corresponds to a total transaction value of US$ 8.3 billion on a fully diluted basis. This offer represents a premium of 38% to InterMune's closing price on 22 August 2014 and a premium of 63% to InterMune's unaffected closing price on 12 August 2014. The merger agreement has been approved by the boards of InterMune and Roche.
In October 2017, Mereo BioPharma acquired an exclusive license for MPH-966 from AstraZeneca together with an option to acquire the IP based on certain milestones.
Request for free sample copy- https://www.delveinsight.com/sample-request/bronchiolitis-obliterans-syndrome-pipeline-insight
Table of content
Introduction
Executive Summary
Bronchiolitis Obliterans Syndrome: Overview
Pipeline Therapeutics
Therapeutic Assessment
Bronchiolitis Obliterans Syndrome – DelveInsight's Analytical Perspective
In-depth Commercial Assessment
Bronchiolitis Obliterans Syndrome Collaboration Deals
Late Stage Products
LIPOSOMAL CYCLOSPORINE A: BREATH THERAPEUTICS (A ZAMBON COMPANY)
PIRFENIDONE: GENENTECH
Mid Stage Products
RUXOLITINIB: INCYTE CORPORATION
ALVELESTAT: MEREO BIOPHARMA
Early Stage Products
ITACITINIB: INCYTE CORPORATION
Pre-clinical and Discovery Stage Products
ALTA-2530: ALTAVANT SCIENCES (A SUBSIDIARY OF SUMITOVANT)
Inactive Products
Bronchiolitis Obliterans Syndrome Key Companies
Bronchiolitis Obliterans Syndrome Key Products
Bronchiolitis Obliterans Syndrome- Unmet Needs
Bronchiolitis Obliterans Syndrome- Market Drivers and Barriers
Bronchiolitis Obliterans Syndrome- Future Perspectives and Conclusion
Bronchiolitis Obliterans Syndrome Analyst Views
Bronchiolitis Obliterans Syndrome Key Companies
Appendix
What are the key questions answered?
How many companies are developing Bronchiolitis Obliterans Syndrome drugs?
How many Bronchiolitis Obliterans Syndrome drugs are developed by each company?
How many emerging drugs are in mid-stage, and late-stage of development for the treatment of Bronchiolitis Obliterans Syndrome?
What are the key collaborations (Industry–Industry, Industry–Academia), Mergers and acquisitions, licensing activities related to the Bronchiolitis Obliterans Syndrome therapeutics?
What are the recent trends, drug types and novel technologies developed to overcome the limitation of existing therapies?
What are the clinical studies going on for Bronchiolitis Obliterans Syndrome and their status?
What are the key designations that have been granted to the emerging drugs?
Related Reports
Media Contact
Company Name: DelveInsight Business Research LLP
Contact Person: Yash Bhardwaj
Email: Send Email
Phone: +919650213330
Address:304 S. Jones Blvd #2432
City: Las Vegas
State: NV
Country: United States
Website: https://www.delveinsight.com/