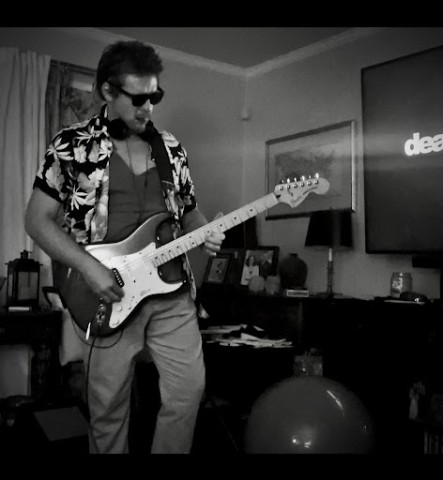 Nashville, TN – Film artist, Navy veteran, and frontman for the wildly popular Greasy Granny Band, "Pilot Hayes," is being hailed as a hero after he played a crucial role in saving the lives of two African American girls involved in a four-way head-on collision on Wednesday evening.
During the accident, Hayes was on stage, playing his guitar. He literally threw his guitar down, sprinted toward the smoke and shattered glass-then proceeded to rip his shirt off and applied pressure to their wounds, successfully stopping the bleeding. Soon after police and medics were on the scene.
"I just reacted instinctively," Hayes said. "I knew that every second counted and I had to do something to help those people. I'm just glad that I was able to make a difference."
Hayes' quick thinking and bravery have earned him widespread praise and admiration, and he has become a symbol of the resilience and selflessness of the human spirit.
In addition to his heroic actions, Hayes and the rest of the Greasy Granny Band have also made a name for themselves with their unique blend of blues, country, and rock and roll. With their original art and philanthropic efforts, they are poised to break touring records in 2023 and cement their place in the Hall of Fame.
Co-founded in 2010 by film artist Pilot Hayes, the Granny Band was invented into fruition group of college age jazz cats set out on an excursion to intercept the notorious Bigfoot Sasquatch. Instead, these guys formulated a rock band with all the instruments and amps they packed along for the journey.
Chaplain Christopher Williams, the drummer of the band, also provides therapeutic and spiritual care via consultation and music therapy via his Circle of Life spirituality center project on Facebook. The band began in North Carolina, but has accrued members from all parts of the world, including 'the last blues artist, Smokin' Shabba, from Hungary.
Pilot Hayes, with the Greasy Granny Band, has composed some 97 all original songs and thousands of photos and film videos—mostly available exclusively on YouTube and BandCamp. The GB also has books, NFT's, paintings and other merchandise available on their website.
Fans can catch the Granny Band's music on YouTube and follow their journey on social media. The band is also working on a new record, set to be released in the coming months.
Media Contact
Company Name: Greasy granny band
Contact Person: Chri hayes "Pilot"
Email: Send Email
Country: United States
Website: https://grannyband.univer.se/