Vinyl flooring plasticizers market continues to witness lucrative opportunities across countries owing to the rising demand of flooring industry across the globe.
The global market for vinyl flooring plasticizers has been carefully assessed and reported through a smart research report published by Fact.MR. This analysis is titled "Vinyl Flooring Plasticizers Market Forecast, Trend Analysis & Competition Tracking – Global Market insights 2018 to 2027", which discourses information related to the rising demand and changing trends experienced in the global vinyl flooring plasticizers market. As per research findings, the vinyl flooring plasticizers market is estimated to grow at a stable CAGR of 3.2% in terms of value during the period between 2018 and 2027.
It has been noticed that vinyl flooring plasticizers market will deliver lucrative opportunities as a result of rising demand of flooring industry at the global level. In addition, swelling demand of ecologically sound vinyl flooring products has worked to motivate the adoption of non – phthalate plasticizers across the vinyl flooring market. Manufacturers are encouraged to use new innovations so as to fulfill the rising need of non–phthalate plasticizers.
Request For Sample Report- https://www.factmr.com/connectus/sample?flag=S&rep_id=1509
The report starts with the executive summary that discusses flooring industry scenario and opportunity assessment in-depth. Further, readers can access data associated to market definition and market taxonomy. The assessment drops light at crucial market factors such as market dynamics, supply chain analysis and key regulations; each of which is necessary in understanding the global vinyl flooring plasticizers market.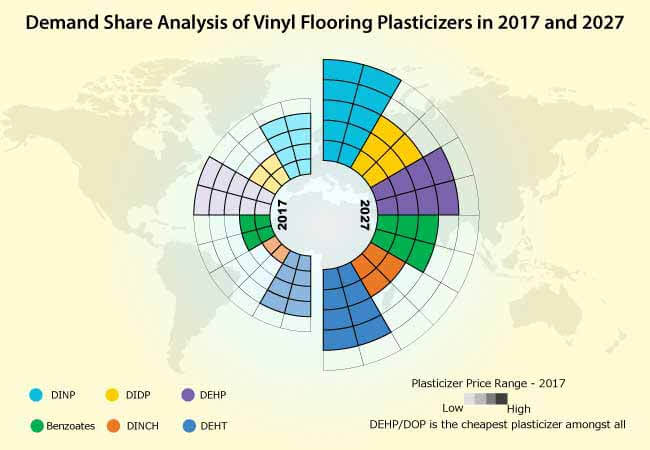 The later section of the report segments the global market for vinyl flooring plasticizers in terms of plasticizer type and region. Based on plasticizer type, the global market is divided into benzoates, DINCH, DEHT and others. Different market aspects such as Y-o-Y growth comparison, absolute dollar opportunity and market attractiveness are used to examine these segments. Talking about geographical assessment, Asia Pacific region has been witnessing momentous growth in the vinyl flooring plasticizers market. The APAC regions is likely to maintain its authority in the vinyl flooring plasticizers market during the stated forecast period. With the adoption of sustainable construction products across APAC, there has been a major flow in the demand for vinyl flooring plasticizers.
As the report concludes, readers can gain knowledge regarding the competitive landscape that includes various players operating in the global vinyl flooring plasticizers market. The tier 1 companies across the vinyl flooring plasticizers are sternly competing for acquiring shares by enhancing their product portfolio. On the other hand, global player such as BASF, Evonik and ExxonMobil have strategized on delivering non-phthalate plasticizers and strengthening their reach in the emerging markets. This is made possible with the launch of joint ventures and procurements of small as well as medium enterprises in the target regions. Each of the manufacturers included in the report is examined based on important factors such as company strategic assessment, SWOT analysis, channel strategy, product facilities etc.
Browse Full Report with Tables and Figures – https://www.factmr.com/report/1509/vinyl-flooring-plasticizers-market
About Fact.MR
Fact.MR is a fast-growing market research firm that offers the most comprehensive suite of syndicated and customized market research reports. We believe transformative intelligence can educate and inspire businesses to make smarter decisions. We know the limitations of the one-size-fits-all approach; that's why we publish multi-industry global, regional, and country-specific research reports.
Contact Us
Fact.MR
11140 Rockville Pike
Suite 400
Rockville, MD 20852
United States
Email: sales@factmr.com
Blog: https://factmrblog.com/
Media Contact
Company Name: Fact.MR
Contact Person: Nicholas Maze
Email: Send Email
Phone: +353-1-6111-593
Country: Ireland
Website: www.factmr.com/report/1509/vinyl-flooring-plasticizers-market