The global market for loading spout was valued at US$ 2,859.1 million in 2017. The market is expected to expand by 1.7x over the forecast period, 2018-2028.
A loading spout is either attached at the bottom of a silo or hopper. Also, it is located at the concluding portion of an air conveying system, and is used for distributing dry bulk supplies in open trucks, railcars, stockpiles, tank vehicles, ships and barges. Fact.MR has actively published a research study which dissects the overall sector for loading spout with a purpose to deliver vital information associated to market growth and development trends. This study is titled "Loading Spout Market Forecast, Trend Analysis & Competition Tracking – Global Market insights 2018 to 2028", which focuses on the current & future status of the global loading spout market covering important factors such as market drivers, restraints and opportunities.
Request For Sample Report- https://www.factmr.com/connectus/sample?flag=S&rep_id=1473
As per research findings, the demand for loading spout worldwide is likely to grow at a steady CAGR of 5.1%, with respect to value during the forecast period, 2018-2028. It has been noticed that demand for loading spout directed from the cement industry has significantly augmented in the last few years. This increase is due to growing urbanization and advancement across the industrial sector. Further, multinational companies have tagged the Asia Pacific excluding Japan region as the most profitable based on its building & construction industry. Interestingly, China has been ranked as the largest cement producer at the global level, followed by India. Hence, a steady push in the cement industry would surely work to increase the demand for its bulk treatment, and in turn, loading spout.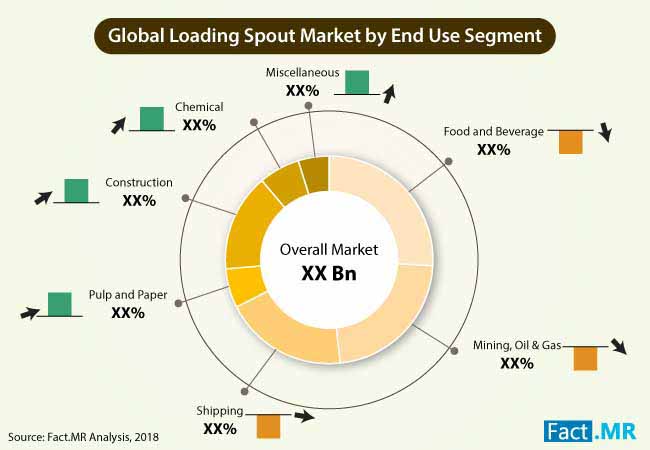 The efforts by various manufacturers to improve the functionality of loading spouts has proven quite effective for the overall market. The use of CAD (Computer Aided Design) and CAM (Computer Aided Manufacturing) for developing highly capable loading spouts is seen as a positive step towards a better future. Such advanced manufacturing technologies are known to ensure greater durability, accuracy and speed, all of which is strongly concentrated on delivering cost efficient equipment. Analysts have stated that, these innovative manufacturing methods are expected to advocate a prominent surge in loading spout demand until 2028.
This research study contains several market factors such as value chain analysis, PEST analysis together with industrial dust control laws and regulations, with a purpose to enlighten the readers in a better manner. In the later sections of the report, the global loading spout market is divided on the basis of loading type, product type, maximum grain size, flow rate, region and end-use industries. Each of these segments are analyzed in terms of market value, volume and forecast, along with market attractiveness.
Browse Full Report with Tables and Figures – https://www.factmr.com/report/1473/loading-spout-market
The final section of the report is dedicated to present precise data related to competitive landscape. This portion talks about company profiles of major players operating in the global loading spout market. Some of the major manufacturers studied in the report are WAMGROUP S.p.A, Salina Vortex Corp., HENNLICH S.R.O., Midwest International Standard Products, Inc., BEUMER Group GmbH & Co. KG, Mm Despro Engg. Pvt. Ltd., and Daxner GmbH. Each of these companies are assessed in terms of company overview, product portfolio, strategy, recent development, and SWOT analysis.
About Fact.MR
Fact.MR is a fast-growing market research firm that offers the most comprehensive suite of syndicated and customized market research reports. We believe transformative intelligence can educate and inspire businesses to make smarter decisions. We know the limitations of the one-size-fits-all approach; that's why we publish multi-industry global, regional, and country-specific research reports.
Contact Us
Fact.MR
11140 Rockville Pike
Suite 400
Rockville, MD 20852
United States
Email: sales@factmr.com
Blog: https://factmrblog.com/
Media Contact
Company Name: Fact.MR
Contact Person: Nicholas Maze
Email: Send Email
Phone: +353-1-6111-593
Country: Ireland
Website: www.factmr.com/report/1473/loading-spout-market