Global Syn-Turf, Inc., a leading manufacturer of high-quality artificial turf in the United States, announced today the release of the new re-engineered line of synthetic grass. The products have been designed to focus on thermal performance and turf's functionality in terms of resilience, elasticity, and rigidity of synthetic fibers.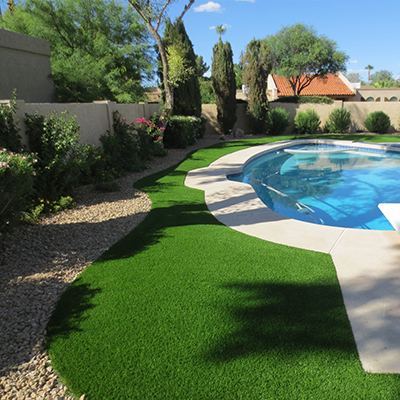 The Cool Blue Hollow artificial grass combats the heat of synthetic turf fields by utilizing a unique Hollow blade profile that creates a moisture locking system. When sprayed with water, Cool Blue Hollow blades trap moisture inside and, on a hot summer day, transpire water into the atmosphere mimicking the natural plant evaporation process. It helps to release heat from the surface, keeping the turf temperature lower for extended periods.
Newly redesigned turf series by Global Syn-Turf, Inc. presents the enhanced elasticity, rigidity, and resilience, boosting the capacity of fibers to resist heavy traffic, absorb shock without altering the surface characteristics and spring back after compression is removed.
Cool Blue Hollow series incorporates two advanced turf products, the Cool Blue Hollow Lime and the Cool Blue Hollow Olive. In combination with other advanced Global Syn-Turf's technology, The Cool Blue Hollow series is taking the turf industry to another level representing another step towards reducing the global carbon footprint and conserving water and energy resources.
"The results of synthetic turf temperature reduction with updated Hollow profile blades have been nothing short of impressive," said Global Syn-Turf vice president Shannon Beck. "As a leading manufacturer, we take our responsibility to create a green, water-efficient, and eco-friendly alternative to traditional lawns and sports surfaces very seriously."
Some of the benefits and strengths of artificial turf affect the livability of the outdoor environment and also the physical and mental wellbeing of homeowners. With economic uncertainties related to pandemics and following lockdown measures, maintaining the eco-efficiency of your home helps to cut down landscaping services' visits and lower water bills so residents can spend more time outdoors in safe, tranquil settings.
"Our synthetic turf has been popular with homeowners for a decade; in fact, over the last six years, we have seen astonishing growth. But when the Covid-19 hit, we were worried about our employees and the future," said Shannon Beck, "Instead, we are seeing how our products and services align perfectly with the healthy environment homeowners are creating for themselves, leading us to launch a series of new turf products this year."
About Global Syn-Turf
Global Syn-Turf is a leading manufacturer of artificial grass in the United States and a member of the U.S. Green Building Council, promoting products that give people better, brighter, healthier spaces to live, work, and play. Based in California, Global Syn-Turf, Inc. strives towards the satisfaction of its customers by offering an industry-leading 15-year warranty on all artificial grass products. Global Syn-Turf manufactures more than 150 million square feet of artificial grass each year. Their certified production plants in the United States and overseas produce artificial grass for lawns, putting greens, sports fields, playgrounds, rooftops, traffic medians, and more. They have the largest inventory of synthetic turf in the United States and provide the highest quality products available on the market today.
Media Contact
Company Name: Global Syn-Turf, Inc.
Contact Person: Shannon Beck
Email: Send Email
Phone: (877) 796-8873
City: Pleasanton
State: CA
Country: United States
Website: https://www.globalsynturf.com