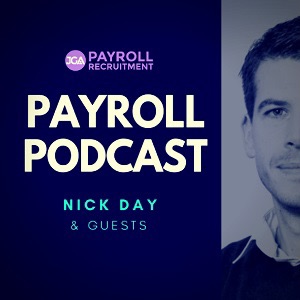 The Payroll Podcast interviews payroll industry experts to inform people about complex matters that affect global payroll. Issues discussed include international payroll legislation, technology solutions, and International compliance as well as the many other challenges that impact on payroll operations every day. "The Payroll Podcast" aims to raise the profile of payroll by bringing you nothing, but the best payroll content.
Hosted by Nick Day, Director of JGA Recruitment, "The Payroll Podcast" was produced for a broad global payroll community. This podcast launched in the year 2018, with the first episode being aired on March 31, 2020. As for now, there are a total of 43 episodes in this podcast series. Each episode deals with different and complex issues related to payroll ranging from GDPR to Robotic Process Automation; Blockchain Technology, Recruitment and Artificial Intelligence to Wellbeing; Compliance; Payroll Control Frameworks, International Payroll Legislation, and the future of the industry.
The guests on the podcast include payroll industry leaders from global payroll directors, payroll trainers and payroll managers to billionaire payroll business owners. The very first episode of the podcast series features Richard George, Director of Education at The Payroll Centre. He provides insight and advice for GDPR and tips to avoid common mistakes while developing a robust plan for payroll compliance. Other episodes, such as those released on May 17, 2019, were recorded live at the American Payroll Association Congress 2019 in Long Beach, California. These episodes featured International payroll heavyweights including Kira Rubiano and Max Van Der Klis Busink, both winners of the coveted 'Payroll Global Vision Award', provided by Global Payroll Management Institute (GPMI).
The five-star reviews have been equally complimentary. "Fabulous podcast! I've found it really interesting! They're so well thought out, professional, insightful with an element of humour and to add to that it has a personal touch added too! I would definitely recommend listening to it".
The latest episode of the podcast was released on June 15, 2020, where the host Nick Day, is joined by Steve Sarowitz, the payroll billionaire and philanthropist. They explore topics related to Steve's journey to becoming a billionaire owner of three major global payroll businesses and his passion for helping others and the Baha'i faith.
"The Payroll Podcast" is extremely helpful for the payroll professional. It provides people with practical information about payroll to ensure that payroll is implemented, processed, and managed correctly and accurately. The podcast also often includes quirky insights to help keep the listener wanting more! The concept of the podcast is raw, unique, and refreshing, which is highly loved and appreciated by core and committed subscribers and listeners.
Listen to "The Payroll Podcast" on Apple Podcasts.
Podcast Link: https://jgarecruitment.com/the-payroll-podcast/
Media Contact
Company Name: JGA Recruitment Ltd
Contact Person: Nick Day
Email: Send Email
Country: United Kingdom
Website: www.jgarecruitentment.com