With the world dealing with COVID-19 pandemic, air filtration systems will come in handy. The device is capable of eliminating suspended particles like smoke, virus, bacteria, in public places and classrooms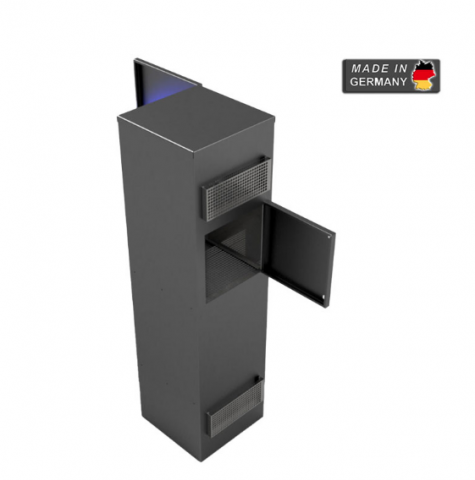 As the world gradually resumes normalcy, it is crucial to take safety as a priority. One of the companies ensuring that the world is safe from multiple waves of viral outbreaks like COVID-19 is Theta Laser GmbH.
The company is happy to announce its latest product, the Thetacore180 indoor air virus filter, built with 3x filtration. The product is compact, easy to use, and very affordable.
It can be used safely in schools, event centers, hospitals, and other public facilities to eliminate viruses and different types of parasites in the air.
To learn more, please visit their website at https://theta-laser.de/thetacore180
Everyone deserves to live in a world with clean air, which can boost their health. However, getting clean air is almost impossible, especially if you're living in the city. But now, a German company, Theta Laser GmbH, is changing all that. Everyone knows the Germans are skilled at building stuff that is efficient and durable.
Thetacore180 indoor air virus filter is explicitly built to handle the current situation of the world. It offers a three-in-one filter experience, including HEPA Filter, FP2 filter, and UV-C light.
The HEPA filter part of the system separates suspended solids like bacteria, pollen, virus, dust, pollen, and aerosols, and smoke particles. The filter makes the system the perfect air purifier for homes and public places, especially during COVID-19.
In addition to the HEPA filter, the builders also installed a FP2 filter to give it an extra layer of protection and filtration capability. FP2 filter is made with the same material used in masks.
Users of Thetacore180 indoor air virus filter will also benefit from an additional protection layer with the UV-C light function. UV light cleanses in a way that disrupts the balance of microorganisms like bacteria, yeast, and virus.
Thetacore180 indoor air virus filter is the ideal filtration and cleansing device for any closed spaces. It is recommended for classrooms, lounges, event centers, conference rooms, office rooms, etc. It's easy to install and maintain, and very rugged. The Germans build it.
For more information, please visit here.
Country: Germany
Phone: +492389962990
Email: Info@theta-laser.de
Media Contact
Company Name: Theta Laser GmbH
Contact Person: Media Relations
Email: Send Email
Phone: +492389962990
Country: Germany
Website: www.theta-laser.de/thetacore180