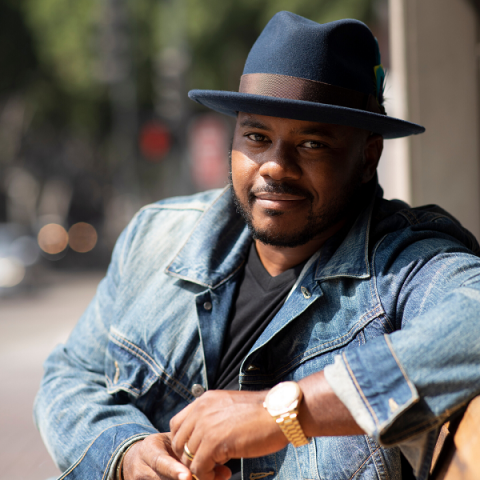 Atlanta, GA – April 27, 2020 – In a sea of conflict driven, faux reality sameness, something seems to be missing. More and more people are looking for diverse, nuanced, impact driven programming. The problem is, the people looking for it are having a hard time finding it. TV Producer Gerald Washington is ready to change that for good.
As the Executive Producer behind some of your favorite TV shows, Gerald Washington has always preferred to be behind the camera, making magic. During his tenure in Hollywood, Gerald launched SIX successful prime time television shows, a cable television program, a digital content platform, and a mobile game app. His top-rated television shows include the Emmy Award-winning Steve Harvey TV Show, Showtime at the Apollo, Family Feud, Little Big Shots, MANCAVE and the Miss Universe/Miss USA Pageant, to name a few.
During his time in Hollywood, as the Partner and President of Steve Harvey World Group, Partner and President East 112th Street Productions, and President of the Steve Harvey Radio Network, Gerald led business development, production and operations, and successfully secured partnerships and endorsement deals with major brands such as T-Mobile, Ford, State Farm, NBC, ABC, Fox, BET, and more. He led the launch and growth of new business ventures with Match.com and Garrett's Popcorn Shops, as well as the transformational coaching company, Act Like a Success. Through his leadership, the Steve Harvey World Group tripled in revenue and grew by 65 percent.
Now, after a Hollywood hiatus, Gerald Washington is back with a new production company, Driveway Productions, a renewed sense of purpose, a laser focus, and a commitment to providing programming that will not only be entertaining, but will tell the types of powerful, culture driven, complex, perspective based, impactful stories so many viewers are craving. His aim is to make content for the culture; a fun and engaging, layered and uplifting departure from the repetitive portrayals many viewers have grown tired of. In a nutshell- Gerald Washington is ready to make TV better, and he wants you along for the ride.
For more information about Gerald Washington, please visit https://www.geraldwashington.com.
For all press and media inquiries, please contact Barry Eggleston via email at info@geraldwashington.com or by phone 213-935-0101.
About Gerald Washington
Gerald Washington is a television producer, author and highly sought after business coach with a longstanding history of taking brands and businesses to the next level. His leadership, innovation, business acumen, commitment to legacy and success in both TV and brand building has led to his moniker The Empire Builder. He is currently in Atlanta, building brands, investing in community and making TV that matters.
Media Contact
Company Name: Gerald Washington
Contact Person: Barry Eggleston
Email: Send Email
Phone: 213-935-0101
City: Atlanta
State: GA
Country: United States
Website: https://www.geraldwashington.com