Ruth Amanda's Geckos in the Garden offers a colorful journey through the garden where a child will discover some of nature's nicest garden dwellers–geckos! Told in whimsical rhyme, children will love learning to count the geckos as they hunt for them in the clever illustrations.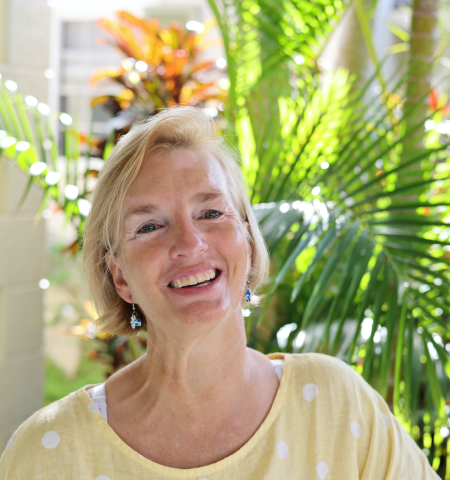 Ruth Amanda is the award-winning author of Geckos in the Garden, a beautifully illustrated children's book that encapsulates her love of searching for critters in the garden, writing and art.
Ruth loves a good book and her shelves contain everything from Dr. Seuss to Terry Pratchett, Tolkien to encyclopedias. She has always wanted to create magical stories to share with the world and has finally set her mind to it.
While she sees true success in hearing a child say, "Again!" upon reaching the final page of her book, she has also started collecting awards for her efforts. She is the recipient of a Mom's Choice Awards® Gold Award and took 2nd Place in the Animals/Pet category at the Purple Dragonfly Awards.
Ruth lives in Barbados with her husband, Dave, with whom she shares five amazing adult sons. She is also Nana to one amazing little girl.
This one-on-one interview shares Ruth Amanda's background and experience in writing Geckos in the Garden.
Tell us about Geckos in the Garden.
In the morning, with the sun shining, you, as the main character, will set off on a lively romp to discover where all the geckos are hiding! You have to look carefully, as geckos love to dart out of sight in the wink of an eye!
The main lesson I wanted readers to learn as a writer is that stories are not just on the page. You can wander outside and continue the adventure! Get outside in your garden or local park and discover the joy of nature!
What inspired you to write Geckos in the Garden?
One day, two little boys found me lying on my tummy under a bush, and decided to investigate what I was doing there. Those boys had never seen a gecko, and they had so many questions!
I wanted to be able to share my love of hunting for magic in the everyday world with other children as I did with those two on that fateful morning. And then, of course, the geckos on my patio railing took over and wrote the story for me…I wanted the story to be lighthearted and fun, so children would want to read it again and again. I wanted the illustrations to have a child-like vividness and a whimsical feel. I wanted the magic of reading to whisk my reader off to a garden full of possibilities.
How did your background and experience influence your writing?
I have always enjoyed art and writing as much as reading, and while life took me on other paths, I eventually made my way back home to creativity.
I have lived all across Canada, including a couple of years in the Arctic. While there may not be geckos in any of the chilly places I have called home before, there are plenty of them where I live now in Barbados.
No matter where I've lived, I have always found life to be an adventure. Every person, every creature, has become a character in a story waiting to be told. For my young friend Alice, in Baker Lake, Nunavut, she can now have the experience of finding geckos in a tropical garden. For Dakari and Nadra in Barbados, maybe soon you can experience the adventure of spotting tuktu (caribou) on the tundra.
Adventure is meant to be shared, and writing is sharing. They go hand in hand.
What is one message you would like readers to remember?
Every book is a portal to a place. Sometimes it's a familiar place you've seen many times, but from a different viewpoint. Sometimes it's an unfamiliar place, but you will soon feel right at home.
Get lost in the pages of a book. It doesn't have to be my book. Just open the cover, turn to the first page, and discover the magic…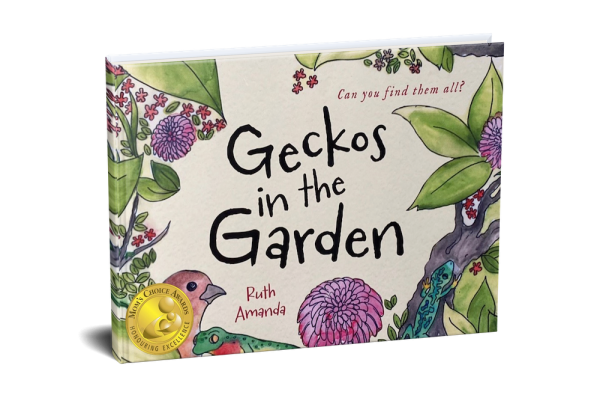 Purchasing the Book
Geckos in the Garden is available for sale on Amazon, Barnes & Noble, Apple iBooks, and other online bookstores.
Readers, parents, educators and book clubs are encouraged to visit Ruth's website for more information about new outdoor adventures including There's a Buzzard on the Balcony and There's a Seagull on my Sailboat: https://www.ruthamanda.com/bookstore.html
Connect with Author Ruth Amanda
www.facebook.com/RuthAmandaWrites
https://www.instagram.com/ruthamandawrites/
https://www.tiktok.com/@ruthamandawrites
Media Contact
Company Name: Author News Network
Contact Person: Media Relations
Email: Send Email
Country: United States
Website: authornewsnetwork.com