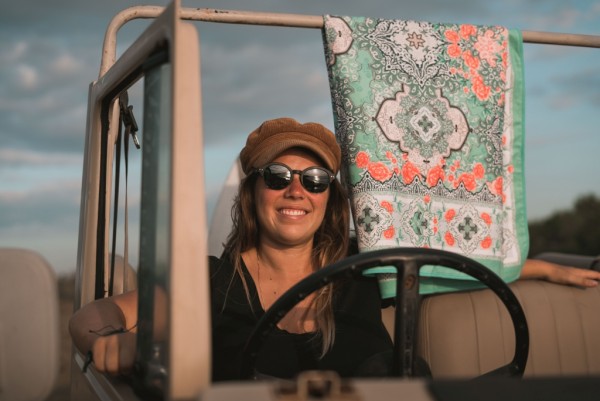 With technology and consumer products rapidly evolving, it was about time that someone reinvented the towel to match today's millennial era and revolutionize the way people use them. Combined with saving the environment by reducing plastic waste worldwide one towel at a time, Gabby Samkova, a creative and adventurous young woman from Australia has created SomerSide. A range of uniquely designed and technologically advanced towels made from 85% recycled plastic bottles. It's no ordinary towel, with 10 features and multiple uses, it's a world first. In this exclusive interview, Gabby talks more about this innovative towel and how it is going to change the way we see an everyday necessity.
Interviewer: Give us a brief about your background and early life.
Gabby Samkova: I'm from Melbourne, Australia, I played tennis 10 years and was a very sporty kid, studied a Bachelor of Business Degree in Sport Management, I speak 3 languages, lived in 4 Countries, studied abroad twice, and done many different things in my life. Those are just boxes and to be honest I've never cared for them. I've always been focused on building my life resume over ticking the standard boxes. I look for the uncomfortable, I like to be challenged, and my goal is and always has been to be the best version of myself and make someone's day better. I could list my resume and all my jobs but that's not what's got me to where I am today. Determination, hard work, and taking the hard road is what has led me to be a 25-year-old CEO of SomerSide. The outdoors has always been part of my life and so it's important for me to value and protect it. I guess you could say my background is either a go-getter or unable to keep her feet in one place hahah.
Interviewer: What inspired you to create SomerSide?
Gabby Samkova: I was always active and on-the-go when I lived in Melbourne. If it wasn't doing CrossFit at 6am and then running to work, I was doing boxing and then heading to footy training after work so I would be out for the whole day and just kept a bag of stuff in my car just in case and I always used towels; cotton for beach, and microfiber for gym.
Once I moved to Bali my job entailed constantly traveling so I needed a 'travel towel.' I was always frustrated at microfiber towels which are the go-to travel towel option. They are always small and boring, barely cover you after the shower let alone be comfortable at a beach. I take pride in the way I dress, and my own personal style so why is it that you compromise style when it comes to such a prevalent accessory such as a towel.
Whilst I lived in Bali I noticed how much I used a stylish one I had; from a travel blanket to wearing it as sarong, to even a picnic blanket, I realized it was so versatile especially for an on-the-go lifestyle. I was a tour guide so all my groups traveled with those boring microfiber towels and every group would ask me where I got it from and so I decided that it was something that would really benefit people. In terms of creating SomerSide to be sustainable, after I had taken up surfing and seeing all the plastic in Bali, I decided that I was only going to do it if I can make it eco in some way. I started researching and found that recycled bottles could be made into polyester and that's how it all started.
I think it's important to note that I created SomerSide to not just be about the towels but to encourage those to go out, explore, experience, and try new things and SomerSide is there to share the ride. For me personally, it's about being more, and doing more, while using less.
Interviewer: How is it different from regular towels?
Gabby Samkova: It's certainly not just a towel, it's a lifestyle accessory. Each of our features was created to better the lives of those that follow the idea of striving for self-improvement, challenging themselves, learning and doing more, and also caring for our planet. I've created a revolutionary towel that takes all the frustrations consumers have with both heavy bulky cotton towels and small and boring microfiber, and I've made SomerSide far better and environmental.
For those busy and active 9-5ers that go from the gym to work and everything in between, we made SomerSide extra-large and stylish for the city dwellers, soft for comfort, and odor resistant so it can be left wet in the bag the whole day without the worry.
SomerSide are sand-resistant, has a hidden zip pocket for valuables, and ultra-absorbent for fun in the sun for the surfers and beachgoers.
Those that are going traveling, this is the new go-to travel towel. Light and compact to fit in any bag easily, quick-dry to move from one adventure to the next, and an elastic hook for added convenience.
Never compromise comfort, the environment, or style again.
Interviewer: How will this towel impact the environment?
Gabby Samkova: SomerSide is made from 85% recycled plastic bottles (about 8-14 bottles per towel). We help the environment by transforming recycled plastic bottles into a user product which not only prevents that plastic from ending up in landfill, oceans, and our forests but we don't produce more plastic. Our towels come in a pouch that's made from 100% recycled plastic bottles and we plan on distributing them in compost satchels. We are committed to the customer journey being implemented in a more sustainable way. The more demand there is for SomerSide, the more plastic bottles we can recycle.
Everyone needs a towel and when people choose SomerSide they are not only choosing a premium product but they're choosing not to support products that add more plastic to our current plastic crisis. Microfiber are made predominately from manufactured plastic whereas we don't make more plastic, we transform it. Cotton towels although aren't plastic they do waste a lot of water when washed and have no practical use outside the bathroom.
In future, we would like to look at making or product more sustainable and still functional which will require some research capital.
Interviewer: Do you think sustainable products are the future?
Gabby Samkova: Eco-friendly products are certainly a growing trend whether it's for the environment or for the brand image but regardless it's a step in the right direction. I think businesses moving towards more sustainable practices is truly going to make a bigger impact on helping the environment than consumer behavior. Of course, every small change makes a difference but in terms of large scale, big businesses need to jump on board. The more consumer spending moves towards eco products, the more businesses will be inclined to move to more sustainable practices.
Interviewer: How can people buy SomerSide towels?
Gabby Samkova: SomerSide will be launching September 4th via a crowdfunding platform and if you'd like to support our launch, help the environment, and purchase one of these amazing lifestyle accessories then please head to our website to reserve your 20% discount when we go live.
They come in 3 unique designs and rather than gifting more plastic this holiday season, gift SomerSide.
More information about SomerSide towels can be found on its official website.
Media Contact
Company Name: SomerSide
Contact Person: Gabby Samkova
Email: Send Email
Country: Australia
Website: www.somerside.com.au