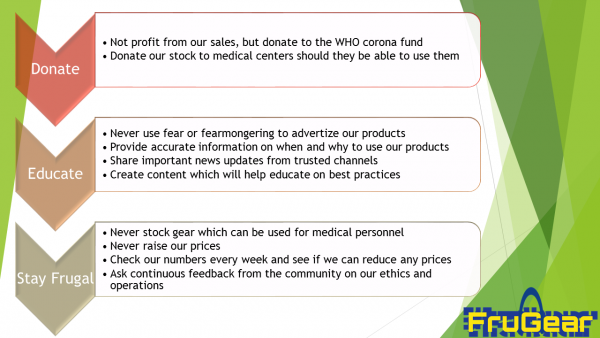 Frugear.com was about to be launched as an online store to sell innovative tech gear but just before its launch, the Covid-19 pandemic hit the world, and e-commerce businesses were put to halt. Considering the necessity of the situation, Frugear.com decided to offer high-quality face masks at the most affordable prices, unlike many other companies who started to exploit the situation to sell low-quality masks at surged prices.
Thanks to their VC FoundTreasures, the website is able to sell non-medical masks to people worldwide, at just enough margin to cover the operation costs, while donating all surplus profits to the WHO Covid-19 response fund. The company is setting a benchmark for all businesses who are trying to make profits out of this critical situation. It's setting an example of how businesses should rise above profits and join hands together in the battle with Covid-19.
In addition to offering high-quality masks for all non-medical individuals, Frugear also shares important information and updates on the current crisis. "All our advertising and information is unbiased and not written towards our products. We'd rather have people be safe then have customers who are affected by this world-wide threat", says the spokesperson of Frugear.com.
Going by their current mission statement, "Provide consumer-grade gear which we believe can help during the epidemic in an ethical and responsible manner", Frugear.com is inspiring many other businesses to do the same. Their main aim is to operate ethically, regardless of the circumstances.
Frugear.com is committed to providing quality face masks like KN95 washable mask for repeated, longterm use, smart electric masks for optimal breathing comfort, and other safety gear like washable child protective caps at genuine prices. Unlike some other brands out there, they don't use fear-mongering to advertise their product or increase their sales. The product description on the website offers clear information on who, when, and why to use the product. The company also promises to never raise their prices and condemns the hoarding or selling of any gear intended for use by medical personnel.
By frequently asking for feedback from the community on their ethics and operations, Frugear constantly tries to improve its functioning. It creates content that helps the community educate on best practices against the Covid-19 infection.
More information and all the products can be found at frugear.com.
Media Contact
Company Name: FruGear by foundtreasures
Contact Person: Media Relations
Email: Send Email
Country: Netherlands
Website: www.frugear.com