Starting a business is the dream of many, but is it really going to be cakewalk? Celebrated entrepreneur, podcast star and public speaker Donnie Boivin once thought so, and failed miserably. The lessons he learned and the strategies he came up with to turn his fortunes around are described in his recently published work, "How to be a Success Champion: Business Strategy for Badasses".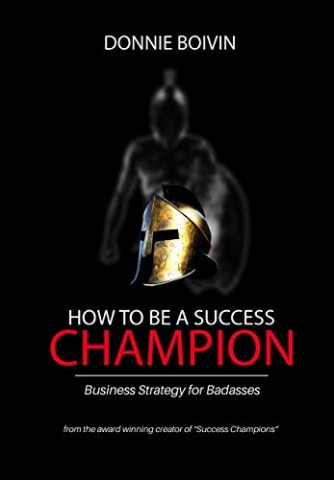 Many business owners find themselves struggling the moment they are on the driver's seat. They feel the pressure, and lack the skills and strategies to overcome their daily challenges. Donnie Boivin was in the same seat years ago, and is today charting the course of success. Donnie went from zero to a six-figure income. Now he has also put all his learnings and lessons down to help others do the same.
"How to be a Success Champion" is a story of successes and failures. It draws out the important lessons and the mistakes for others to learn from, and shares the advice that the author received from prominent experts and business mentors. The book reveals the steps that every aspiring business owner or leader must learn, such as getting out of one's own way, discovering one's strengths, networking effectively, building a personal brand, and creating champions for business growth. Donnie also shows how to get great at sales, and take complete ownership of oneself and one's business.
"Donnie pulls no punches in this straightforward approach to going to war in the most brutal of battlefields – being an entrepreneur! There is no fluffy B.S. in this book," says a recent reader review.
"Entrepreneurs desperately need books like this to help them on their journey. This authentic, realistic, practical book guides you through the 'how' with stories you can relate to, tips you'll be grateful for, and a badass feel you won't find anywhere else..." – Laura Di Franco, Owner of Brave Healer Productions.
Donnie made the mistake of running his business with an employee mindset, rather than that of a business owner. His journey towards realizing his mistakes and reaching the heights of success is a must read for all existing and aspiring business owners and entrepreneurs.
"How to be a Success Champion: Business Strategy for Badasses" by Donnie Boivin is available on Amazon in Kindle and paperback editions.
About
At 40 years old Donnie Boivin (pronounced Beau-Veen) discovered he'd been living other people's dreams; two decades mastering sales but making other people wealthy. Donnie's journey led him to building Success Champion. Success Champion is now a top-200 Apple podcast, a magazine, and a dynamic and sought-after Facebook group. Donnie is also the creator of the Badass Business Summit helping businesses unleash, be seen, and sell. He has appeared on hundreds of podcasts, spoken on hundreds of stages, and is going bigger with his message every day. He's been called a motivator, a straight talker and an authentic badass.
Media Contact
Company Name: Success Champion
Contact Person: Donnie Boivin
Email: Send Email
Phone: 817-709-3886
Country: United States
Website: www.amazon.com/How-Success-Champion-Business-Strategy-ebook/dp/B0859KHDHD/ref=sr_1_2?crid=RVPNVW7B45YF&dchild=1&keywords=how+to+be+a+success+champion&qid=1592833793&sprefix=how+to+be+a+success+cham%2Caps%2C169&sr=8-2