Leading Florida local catering and entertainment company, Frenz & Company, celebrates New Year's Eve with an All-Inclusive Caribbean Masquerade Ball and Show
Frenz & Company is organizing what has been described as the "biggest New Year's Eve Event in Miami," as the catering and entertainment company announces plans for its upcoming All-Inclusive Caribbean Masquerade Ball and Show. The event, will be held on Saturday, Dec 31, 2022 from 7:00 PM to 2:00 AM EST, features lots of fun and exciting activities, including a unique, exceptional, show at midnight to celebrate cultural diversity.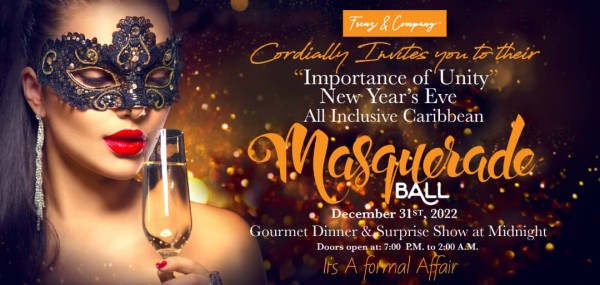 The topic of diversity and inclusiveness has remained on the front burner in recent times and Frenz & Company is bringing a unique narrative to the discussion by putting together a fun event that will bring people together, irrespective of cultural backgrounds. The Caribbean Masquerade Ball and Surprise Show will feature lots of dancing to different types of music, including Reggae, Afrobeats, Soca, Salsa, Hip-hop, Meringue, Reggaeton, and a host of others.
Frenz & Company has built a reputation for creating memories by hosting exceptional events and the company is taking it a notch higher as the world enters a New Year by trying to change the world through dancing, eating delicious food and music. The All-Caribbean Masquerade Ball and Show will highlight the importance of unity in diversity, showcasing the beauty of different cultures through music, food, and drinks.
The venue, Reception Palace 14375 Southwest 42nd Street Miami, FL 33175 United States, will be magical and colorful, as attendees arrive in their captivating cocktail dresses and tailored suits and tuxedos, dancing to songs from a renowned international DJ.
Tickets to the All-Inclusive Caribbean Masquerade Ball and Show are available on Eventbrite.
To learn more about the upcoming New Year's Eve celebration and other events put together by Frenz & Company, visit – https://frenzandcompany.com/.
For corporate sponsorship, please contact them at elliewiz1964@gmail.com
Media Contact
Company Name: Frenz & Company, LLC
Contact Person: Ellie Wizzard
Email: Send Email
Country: United States
Website: https://www.eventbrite.com/e/new-years-eve-all-inclusive-caribbean-masquerade-ball-tickets-419967312537