Free Range Blessings: A Journey from Family Farm to Successful Business with Eggs and Faith is the story of one Irish family and the growth of their family business. Margaret Farrelly shares the highs and lows of growing up in Ireland, including her relationships with her parents and siblings. She also dives into how faith played a role as she dealt with her sister's illness, but also the spiritual experiences that ended up being so faith-strengthening.
Margaret's knowledge about eggs, how to raise chickens, and the egg industry was gained over decades, but she acknowledges the role of those in the industry who taught her so much.
"Thinking back to those early days when my parents helped us get set up initially, I recall with gratitude the empowering visits from two wonderful women who were our poultry advisers. Not only did they encourage us to follow our intuition, but they in no small way prepared us for a future that perhaps they alone could foresee," said Margaret.
With wonderful stories and her unique perspective, Margaret brings rural Ireland to life, helping you connect with this unique culture. She also shares how her own parents were entrepreneurs in their own right, creating work and jobs at a time where Ireland's farming industry was modernizing.
"Every generation is trying to reach a little higher and explore or achieve more than the one before. Both our parents belonged to the Greatest Generation, whose lasting characteristic was a strong work ethic. The sense of entitlement we experience today was non-existent," said Margaret.
Not only does Margaret share her family's journey in Free Range Blessings, but she also teaches her readers about what it means to be a free-range egg producer and plenty of amazing facts about the eggs that we all have in our refrigerators. Along the way, you learn about how Margaret's faith was tested and how she overcame the many different challenges facing both herself and her family.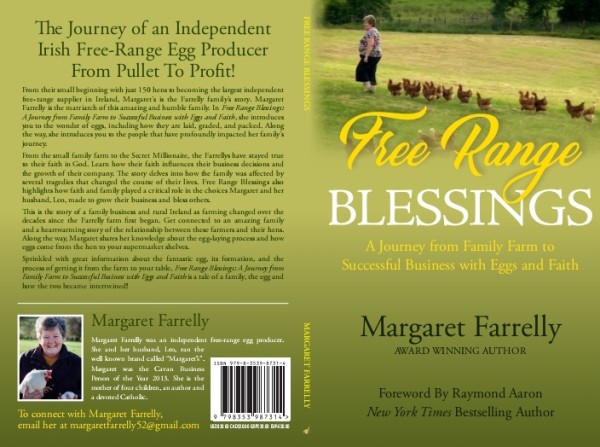 "By telling my story, I hope others see how they can build a business that reflects their values. You don't need to compromise who you are or your faith to be successful," said Margaret, who credits many of her decisions, both personally and professionally, to her faith in God.
Margaret Farrelly currently lives in Ireland, after having retired from the egg business. She can be contacted by email at margaretfarrelly52@gmail.com.
Media Contact
Contact Person: Margaret Farrelly
Email: Send Email
Country: United Kingdom
Website: https://www.amazon.co.uk/dp/B0BKCPYZW1