January 22, 2021 – Former Benedictine monk and grandfather, James Benedict, has released his book, Choices through the Seas of life, an autobiography that focuses on his journey through life, sharing valuable lessons.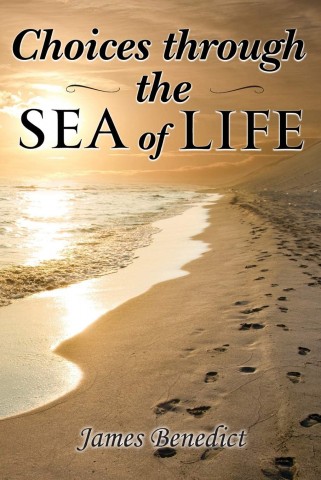 Choices through the Sea of Life is a story about a young man from the baby boomer generation, who grew up in Maine, after World War 2 and wrestled with the core values to navigate through the labyrinth of life.
From his time as a midshipman under guidance, in a merchant marine academy, life as a sailor, to becoming a monk in a Benedictine Monastery, and working for an International Paper, a manufacturing company of corrugated boxes, Benedict's life was a rollercoaster of adventure and diverse experiences. Over time, life became a struggle to sort out his values as he faced endless harassment through indoctrination to firefighting school and officer qualifying examinations with discipline being critical to his academic life.
Shipping the seas to Africa opened his eyes and heart to a different way of life while the contemplative life in a monastery unraveled many more choices and many more questions.
Choices through the Sea of Life is a story about responding to the challenges of life with choices that reflect our values. No matter which path we choose in life, our faith is the beginning foundation to build and nurture a life of meaning.
James Benedict's real name is Richard E Parsons. He graduated from Maine Maritime Academy with an engineer's license, BS degree, and an officer's commission for the U.S. Navy. After shipping the seas to Africa as an engineer, the author entered a Benedictine Monastery and pursued the religious life as Br. James, hence the pen name James Benedict. Later on, he worked for Union Camp/International Paper for thirty-four years. Presently he enjoys his retirement between his grandchildren and writing in Gobles, Michigan.
Benedict brings the wealth of lessons from these experiences into Choices through the Sea of Life. It is a testament to his faith as a Christian and his message is, "no matter the path in life we chose, it should lead us to God."
For more information about the book, visit the Amazon book link, James Benedict website, or any of his social media links: Facebook, Twitter, Tumblr
About GOLDTOUCH PRESS, LLC
GOLDTOUCH PRESS, LLC is an established and experienced group of various publishing houses who teamed up to bring their clients accessible and competitive author services. They are the publisher of this great book 'The Book of Genesis: A Layman's Practical Expository' written by Michael J. Akers.
Media Contact
Company Name: GOLDTOUCH PRESS, LLC
Contact Person: Michael J. Akers
Email: Send Email
Phone: 888-404-1388
Address:420 Lexington Avenue, Suite 300
City: New York
State: NY 10170
Country: United States
Website: www.goldtouchpress.com/