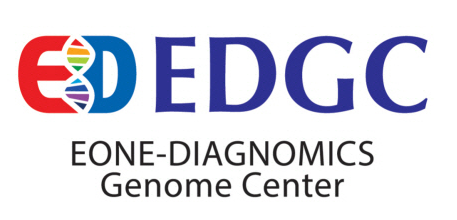 March 25, 2022 – Eone Diagnomics Genome Center (also referred to as EDGC) declared on the 17th that it has developed a skin type prediction model algorithm customized for each individual with genetic information, paving the way for solutions in the beauty industry, such as skincare. It is conceivable to continuously make profits in practically all industries closely associated to our life, such as food, money, communication, and the game business, once a genomic dataset (algorithm) is created.
Since 2018, the analysis results of EDGC and Kolmar Korea Skin & Natural Products Lab's co-research for Relation Analysis of Skin Measurements (Phenotype) and Genomic Data (Genotype)' have been published in the international scientific journal 'Clinical, Cosmetic and Investigational Dermatology.' Furthermore, five patents pertaining to the invention have been filed.
The participants in this study were 749 Korean women. The researchers collected 750,000 genotype data and utilized the genome-wide association study (GWAS) approach to analyze five types of skin measurements, including melanin pigmentation, gloss, moisture, wrinkles, and elasticity. A skin type prediction model was developed using machine learning techniques after genetic markers associated with each skin phenotype were discovered.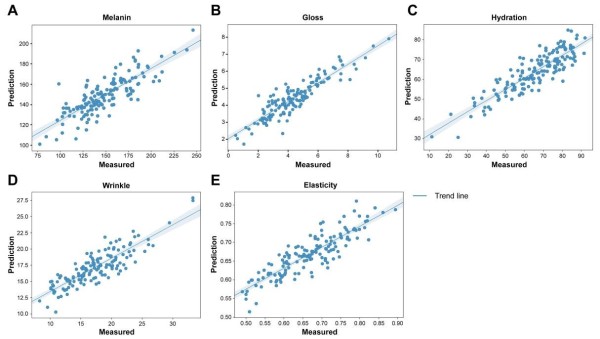 Image description: Correlation between actual measured values and algorithm predictions / Provided by EDGC
EDGC discovered new 29 genes including genes recognized from prior research such as TLR3, MYC, and CSMD1 for the first time in the world and found 46 SNPs mutations showed up in Koreans. In addition, prediction accuracy (r2 = 0.6422~0.7266) in the machine learning model has also been confirmed.
The developed algorithm will be deployed to Metaverse and YouWho Engine, which are gaining traction as source technologies for next-generation healthcare. YouWho is the first company in Korea that directly provides genetic information to consumers, thanks to the approval from the Ministry of Health and Welfare.
"This study is particularly relevant since it can suggest many new approaches for determining skin type based on only information about a large number of genes and genotypes," stated Dr. Ki-Chan Lee of the EDGC AI Big Data Center. "We've also provided a solution for the development of personal genetically customized products and confirmed the possibility of expanding into various research areas," he added.
For more information about EDGC, visit https://www.edgc.com/eng/.
Media Contact
Company Name: EDGC, Inc
Contact Person: Shang-Cheol Shin
Email: Send Email
Phone: +1-800-605-8422
Address:5795 Kearny Villa Rd.
City: San Diego
State: CA, 92123
Country: United States
Website: www.edgc.com/eng/