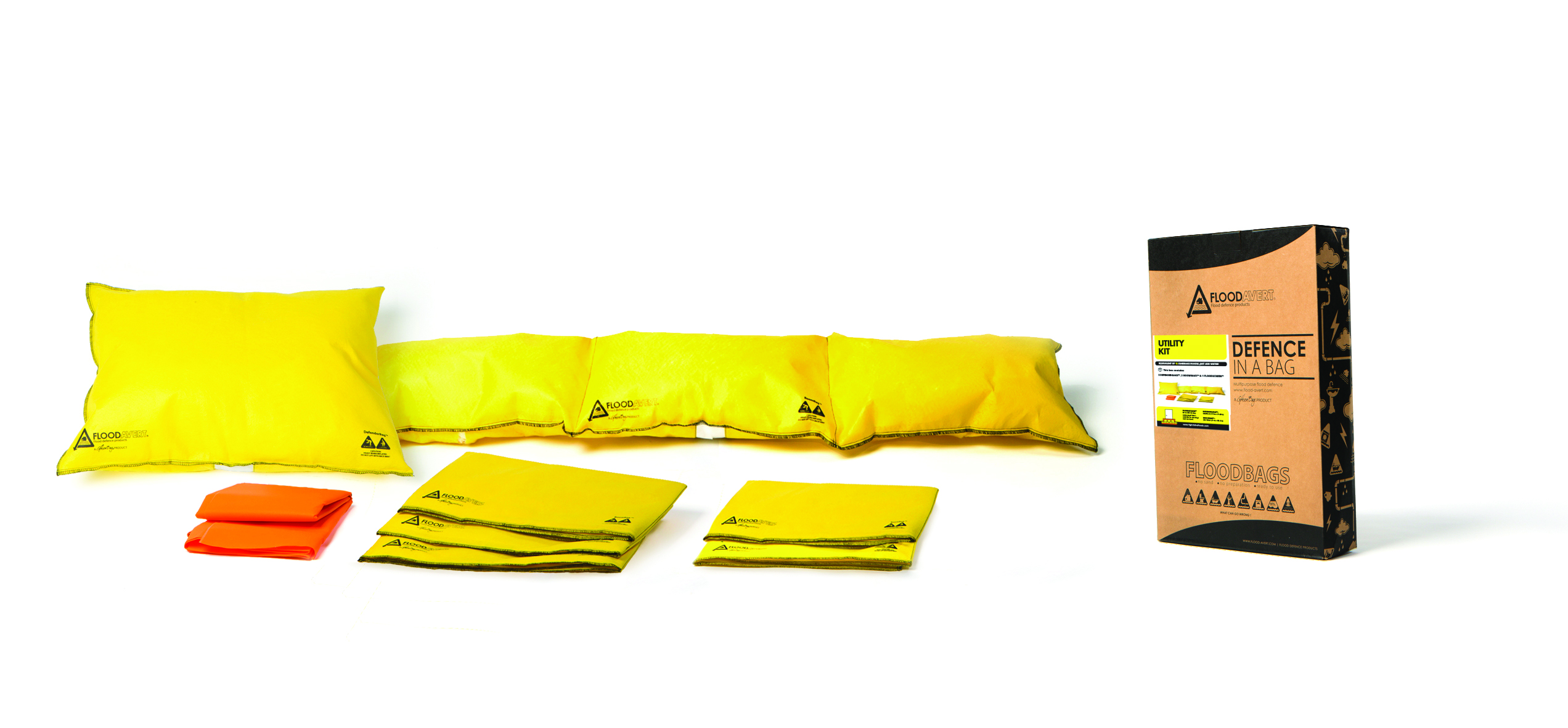 The efficient Utility Kit comes with 10-feet of FloodScreen and 5-FloodAvert bags, perfect for a patio door or two standard entrance doors; all fits in a box small enough to fit on the shelf in a closet or under your bed.
FloodAvert is a system of flood defense products that harness the power of water to protect your residence or business both internally and externally. FloodAvert products are portable, quicker and easier to deploy than traditional sandbags; increasing the probability that property can be protected during a flood event. FloodAvert is pleased to announce that these revolutionary flood defense products will soon be available at independent hardware stores.
FloodAvert is a part of the Green Bag company, pioneers of the first reusable recyclable shopping bags. Since 2000, Green Bag is proud to have earned a reputation for genuine quality, excellent service, customer care and satisfaction. Recognizing the increasing prevalence and ferociousness of floods, Green Bag set about designing an innovative flood defense system that is quickly and easily mobilized: FloodAvert.
Distributed in the United States by New Lenox, Illinois based, CABENO Environmental, FloodAvert has become recognized for its cutting edge approach to flood protection. The FloodAvert system circumvents traditional responses to flooding such as bulky sandbags that require hours of shoveling and hauling to put in place. In contrast, FloodAvert offers multilayered protection in a fraction of the time. In this system FloodScreen is held in place by FloodBags which contain a powdered polymer that expands to the same size and weight as traditional sandbags in less than three minutes when exposed to water. Deployment is also far easier than comparable sandbags. FloodBags are filled simply by submerging into a tub of water or spraying them down with a hose.
Not only is the FloodAvert system quick and simple to use, but the ease of transport and storage adds great value. Prior to activation the bags are as thin as a pillow case, an entire FloodAvert Utility Kit stores in a compact box on the shelf in your closet or under your bed awaiting the moment it is needed by a home or business owner. While it is impractical to keep a supply of filled sandbags in storage just in case of a flooding event, having FloodAvert kits on hand is just the kind of preparation that transforms a crisis into merely an unfortunate inconvenience.
FloodAvert will soon be available at independent hardware stores nationwide. For more details regarding FloodAvert products, visit www.FloodAvert.com.
Media Contact
Company Name: CABENO Enviornmental
Contact Person: John Noyes
Email: Send Email
Phone: 815-774-3747
Country: United States
Website: https://nihaa.org/featured-item/floodavert/