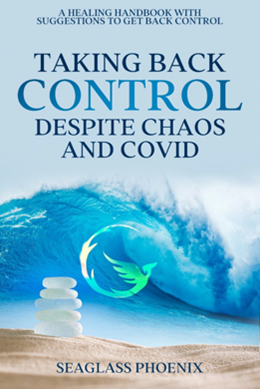 In her book, "Taking Back Controll Despite Chaos and COVID," author Seaglass Phoenix offers hope to difficult situations.
First-time author Seaglass Phoenix provides first-hand advice on how she has navigated highly stressful situations during the lockdown.
New Orleans, LA, USA – January 06, 2021 – One of the most troubling effects of COVID stay-at-home orders has been that millions of survivors and domestic violence victims are isolated at home with their abusers, making it more challenging to get the help they need. Another effect has been more generalized anxiety and stress, with no end in sight for some. Writing under the pen name Seaglass Phoenix, one woman has taken her experiences with stress and coping during COVID and is offering advice on how to manage and heal to others facing similar situations.
In Taking Back Control Despite Chaos and COVID, Seaglass Phoenix shares her personal advice about what has helped her navigate the destructive forces of a challenging relationship and other personal stressors. She has geared the advice in her book to help others either facing a challenging relationship, stress, and anxiety by sharing useful coping strategies ranging from finding a great therapist and compatible type of therapy to acknowledging problems and establishing self-worth.
In addition to providing advice on how to take back control in the face of stress, anxiety, or challenging situations Taking Back Control Despite Chaos and COVID also contains a helpful guide of resources for victims and survivors, including phone numbers they can call for help.
"Whether facing challenging situations and/or anxiety, these situations have been amplified due to COVID," says author Seaglass Phoenix, "my goal with this guide is to arm people who are overwhelmed and don't know where to turn with some strategies that can help them cope in the moment and take back control. From navigating a challenging relationship to soothing techniques before a big interview or test, I hope that the advice in this book helps people heal, discover calm, and find their self-worth."
Taking Back Control Despite Chaos and COVID (Absolute Authors Publishing House, $7.00) is available for purchase and download on Shopify at https://sea-glass-phonix.myshopify.com/.
Media Contact
Company Name: AAPH Press Distribution, LLC
Contact Person: Melissa Caudle
Email: Send Email
Phone: 504.301.8001
Address:1231 Williams Blvd
City: Nashville
State: TN
Country: United States
Website: www.absoluteauthor.com