Wenzhou, Zhejiang Province – Founded in 1986 by Zheng Fei, Wangel Group is a China-based kitchen and bathroom manufacturer specializing in sanitary ware products. In 1997, the company branched out in the global market for kitchen and bathroom fixtures. Wangel adopted the slogan "Cleary Superior, Obviously Wangel" to gain both achievements to all partners.
Since 2012, Wangel's annual revenue numbers have reached 50 Million USD. In 2014, with more than two decades of OEM experience, Wangel registered its own brand, "WANGEL," in 20 countries around the world; the group also established branches in South Africa and offices in Panama and Spain. Wangel Group is equipped with a 3000 square meter warehouse overseas to accommodate the magnitude of orders from clients who need wares quick turnaround time.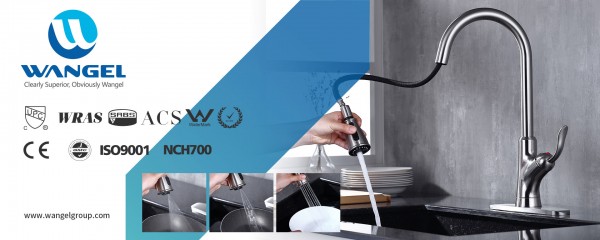 Wangel kitchen set manufacturer consists of five production bases and produces a family of products including faucets, bathroom accessories – bathroom paper holders, shelves, towel racks, bathroom tumblers – mirrors, bathroom vanity, bathtub, shower cabin, sinks, toilets, hair and hand dryers, and other bathroom furniture with silver or bronze fittings. The kitchen fixtures they offer include sinks, faucets, dish racks, towel holders, storage, utensil holders, racks/shelves, organization products, and more. Wangel Group also features products for bathrooms and kitchens that accommodate the disabled and the elderly, such as safety handles.
The company covers ten main categories of more than 1,000 kinds of products that come in different finishes, sizes, adhesive or screw-based fixing, and residential or commercial options.
Wangel Group also contributes to welfare initiatives. The group believes that a beautiful life holds a pivotal function in Wangel's product portfolio, operations, and community promise. In addition to creating the best sanitary wares to furnish and upgrade bathrooms and kitchens, they also financially support many social public welfare projects, such as football (soccer) matches, participating in volunteer activities, competitions, and so on.
Zheng Fei, the founder of Wangel, believed that sports could help people become more robust. Due to this belief, Wangel Group builds up its public football clubs, off-road vehicle teams, and volunteer teams in branches worldwide. Additionally, the sensor faucet supplier often hosts road trips and football matches and invites staff from international departments to participate in the activities.
Media Contact
Company Name: Wangel Group
Contact Person: Nancy
Email: wangel@wangelgroup.com
Phone: +86-15988786615
Address:Building #10, Henglong Floor, Lucheng
City: Wenzhou
State: Zhejiang
Country: China
Website: www.wangelgroup.com/shop/