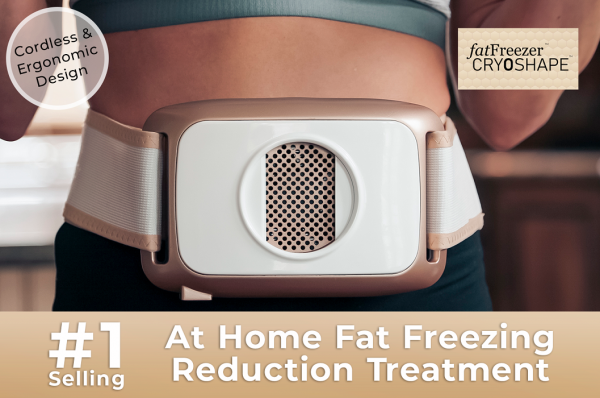 Cryolipolysis or "fat freezing", similar to the cool sculpting technology is not just a treatment for celebrities anymore because this new device on Indiegogo is making it possible for everyone, without costing a fortune. A typical Cryolipolysis session may cost up to $2000 to $4000 but thanks to the patented device- the Fat Freezer Cryoshape, you can do this procedure in as little as $99. The Fat Freezer Cryoshape is the reinvented and upgraded version of the original Fat Freezer and comes with new and improved design such as being Cordless, a Digital Display and therapeutic Theralight plus other features for a more effective treatment. The 2nd generation Fat Freezer was a huge worldwide success on Indiegogo.
The Fat Freezer 1st generation and the Fat Freezer Platinum 2nd generation were best sellers on Amazon, selling over 10,000 units worldwide with great reviews from the customers. Now the third generation of this device has already surpassed its funding goal on Indiegogo, with still a few weeks left for the campaign.
Cryolipolysis is a popular body toning and fat reduction treatment that includes 'freezing the fat' so it can be eliminated from the body naturally. Studies have shown Cryolipolysis to be a safe and effective way to freeze body fat. As of now, this treatment was only popular among the celebrities and the elite but the Fat Freezer Cryoshape has now made it possible for more people to enjoy and benefit from this treatment. It's a simple and easy belt-like device that can be used to target the belly, back, waist, arms, inner thighs and buttocks for naturally sculpting and shaping the body. Although it's not a weight-loss device, it effectively freezes stubborn fat. Imagine being able to say goodbye to those fat cells…It's the world's only patented at home fat freezing system that allows the user to shape their body while working around the house, watching TV, or relaxing at the gym.
The Fat Freezer CryoShape uses the proprietary Theralight Therapy to reach underlying fat cells and shrink it so it can be released naturally. Fat Freezing technology uses controlled cooling to help target and freeze stubborn fat cells. Your body then naturally dissolves and flushes out those frozen fat cells. It's safe, easy to use, saves you money and best of all, it works. The device comes with a smart display and automatic timer that allow the user to get the maximum benefits in 15 and 30 minutes timed sessions.
Through the super early bird reward, the Fat Freezer Cryoshape is available for only $99. This Patented phenomenon is only available on Indiegogo.
More information about the product and rewards can be found on its official Indiegogo campaign page.
Media Contact
Company Name: Freeze N Fit
Contact Person: Christina
Email: Send Email
Country: United States
Website: www.indiegogo.com/projects/fat-freezer-cordless-cryo-freeze-your-stubborn-fat/x/23114483