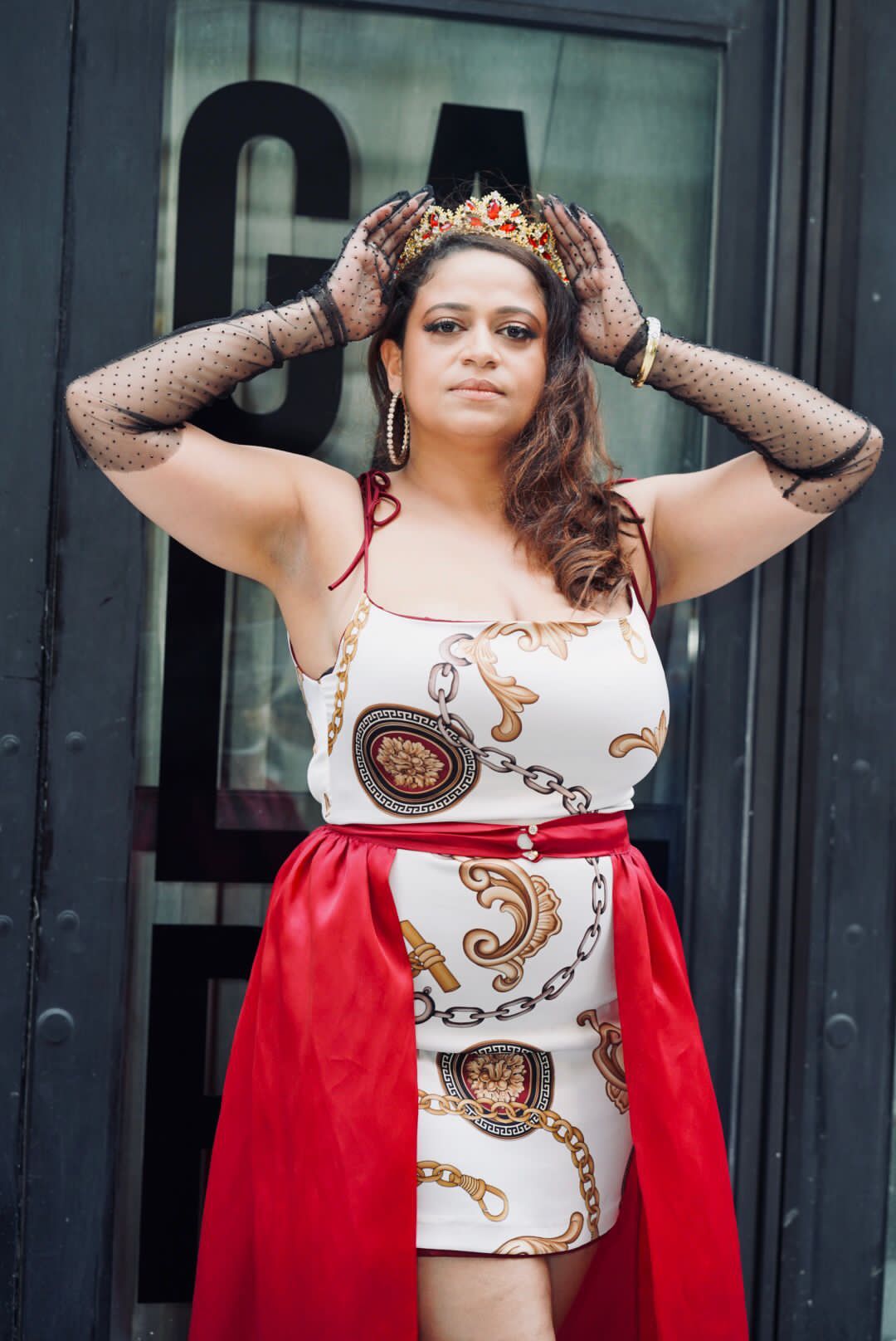 At this year's Fashion Week, the lights and glamour all revolved around New York City. With press, media, buyers, and stylist all in
attendance, designers from all walks of life were full of joy as their collections walked the runway. On September 12, 2021, Art Institute Graduate, couture designer, and owner of the ModMara brand, 39-year-old entrepreneur Princess Faraj showcased her latest luxury couture collection in Manhattan titled ModPalace. Princess Faraj holds an intensive resume in the fashion industry.
While working closely with celebrity stylist and creating unique designs for socialites, Faraj continues to be widely praised for the luxury line, ModMara, which was founded in 2011. The collection wow'd the crowd. Silk, silk, and more silk was all the rave. Inspired by Mediterranean royalty and the priceless history of Greek and Roman artifacts, this line of apparel is something the brand has worked on over the last decade. "Providing each and every client with a dress that helps them stand out and be the center of attention. Our designs are created with an eye for detail, quality, and a love of fashion. I want our customer to enjoy the royal opulence and sophistication of the Mediterranean." said Creative Director, Princess Faraj.
The collection, which consists of couture dresses and gowns, follows the ModMara signature style of highlighting the curves of the female form in different ways. ModPalace by ModMara was undoubtedly created with a nod to classic styles, updated for today's modern women and focused on the underlying factor which is the company's slogan: "It's all about you."
Princess Faraj created a niche for herself in the very competitive fashion world by expertly specializing in extravagant fabrics, fresh and bold manipulations, complemented by persistent and meticulous research. Throughout the years, Princess Faraj has exhibited extraordinary determination and the will to create something new and modern. The brand is built upon her love for creativity with functionality, mixing design with her vast industry knowledge, to create and embody her mission as one of the leading Luxury Fashion Designers.
"I do this for the world, the ladies I serve, and students I mentor," Princess Faraj mentioned alluding to the fashion design students she teaches at the Faraj Couture Creative Studio based in Union, New Jersey.
Faraj Couture was established in 2009 as a one stop fashion consultant agency seeking to connect Fashion Designers with retail buyers, top rated photographers, and digital services. "We were extremely successful, however, I noticed that a lot of self-titled designers lacked the skills necessary to truly become independent. They would think of something, then invest huge amounts outsourcing the actual development to someone else." Faraj's message to aspiring designers is that while hiring others might be quick, a slight fitting problem can send you back to square one – causing severe headaches and frustration.
Princess Faraj built Faraj Couture Creative Studio with the goal to solve this very problem from the start. The aim of Faraj Couture is to become a major disruptor in the fashion industry. Faraj Couture offers a creative environment where aspiring entrepreneurs with varying levels of sewing experience can grow and prosper. The company is not your typical sewing school. From day one students begin the process of crafting their very own garments.
Faraj Couture believes in providing a collaborative space for fashion designers and passionate entrepreneurs to gain the skills they need to be successful. "It brings me so much pleasure to see many upcoming designers decide to change careers to follow their dreams and invest in their passions," Faraj stated.
To Learn More about the Princess Faraj and the luxury fashion brand ModMara follow the ModMara brand on Instagram.
Fashion Sewing, Pattern Making and Fashion Draping Sessions are available at the Faraj Couture Creative Studio for aspiring Designers.
Media Contact
Company Name: Faraj Couture
Contact Person: Media Relations
Email: Send Email
Country: United States
Website: www.modmara.com