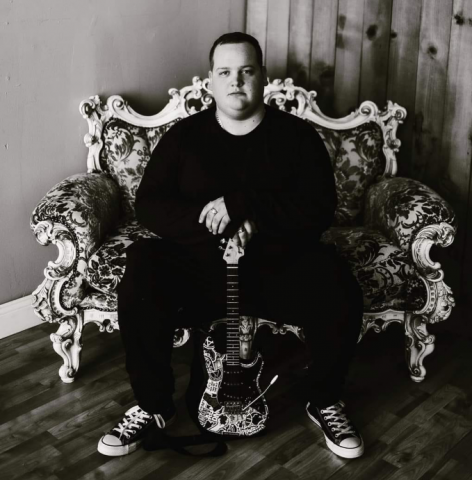 Meet King Hooker:
Florida based musical comedian King Hooker has just released another hilarious track, titled "Every Ex Ever", which will have you crying with laughter.
Hooker is a seasoned musician who plays the piano and ukulele. He has been passionate about music his whole life, and in 2018, he began recording musical comedy. He told us: "it's been the best decision".
His musical comedic creations are inspired by the desire to entertain people. He continually strives to engage with new personal inspirations to keep his audience enthralled and he does an amazing job at it.
His latest release "Every Ex Ever" is an upbeat, bouncy comedic pop-rock anthem, which will have you excitedly bouncing up and down while laughing like a hyena.
Every Ex Ever:
If Green Day and Israel Kamakawiwo'ole had a baby, it would be King Hooker. His bright ukulele playing blended with high-energy punk rock sounds create a playful soundscape for his comedic deliveries.
His hilariously witty lyrics keep listeners thoroughly entertained and giggling for the entire song. Magically, Hooker transforms hurtful relationship experiences into uproarious anecdotes that many people will relate to.
Listeners are inspired to sing along with Hooker's amusing lyrics, such as: "Why is every crazy woman so hot? I had to leave her when I found out that she screams at the elderly a lot."
His entertaining performance is thoroughly enjoyable and unforgettable. Hooker has an incredible gift for making people laugh, and this song will definitely brighten your day.
Hooker believes that "a day not laughing is a day wasted", so, if you love to laugh like we do and enjoy music from artists such as; Bo Burnham and Bfb Da Packman, then add King Hooker to your musical comedy playlist.
Follow this link to listen to "Every Ex Ever": https://open.spotify.com/track/75XMdOsoAOdtTVYSB9bWLF?
Follow and support this artist here:
https://www.instagram.com/hookerrox/
https://www.facebook.com/Hookerrox/
https://www.youtube.com/channel/UCanJNX7jOJ4ncTpP33dfU1A
Media Contact
Company Name: Music Blog PR
Contact Person: Ginger Ray
Email: Send Email
Country: United States
Website: https://musicblogpr.com/