"The most essential book about Configuration Management is coming out with a brand new second edition of the text, in light of all the helpful feedback that the authors have already received from those who have already bought the first one."
Lexington, NC – Authors Jon M. Quigley and Kim L. Robertson would like to extend their heartfelt gratitude to all those who have bought their book "Configuration Management: Theory, Practice, and Application", as well as those who have presented them with feedback over the last few years. The second edition is currently in print and will come out in August 2019 and will reflect this feedback and much more!
Today's Configuration Management professionals are trained in every aspect of project and product lifecycle management specific to CM at the firms at which they work. However, only in rare instances are engineers, managers and CM professionals trained to understand why management of configurations is important and how the current regulations came about. This book is being published and printed by CRC Press/Taylor & Francis Group, distinguishing itself from other books on CM as it was designed to fill that gap in training and knowledge.
The book is unique as it is difficult to find a book that addresses both the details of configuration management and the multiple levels of application. Configuration management is essentially an innate part of effective product development (including software), product management and manufacturing. Most CM professionals are adept and aware of all stages in the development lifecycle of a product, however, engineers, managers, and the CM professionals may not understand the entire picture at large and the origins of the regulations. Thus, the book becomes a notable explanation of the range of impact of configuration management, including training and education.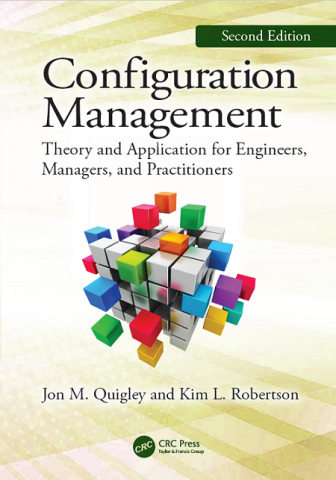 Quigley and Robertson have included many things that are quite unique and original in the book already. The most important is the approved principles of Configuration Management under the recognition of SAE EIA-649 Revision C, which are clearly identified and discussed. Other notable features, the text are riddled with real-world examples of when and how things go wrong, the connection between testing, evaluation, and inspection with configuration management and much more. Also covered are risk assessment and minimization. The appendices cover the entire spectrum of configuration management with standards, a wide-ranging bibliography, acronyms, as well as indicators used to develop metrics at both enterprise and project levels respectively.
The first edition has already found its way into uses at Universities, most notably education institutions like the Technical University of Eindhoven, where the book is used for graduate courses in engineering, as well as supply chain management. Additionally, the book provides a great frame for consulting expertise. The second edition will contribute to these achievements even more and will create a precedent of a legacy that will contribute to the entire profession of configuration management and more.
About
Jon M. Quigley is a certified PMP and CTFL expert who has dedicated his career to understanding and contributing to effective product development and product management. He has specialized in the constant improvement of performance and quality, and his 30 years of experience has made him a leading expert on the subject. His co-author, Kim L. Robertson, has worked across a variety of fields, including DOD, NASA, DOE, as well as commercial and international over the years. A true academic and professional, he is a major contributor to the consequential SAE EIA-649 Revision C, which recognizes the apparent nature of the principles applicable in CM. Both are connected with Value Transformation LLC, which establishes groundbreaking knowledge about the entire case of improvement in enterprises.
Media Contact
Company Name: Value Transformation LLC
Contact Person: Jon M. Quigley, Kim L. Robertson
Email: jon.quigley@valuetransform.com
Phone: 336-963-0119
City: Lexington
State: NC
Country: United States
Website: https://www.valuetransform.com/cdm/