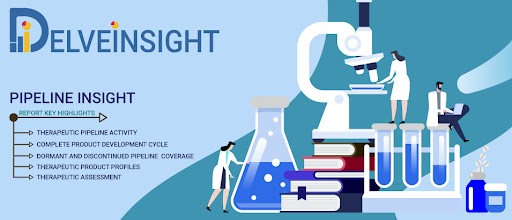 Las Vega (Nevada), United States //— As per DelveInsight's assessment, globally, Esophageal Cancer pipeline constitutes 80+ key companies continuously working towards developing 80+ Esophageal Cancer treatment therapies, analysis of Clinical Trials, Therapies, Mechanism of Action, Route of Administration, and Developments analyzes DelveInsight.
Esophageal Cancer Overview
Esophageal cancer occurs when cancer cells develop in the esophagus, a long, tube-like structure that connects the throat and the stomach. The esophagus carries swallowed food to the stomach and is part of the upper digestive system. The two main types are squamous cell carcinoma and adenocarcinoma.
"Esophageal Cancer Pipeline Insight, 2023" report by DelveInsight outlines comprehensive insights into the present clinical development scenario and growth prospects across the Esophageal Cancer Market.
The Esophageal Cancer Pipeline report embraces in-depth commercial and clinical assessment of the pipeline products from the pre-clinical developmental phase to the marketed phase. The report also covers a detailed description of the drug, including the mechanism of action of the drug, clinical studies, NDA approvals (if any), and product development activities comprising the technology, collaborations, mergers acquisition, funding, designations, and other product-related details.
Some of the key takeaways from the Esophageal Cancer Pipeline Report:
Companies across the globe are diligently working toward developing novel Esophageal Cancer treatment therapies with a considerable amount of success over the years. Esophageal Cancer Key players such as – Guangzhou Bio-gene Technology, Curis, Ascentage Pharma, Merck KGaA, Roche, Genmab, Oncolys BioPharma Inc., Genentech, Shionogi, CStone Pharmaceuticals, and others, are developing therapies for the Esophageal Cancer treatment
Esophageal Cancer Emerging therapies such as – BG 1807, CA-4948, APG-2449, M1231, RO7121661, Amivantamab, Telomelysin, Tiragolumab, S-588410, CS1001,and others are expected to have a significant impact on the Esophageal Cancer market in the coming years.
In January 2022, Lyell Immunopharma, Inc., announced that the U.S. Food and Drug Administration (FDA) has cleared an Investigational New Drug (IND) application to initiate a Phase I clinical trial for LYL132, an investigational T-cell receptor (TCR) therapy for patients with solid tumors expressing New York esophageal squamous cell carcinoma 1 (NY-ESO-1) that the company is developing in collaboration with GSK
In May 2022, Shanghai Junshi Biosciences Co., Ltd, announced that the China National Medical Products Administration (NMPA) has approved the supplemental new drug application (sNDA) for toripalimab in combination with paclitaxel and cisplatin in the first-line treatment of patients with unresectable locally advanced/recurrent or distant metastatic esophageal squamous cell carcinoma (ESCC)
In September 2022, Daiichi Sankyo and Sarah Cannon Research Institute (SCRI) announced that extended follow-up data from a phase I/II trial of DS-7300, continued to show promising durable tumor response in patients with several types of heavily pretreated cancers including lung, prostate or esophageal cancer
In November 2020, CStone Pharmaceuticals announced that early termination of the waiting period under th eHart-Scott-Rodino Antitrust Improvements Act of 1976, as amended (HSR), has been granted by the United States Federal Trade Commission in connection with the licensing agreement between CStone and EQRx.
Route of Administration
Esophageal Cancer pipeline report provides the therapeutic assessment of the pipeline drugs by the Route of Administration. Products have been categorized under various ROAs, such as
Intra-articular
Intraocular
Intrathecal
Intravenous
Ophthalmic
Oral
Parenteral
Subcutaneous
Topical
Transdermal
Molecule Type
Products have been categorized under various Molecule types, such as
Oligonucleotide
Peptide
Small molecule
Esophageal Cancer Pipeline Therapeutics Assessment
Esophageal Cancer Assessment by Product Type
Esophageal Cancer By Stage and Product Type
Esophageal Cancer Assessment by Route of Administration
Esophageal Cancer By Stage and Route of Administration
Esophageal Cancer Assessment by Molecule Type
Esophageal Cancer by Stage and Molecule Type
DelveInsight's Esophageal Cancer Report covers around 80+ products under different phases of clinical development like-
Late-stage products (Phase III)
Mid-stage products (Phase II)
Early-stage product (Phase I)
Pre-clinical and Discovery stage candidates
Discontinued & Inactive candidates
Route of Administration
Some of the key companies in the Esophageal Cancer Therapeutics Market include:
Key companies developing therapies for Esophageal Cancer are – Shanghai Henlius Biotech, CStone Pharmaceuticals, Jiangsu HengRui Medicine Co., Ltd., AstraZeneca, Symphogen, Hoffmann-La Roche, Chia Tai Tianqing Pharmaceutical Group Co., Ltd., Sinocelltech Ltd., Eli Lilly and Company, Ipsen, Jacobio Pharmaceuticals Co., Ltd., Shire, GlaxoSmithKline, Keythera Pharmaceuticals (Australia) Pty Ltd, Sunshine Lake Pharma Co., Ltd., Novartis Pharmaceuticals, Sanofi, Seagen Inc., Rapa Therapeutics LLC, Incyte Corporation, Atreca, Inc., Exelixis, Bayer, BeiGene, Lyell Immunopharma, Sichuan Baili Pharmaceutical, AP Biosciences.,Leap Therapeutics, Inc., Adlai Nortye Biopharma Co., Ltd., Athenex, Inc., Pfizer, Genentech, Hangzhou Neoantigen Therapeutics, Janssen Pharmaceutical, Curis, Inc.,Merck KGaA, Apexigen, Inc,Shenzhen Hornetcorn Bio-technology Company, LTD, MacroGenics, Bristol-Myers Squibb, Integral Molecular, CARTEXELL, EMD Serono, and others.
Emerging Esophageal Cancer Drugs Under Different Phases of Clinical Development Include:
BG 1807: Guangzhou Bio-gene Technology
CA-4948: Curis
APG-2449: Ascentage Pharma
M1231: Merck KGaA
RO7121661: Roche
Amivantamab: Genmab
Telomelysin: Oncolys BioPharma Inc
Tiragolumab: Genentech
S-588410: Shionogi
CS1001: CStone Pharmaceuticals
Get a Free Sample PDF Report to know more about Esophageal Cancer Pipeline Therapeutic Assessment- https://www.delveinsight.com/sample-request/esophageal-cancer-pipeline-insight
Esophageal Cancer Pipeline Analysis:
The Esophageal Cancer pipeline report provides insights into
The report provides detailed insights about companies that are developing therapies for the treatment of Esophageal Cancer with aggregate therapies developed by each company for the same.
It accesses the Different therapeutic candidates segmented into early-stage, mid-stage, and late-stage of development for Esophageal Cancer Treatment.
Esophageal Cancer key companies are involved in targeted therapeutics development with respective active and inactive (dormant or discontinued) projects.
Esophageal Cancer Drugs under development based on the stage of development, route of administration, target receptor, monotherapy or combination therapy, a different mechanism of action, and molecular type.
Detailed analysis of collaborations (company-company collaborations and company-academia collaborations), licensing agreement and financing details for future advancement of the Esophageal Cancer market.
The report is built using data and information traced from the researcher's proprietary databases, company/university websites, clinical trial registries, conferences, SEC filings, investor presentations, and featured press releases from company/university websites and industry-specific third-party sources, etc.
Further Esophageal Cancer product details are provided in the report. Download the Esophageal Cancer pipeline report to learn more about the emerging Esophageal Cancer therapies
Esophageal Cancer Pipeline Market Drivers
Increase in the number of cases of Esophageal Cancer
Increasing research and development and launches of novel products by key players
Esophageal Cancer Pipeline Market Barriers
High cost of therapy for the treatment of esophageal cancer
Side effects associated with the current treatment options
Scope of Esophageal Cancer Pipeline Drug Insight
Coverage: Global
Key Esophageal Cancer Companies: Guangzhou Bio-gene Technology, Curis, Ascentage Pharma, Merck KGaA, Roche, Genmab, Oncolys BioPharma Inc., Genentech, Shionogi, CStone Pharmaceuticals, and others
Key Esophageal Cancer Therapies: BG 1807, CA-4948, APG-2449, M1231, RO7121661, Amivantamab, Telomelysin, Tiragolumab, S-588410, CS1001, and others
Esophageal Cancer Therapeutic Assessment: Esophageal Cancer current marketed and Esophageal Cancer emerging therapies
Esophageal Cancer Market Dynamics: Esophageal Cancer market drivers and Esophageal Cancer market barriers
Request for Sample PDF Report for Esophageal Cancer Pipeline Assessment and clinical trials
Table of Contents
| | |
| --- | --- |
| 1 | Esophageal Cancer Report Introduction |
| 2 | Esophageal Cancer Executive Summary |
| 3 | Esophageal Cancer Overview |
| 4 | Esophageal Cancer- Analytical Perspective In-depth Commercial Assessment |
| 5 | Esophageal Cancer Pipeline Therapeutics |
| 6 | Esophageal Cancer Late Stage Products (Phase II/III) |
| 7 | Esophageal Cancer Mid Stage Products (Phase II) |
| 8 | Esophageal Cancer Early Stage Products (Phase I) |
| 9 | Esophageal Cancer Preclinical Stage Products |
| 10 | Esophageal Cancer Therapeutics Assessment |
| 11 | Esophageal Cancer Inactive Products |
| 12 | Company-University Collaborations (Licensing/Partnering) Analysis |
| 13 | Esophageal Cancer Key Companies |
| 14 | Esophageal Cancer Key Products |
| 15 | Esophageal Cancer Unmet Needs |
| 16 | Esophageal Cancer Market Drivers and Barriers |
| 17 | Esophageal Cancer Future Perspectives and Conclusion |
| 18 | Esophageal Cancer Analyst Views |
| 19 | Appendix |
| 20 | About DelveInsight |
*The Table of Contents (TOC) is not exhaustive; the final content may vary. Refer to the sample report for the complete table of contents.
Download Sample PDF Report to know more about Esophageal Cancer drugs and therapies
Media Contact
Company Name: DelveInsight Business Research LLP
Contact Person: Gaurav Bora
Email: Send Email
Phone: 9193216187
Address:304 S. Jones Blvd #2432
City: Las Vegas
State: Nevada
Country: United States
Website: https://www.delveinsight.com/consulting/r-and-d-analysis