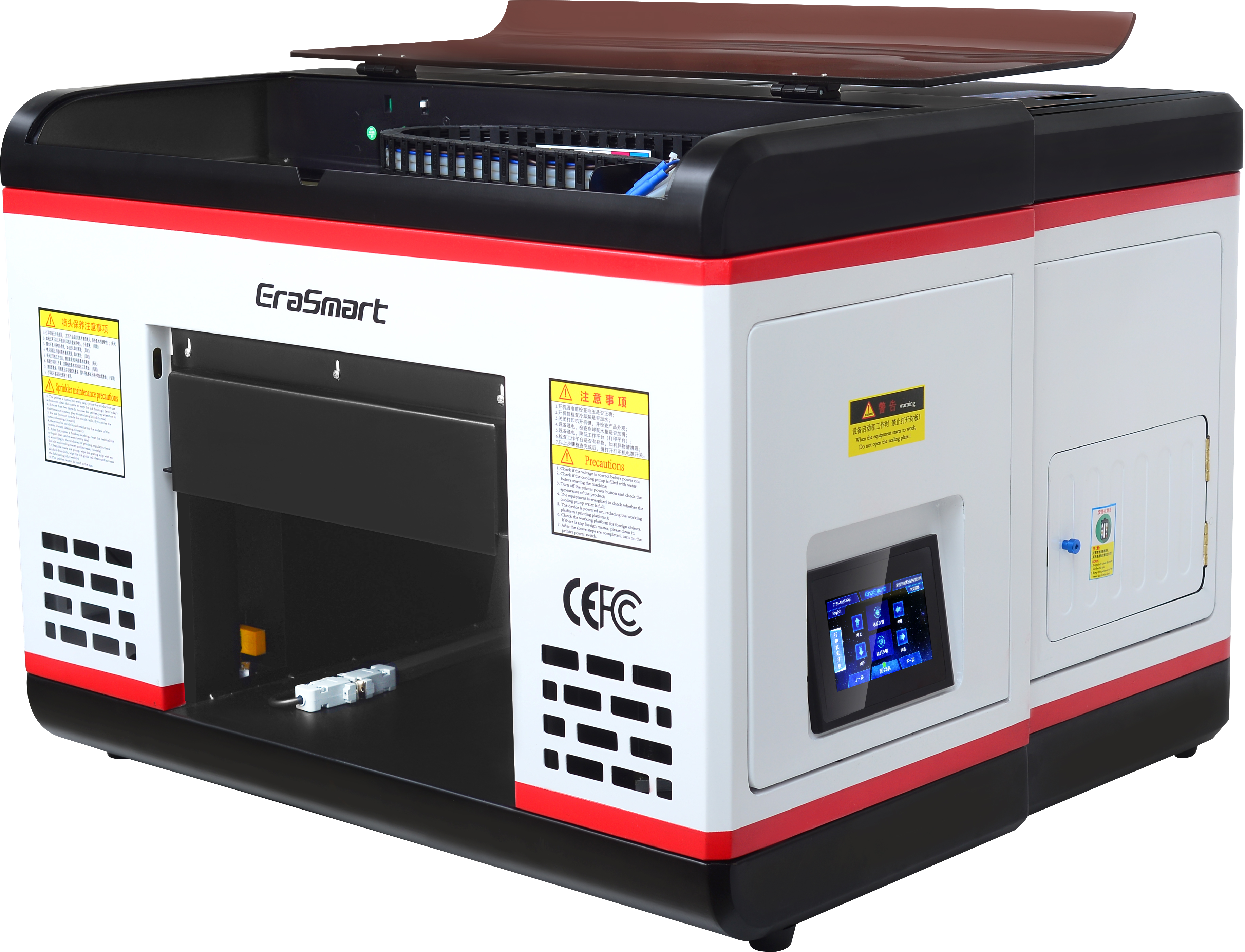 UV flatbed printers, the latest in print technology, are a major upgrade over screen printing. An easier and less expensive process, promising better quality prints with more comprehensive colours and a longer life are just some of the advantages of using the ultraviolet technology in varied print applications.
EraSmart offers an exclusive range of high-output UV flatbed printers that can be used to print roll-to-roll signages, commercial displays as well as for printing on gifting accessories. Every UV printer at EarSmart undergoes strict quality control procedures and testing before the product is shipped.
The company manufactures and markets small-format, flat-panel UV printers. A compact size ensures it takes up less space. What EraSmart's flatbed UV printers do best is make up for what lacks in traditional screen printing. It enables digital printing companies to scale their business without it entailing a major increase in operational costs. Incorporating high-end technology, the UV printer from EraSmart achieves high-quality, stunning prints. It ensures consistency in image quality – high colour solidity and lower graininess. You are guaranteed vibrant full colour results.
EraSmart's UV flatbed printer can print on a variety of materials including three dimensional surfaces and uncoated substrates. It can also print on formats of different sizes. The small format printer helps digital printing service providers deliver products – signs, packaging, display exhibits – faster and in a more cost-effective manner.
In addition to quality, EraSmart's lineup includes a range of models to handle different printing volumes. There are low-cost, low-volume printers ideal for start-ups as well as printers that can handle medium volumes and high-rate productions for instance in industrial applications. Thus, there is something to suit every budget and need.
The EraSmart UV flatbed printers have also been designed with ease of use in mind. An easy installation makes setup a breeze. Besides, operating the printer machine is hassle-free owing to an intuitive software.
About EraSmart
EraSmart specialises in providing the latest and most advanced print technology solutions. Headquartered in China, the brand operates under the parent company Chuang Cheng Da Technology Co. Ltd. They have a strong independent R & D branch that brings forward cutting-edge technology in the field of digital printing. A team of trained and experienced design professionals leverage their expertise to help clients get the best UV flatbed printers for their applications.
Their merchandise includes DTG printers, Small desktop printers and UV printers. They also sell accessories and spare parts for their printers. Since their establishment, EraSmart has managed to build a global presence helping print service providers increase profitability. They have been serving digital printing companies in the Middle East, Southeast Asia, North America and Western Europe. Their reputation is built on providing professional-grade printers along with great after sales services and support. One can seek support through live chat or email.
To learn more about their products or for advice on choosing the best UV flatbed printers to match your printing needs, please call on Tell/Whatsapp:+8618566233796
Media Contact
Company Name: Erasmart | Chuang Cheng Da Technology Co., Ltd
Contact Person: Media Relations
Email: Send Email
Phone: +8618566233796
Address:4th Floor, Building C, Yinxin Technology Park, Jinquan 3 Road Liuyue Community, Henggang Street
City: Shenzhen
Country: China
Website: https://www.erasmart.com