Scottish entrepreneur Matthew Gumke and Turkish Entrepreneur Ekim Kaya have been helping over 100,000 students make money from ranking Amazon products on Google's Search Engine. Matthew has been studying marketing on the internet for the last 4 years. He's even sought expert council from people such as Tony Robbins, Forbes Riley, Naveen Jain, Tai Lopez and more.
He learned how to create authority with Tony Robbins at his Business Mastery seminars. He's learned neurolinguistic programming for 2 weeks from Forbes Riley when he was her camera guy. He learned how to get his ideas in front of the right people from Naveen Jain. Naveen is working on a gut technology that will change medicine forever. He's also learned advanced persuasion from Tai Lopez.
Matthew saw that one of Tai's students, Ekim Kaya was having much more success than anyone else in his programs. Tai's programs teach students various methods how to make money online with methods such as Facebook ads, Google ads, SEO, personal branding, Shopify and Amazon.
Matthew reached out to Ekim in 2017 to ask as many questions as possible. Matthew started learning from Ekim as he was interested in how Ekim used artificial intelligence to crawl the internet and generate leads. Ekim created a large community of Tai's students that would benefit from the leads that the AI was generating.
Matthew went to Beverly Hills to learn from Ekim on a few occasions to get his questions answered. Matthew was amazed by the lifestyle Ekim was able to have from online income, including driving a Lamborghini Huracan.
Ekim moved to Manhattan and went on to create Kaya Online, an online education company which helps people in his home country Turkey, make money online using a few different methods. Ekim goes to exclusive mastermind events to learn from the best in the industry and then translates the information into Turkish so he can dominate the Turkish education industry. Matthew was amazed to see Ekim produce over $360,000 in a single month while helping lots of people at the same time.
Matthew wanted to learn how Ekim's students were making so much money, so he learned Amazon dropshipping, the most popular method that Ekim was using and teaching. Ekim was teaching dropshipping in a different way than most sellers, using an advanced artificial intelligence software to find the best products.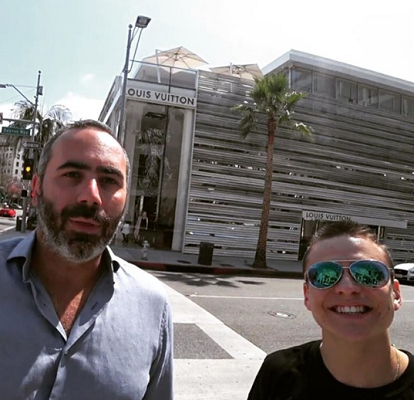 Matthew was making thousands per week within just 5 weeks of learning from Ekim. They then partnered to create the English version of the training. Matthew spent weeks creating the training to make it perfect for the English-speaking market.
Unfortunately, due to skyrocketing ad costs in English speaking countries and loads of competition in the English online education space, they couldn't get their paid advertisements to profit. They wasted dozens of hours and thousands of dollars.
Matthew was frustrated and knew he had to become more valuable. He'd always been curious to experiment with increasing visibility in Google's search engines and before experiencing this massive failure, he used to worry about how complicated the process can be. Matthew hates failing so he decided he'd do anything to get success on Google's search engines. This way he can help more people.
Matthew secretly created a company, Dell Tours to see if he could rank the website first for Exotic Car Tours in Edinburgh. He knew that if he could get the website to first for an expensive search term, he could partner with Ekim and teach SEO to his students in Turkey.
Within just a couple of weeks, Matthew got the page to number 1 organically for multiple local supercar search terms that cost over $5 per click. Matthew loves taking business owners on his exotic car tours as it's an opportunity to learn from them.
Matthew told Ekim that he wanted to test his secret SEO method on Ekim's Amazon store. Ekim agreed and Matthew researched the best products and search terms. Matthew believes that the key to success on Google is reverse engineering the competitions results before manipulating the search algorithm to their advantage.
They got great success when testing the product on Ekim's store. It was time to teach this method to the students. Matthew was concerned that this method would work best for students that were already making a lot of money so he created a way that the students without a lot of money can use their time to help the rich Amazon sellers create more money in exchange for a percentage of the sales.
Ekim's students were excited to start as soon as possible due to their previous success. Matthew and Ekim have even said they would help rank all students first products as part of the course price.
The students are loving the results created and the training. They're amazed at how easy Matthew and Ekim have made such complicated information. Kaya Online has created 2 millionaires already. Many students are reaching out to Matthew and Ekim every day and thanking them.
Turkey is currently going through an inflationary crisis. Because the Turkish students can create profits in US dollars, they're able to experience a fantastic quality of life during this economic hardship. It doesn't matter what the economy is, people will always be buying on Amazon and people will be typing into Google. It's a fantastic partnership that will continue to make profits for the foreseeable future.
Media Contact
Company Name: Kaya Online
Contact Person: Matthew Gumke
Email: matthewgumke@gmail.com
Country: United States
Website: www.matthewgumke.com