Founder of NikiMarie Productions LLC, Nikiya Rodriguez, announces the launch of a new season on her internet-based Podcast, The NikiMarie Radio Show, and her morning show on WCAA-LP 107.3FM, Albany
The NikiMarie Radio Show was launched with the primary goal of promoting exceptional individuals who have positively impacted the lives of others and creatively effected changes in their community or across the globe. Nikiya Rodriguez is also a host and Executive Producer alongside Janol Mecca Holmes on a podcast that is featured on Roku and Apple TV under Rev X TV via e360tv. Since its debut in March 2020, they have interviewed legendary and renowned hip-hop/r&b music producer Easy Mo Bee and Hip-Hop Pioneer former host of Yo! MTV Raps, Doctor Dre.
History has shown that virtually everyone can contribute their quota to effecting the change they desire. However, some individuals have done remarkably well in dedicating their resources – time and money, to pursue a cause for the betterment of mankind. Unfortunately, many of such persons are either not celebrated or do not get the platform to say it as it is by touching on their struggles. Consequently, Nikiya Rodriguez has launched a no-holds-barred morning show that will allow these special people to lift the veil and share their stories with the world like never before.
The NikiMarie Radio Show (internet-based podcast) will interview personalities from all walks of life, providing motivational content and useful business tips to listeners. The NikiMarie Radio show and Mornings with NikiMarie on WCAA-LP 107.3FM Albany (Community Radio) mirror the same goal. Both shows will feature entrepreneurs, visionaries, business owners, and a host of others as they share their stories and struggles with listeners worldwide. Some of the episodes that are currently available on The NikiMarie Radio Show are Women in Business with Top Heavie Apparel (www.topheavie.com) Co-Founders, Silvia Ortiz, and Melissa Vilmenay. Nikiya also created an episode called, Quarantine Vibes (QV) which is an episode that allows different guests to talk about their experience during the global pandemic. The episode which aired on WCAA-LP 107.3FM, Albany on December 11, 2020 features, recording artist, Bobby J, content creator and podcaster Joy Nickens. The YouTube version features, performing artist and author, Vernae Taylor and leadership coach and author, Debbie Gonzalez.
To listen to the new season, which is available anywhere you listen to podcast, you can go to linktr.ee/nikimarieradio and tune in to WCAA-LP 107.3FM, Albany on Fridays at 9:30AM EST for Mornings with NikiMarie https://archive.wcaa1073.org/
For more information about Nikiya Rodriguez and The NikiMarie Radio Show, please visit LinkedIn, YouTube, and Instagram.
About Nikiya Rodriguez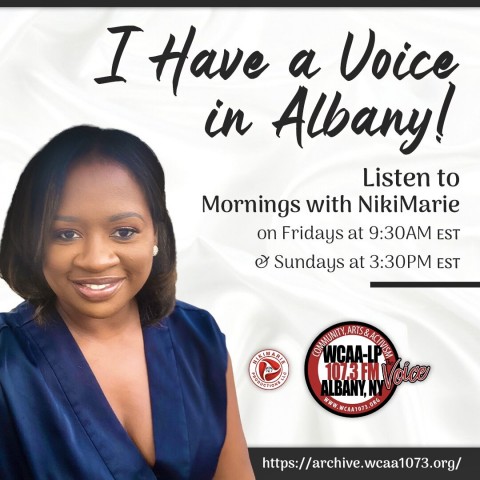 Nikiya Rodriguez is an entrepreneur, founder of NikiMarie Productions LLC, motivational speaker, content creator and a volunteer radio host at WCAA-LP 107.3FM, Albany. She is currently working on a children's book, featuring her children, Tidus, Xavier and Haley.
Media Contact
Company Name: NikiMarie Productions LLC
Contact Person: Haley Jeffries, Booking Manager
Email: Send Email
Phone: +1516.983.5093
Country: United States
Website: https://linktr.ee/nikimarieradio