New technologies are turning old, manual habits into automated processes. In this age of automation, why should journaling or keeping a diary be left behind? Memriez is the latest free app (with Premium option) that refashions written habits into automatic syncs – simply download and connect Memriez with social media and other accounts to begin recording an exciting life!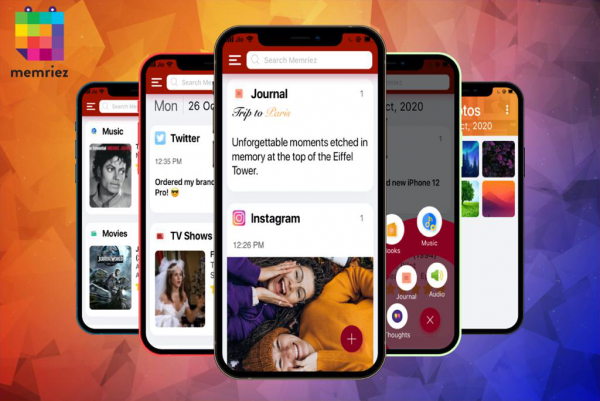 Memriez is unlike any other plain or basic journaling app. With Memriez on their iPhone, users can automatically see their posts on Facebook, Instagram or Twitter as part of their very own private and secure journal. They can even sync their calendar, or quickly jot down important stuff when needed.
The only journaling app that a user will ever need, Memriez is equipped to automatically track Apple health and fitness data, reminders, photos and videos, favorite TV shows, music and more, all displayed on one's very own personal timeline. All memories remain strictly private on Memriez, which is protected with biometric security, with an optional backup available through iCloud.
With Memriez, users will be able to bring their personal life, favorites, activities and memories, all in one place. Users will be able to:
• Create a personal diary, to express oneself, record entries, jot down reflections, even write essays, poetry, or take a note of their dreams and hopes
• Let the app automatically sync and download personal posts from social media and other online accounts like Trakt, Goodreads, etc.
• Login to rate favorite books, leave feedback on TV shows, movies, etc.
• Keep personal experiences confidential, safe and protected with FaceID and TouchID
A regularly maintained journal or diary is a good habit, recommended for its multifarious benefits for living a rich, purposeful life. Among other things, a regular note-taking habit creates mindfulness, gratitude, brings down stress and promotes personal growth.
Designed for iPad and iPhones, Memriez is available with a free first month of all Premium features unlocked. Basic journaling is free, while an upgrade to premium features (such as automated journaling, backups) is available with an auto-renewing subscription for only $0.99/month or $9.99/year.
Start your automated diary or journaling experience today by downloading Memriez: https://apps.apple.com/app/id1472533642
For more information, please visit: https://www.memriez.com/
Facebook: https://www.facebook.com/memriez/
Twitter: http://www.twitter.com/memriez/
Media Contact
Company Name: Memriez Pvt Ltd
Contact Person: Rajesh
Email: Send Email
Phone: 08049525080
Country: India
Website: memriez.com