Sep 23, 2021 – During the spin cycle, washing machines and dryers' vibration can shake the whole house, but this can be put under control with the anti-vibration and anti-walking pads by Enterpark.
If a washing machine or dryer still vibrates even after it has been leveled, then it shouldn't be bolted to the floor. That won't solve the problem, it would rather make more noise. Instead of bolting the washing machine or dryer to the floor, it is better to isolate it from the floor with anti-vibration pads. While the machine's rubber feet are supposed to provide this function, unfortunately, they don't do an excellent job at high spin speeds.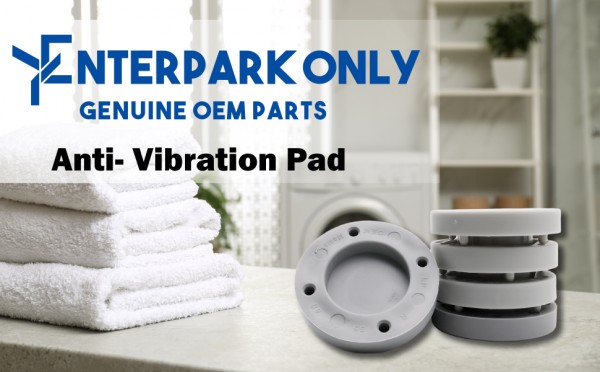 That is where the anti-vibration and anti-walking pads by Enterpark come in. Providing stabilizing support for large appliances including washing machines and clothes dryers, Enterpark anti-vibration pads reduce vibrations, noise, and slipping for smooth, quiet operation. Shock absorbing, the textured anti-vibration pads effectively eliminate 'walking' appliances. It comes in a set of four pads to cover every corner of a washer or dryer.
A great quality product, it prevents vibration and machine walking. The product was developed through a direct experiment. While the others were made of rubber, the manufacturer added plastic materials so that the pads could be strongly held together. Therefore, ensuring machine leveling feet.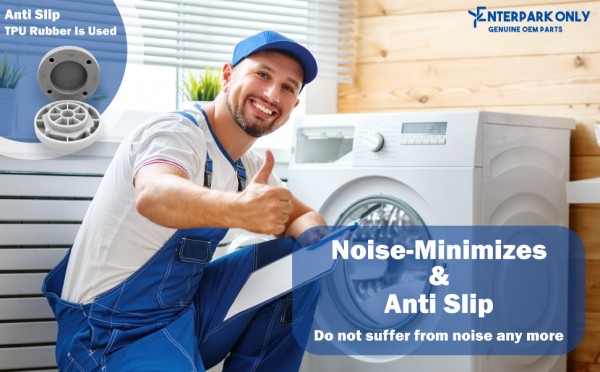 A buyer of the anti-vibration pads wrote in a review on the Amazon product page:
"I wish I had known about these sooner. Our front-loading washing machine tends to go for a walk and make the floors in our house shake. We realized these worked when I had the spin setting on "high" and the glass jars on our mantle were not rattling at all. When I pulled out the load, the washer had not moved one iota. These are unobtrusive and not noticeable at all.
"If I had to do the install over again, I would try to do some thin double-sided tape to stick the pad to the foot because getting it lined up on the feet was a pain. If I had a tape, I could have just stuck them to the legs in the air before setting the washer down."
Each set comes with four Enterpark anti-vibration pads, each one goes under each leg or foot of the washer or dryer.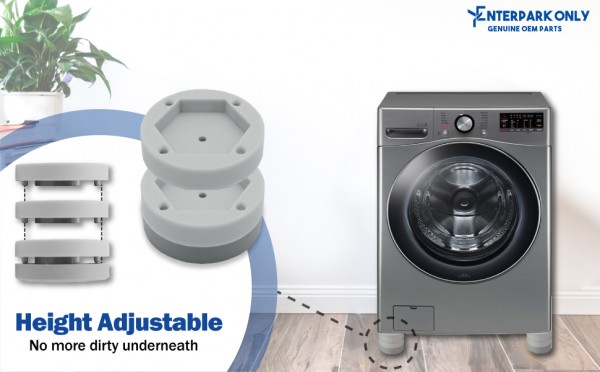 The pads are easy to install and don't require any tools or messy adhesives. Simply lift each corner of the machine and slide the noise-absorbing pads into place. To make it even more convenient, the pads were designed to fit all standard washers and dryers with four legs.
For more information or to order the Enterpark anti-vibration pads, visit https://www.amazon.com/dp/B0888C6BLG
Media Contact
Company Name: Enterpark
Contact Person: Andy Hong
Email: Send Email
Phone: +82 70-4038 9303
Country: South Korea
Website: www.amazon.com/dp/B0888C6BLG