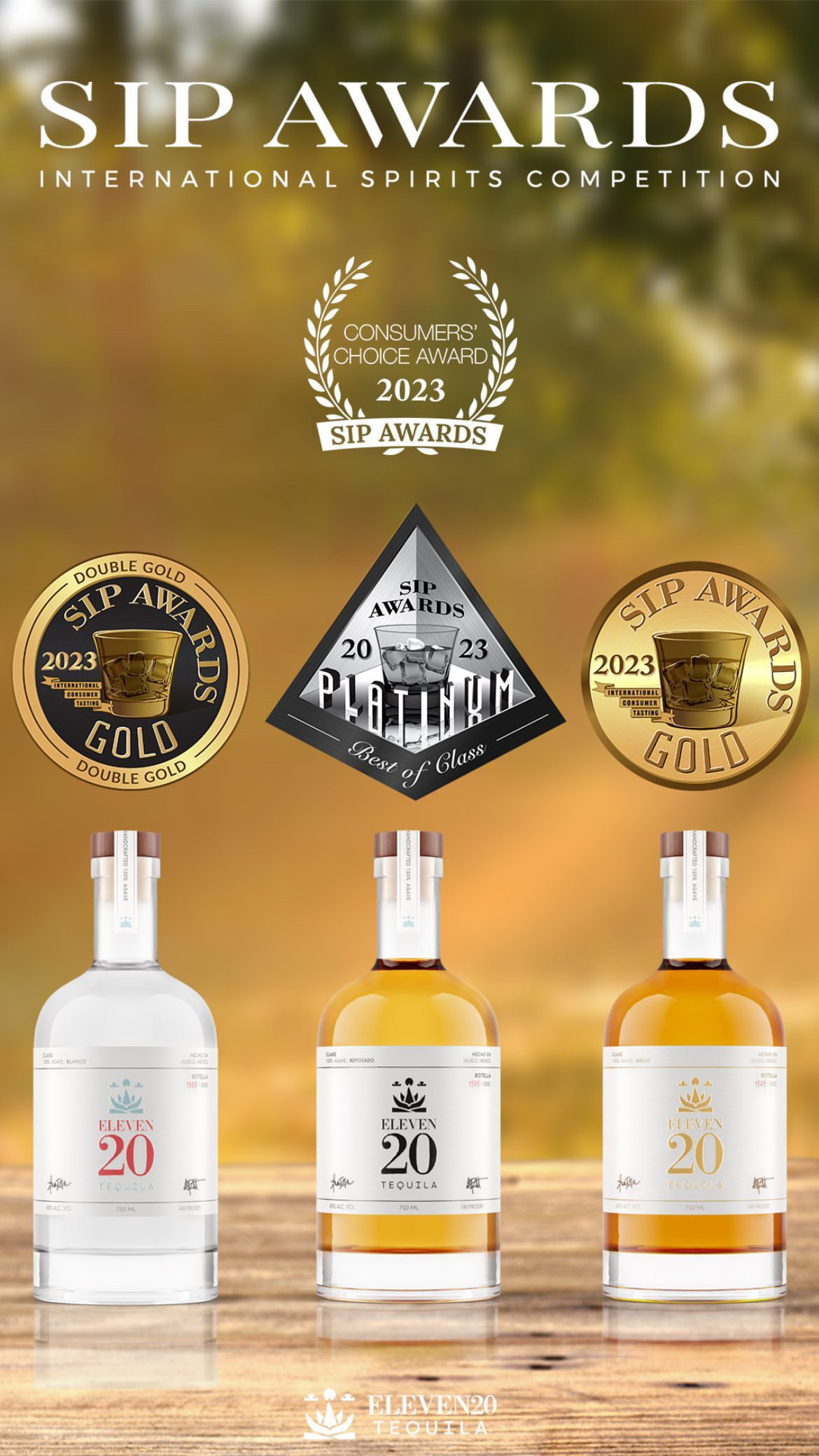 In the prestigious SIP Awards, which is based on the palates of the public, Eleven20 Tequila won Platinum Best in Class for their Reposado, Double Gold for their Blanco, and Gold for their Anejo.
Eleven20 Tequila, a renowned tequila brand known for its exceptional craftsmanship and commitment to quality, proudly announces its triumphant success at the SIP Awards, the most revered and esteemed spirits tasting competition in the industry. Eleven20 Tequila claimed top honors with multiple awards for its meticulously crafted tequila expressions.
In a fierce competition that drew submissions from around the world, Eleven20 Tequila's extraordinary lineup of tequilas captivated the palates of the public, leading to an unprecedented recognition of their superior quality and outstanding flavors.
The results of the SIP Awards tasting competition are as follows:
Eleven20 Reposado: Platinum Best in Class
Eleven20 Blanco: Double Gold
Eleven20 Anejo: Gold
These remarkable accolades are a testament to Eleven20 Tequila's unwavering dedication to creating outstanding tequila. The company's commitment to excellence and their meticulous attention to detail have been acknowledged and celebrated by those who took part in the SIP Awards.
The SIP Awards, renowned for being the granddaddy of all spirits competitions and the most coveted event in the industry, differentiates itself by employing a unique judging process that remains uninfluenced by industry biases. The competition centers around the opinions and palates of the discerning public, ensuring an impartial evaluation of spirits that truly resonates with consumers.
"We are thrilled and honored to have our Eleven20 Tequila recognized at such a prestigious event like the SIP Awards," said Alec Tesa, co-founder of Eleven20 Tequila. "These awards validate our unwavering commitment to producing exceptional tequila that delights the senses."
Eleven20 Tequila has quickly established itself as a force to be reckoned with in the tequila industry, thanks to its commitment to quality, traditional production methods, and a relentless pursuit of perfection.
The recognition bestowed upon Eleven20 Tequila at the SIP Awards further solidifies the brand's position as a leader in the tequila industry. With its exceptional taste profiles, Eleven20 Tequila continues to captivate the hearts of tequila enthusiasts worldwide.
About Eleven20 Tequila
Eleven20 Tequila is a luxury tequila brand committed to sustainability and quality. From selecting the ripest agave plants to using sustainable farming practices, Eleven20 Tequila takes pride in every step of the production process. This results in a unique tequila that is perfect for those who want a taste of luxury without compromising on their values. For more information, visit eleven20tequila.com.
For media inquiries, contact:
Laura Pucker
laura.pucker@otterpr.com
Media Contact
Company Name: Otter PR
Contact Person: Laura Pucker
Email: Send Email
Phone: 8136786828
Address:100 E Pine St Suite 110
City: Orlando
State: Florida
Country: United States
Website: OtterPR.com