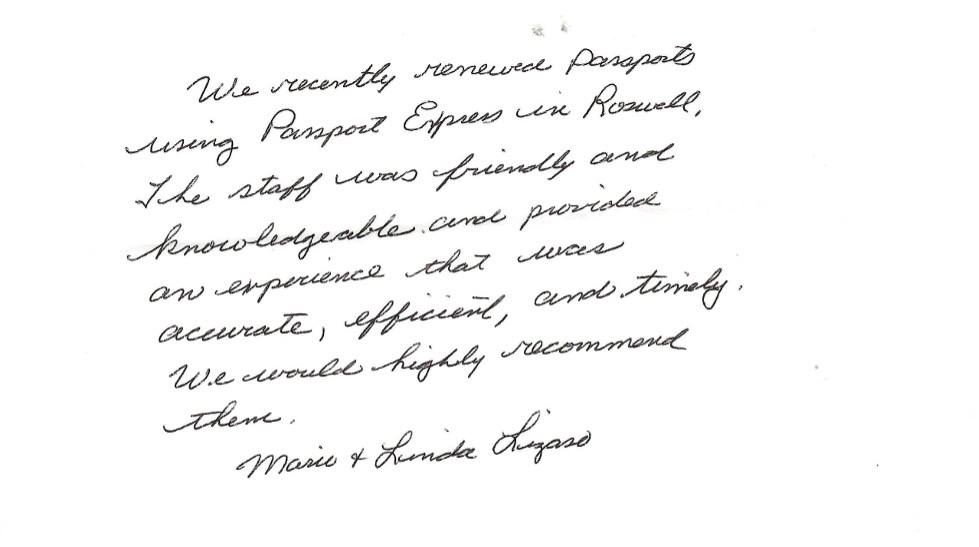 Roswell, GA – Passport Express, a dedicated passport renewal service, is proud to share a heartwarming story that highlights their commitment to helping every customer, even those unfamiliar with posting online reviews. An elderly couple recently expressed their gratitude through a handwritten review after utilizing Passport Express's services in Roswell. The couple commended the staff for their friendliness, expertise, and efficient service, emphasizing their satisfaction with the accurate and timely experience. This touching review resonates deeply with Passport Express, showcasing their dedication to serving every individual.
The elderly gentleman's handwritten note speaks volumes about the impact of Passport Express's work. The couple's experience exemplifies how Passport Express goes beyond administrative tasks, extending care and support to customers of all backgrounds. Their efficient service enabled him and his wife to obtain passports for a memorable trip with their children, and their heartfelt gratitude was shared through the handwritten note.
The note reads the following: "We recently renewed passports using Passport Express in Roswell. The staff was friendly and knowledgeable and provided an experience that was accurate, efficient, and timely. We would highly recommend them."
Maria Carriedo, the CEO and founder of Passport Express, had this to say about the review: "We would like to say that this is one of the reasons we love to do this kind of work. This elderly gentleman who isn't tech savvy and wouldn't have known how to properly renew his passport let alone leave an online review came to us and we were able to help him get a passport for him and his wife to go on a trip with their kids. This was his way of thanking us because he wasn't able to leave a review online."
The Passport Express, located in Atlanta and Roswell, GA, is a reputable and expedited passport and visa agency. Offering a comprehensive range of services, including new passport applications, emergency passports, renewals, visas, and even birth certificates for travel purposes, the agency serves as a one-stop solution for travelers' document needs. With authorized permission from the U.S. Department of State, The Passport Express expedites the delivery of documents and ensures a seamless process.
Their informative blog provides valuable insights, such as passport expiration details and application tips. For those seeking travel documents with efficiency and reliability, The Passport Express stands as a trusted resource.
Passport Express's commitment to providing personalized, compassionate service shines through in this heartwarming encounter. For those seeking passport renewal services that truly care, Passport Express in Roswell, GA, stands as a shining example of dedication and customer satisfaction.
For more information about Passport Express and its services, please visit: https://thepassportxpress.com
Media Contact
Company Name: Passport Express Inc
Contact Person: Maria Carriedo
Email: Send Email
Address:1187 Alpharetta Street Suite 110
City: Roswell
State: Georgia
Country: United States
Website: https://thepassportxpress.com/