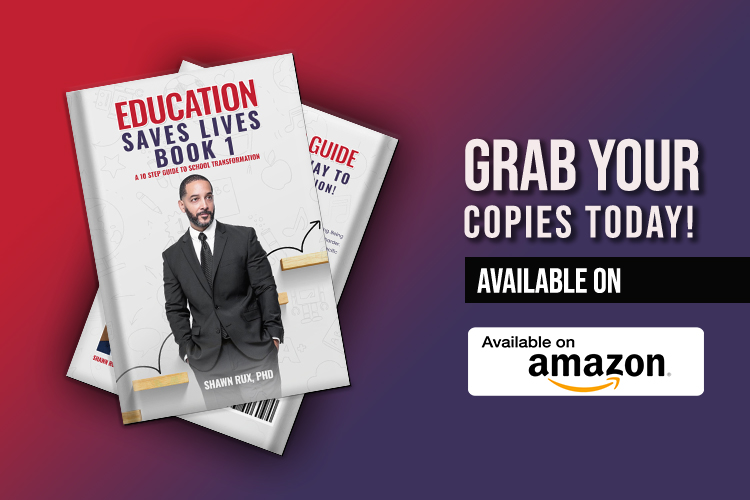 Presenting you to the legendary Dr. Shawn Rux, who has completed his book Education Saves Lives: Book 1: A 10-Step Guide to School Transformation, which will serve as a guide to benefit school leaders across the country who are challenged with the daunting task of school transformation.
He was born and raised in Harrisburg, PA. Being surrounded by crime and drugs and seeing first-hand the consequences associated with that lifestyle, he realized at a very early age the importance of education.
Dr. Rux knew that his focus on athletics and education would be his ticket to a better life filled with opportunities for success. After this realization, in this easy-to-read manual, Dr. Shawn Rux aims to impart the wisdom and experience he has acquired over the past 20-plus years to assist current and emerging leaders. This book is a simple and highly beneficial theoretical and practical guide for supporting improved teaching and learning practices. Moreover, low-performing schools have been a nationwide issue for years, most notably brought into this situation because of equity, poverty, and segregation.
Dr. Rux understands that being a school principal in any school environment is extremely challenging. Furthermore, being a school leader in a low-performing school needing a turnaround is even more difficult. So, he wrote a book that will serve as a guide for school leaders and provide them with specific, actionable steps that can be taken to make improvements in their school communities. There is nothing better than having a simple and easy-to-follow guide with you to support the transformation of your own school, environment, and the future of your students. As there is a saying, 'Today's generation of young people holds more power than any generation before it to make a positive impact on the world.' So why not help our students to grow in a better environment for their and our country's bright future?
Collectively, we can make a difference, and if we are being honest, we know there is so much more that we can do and so much more for us to do! With over two decades of experience and hard work, Dr. Rux has provided us with a playbook to help us improve.
This simple-to-read guide will help leaders who are just getting started or just need to see things through a different lens. This book is for leaders who want to make a difference and just may need some additional support one step at a time. So don't wait any further and grab your copy of Education Saves Lives Book 1: A 10-Step Guide to School Transformation on Amazon.
Please visit:
Media Contact
Company Name: Shawn Rux, PhD
Contact Person: Shawn Rux, PhD
Email: Send Email
Country: United States
Website: www.RUXway.education